The Best Sprinkler Systems for Your Money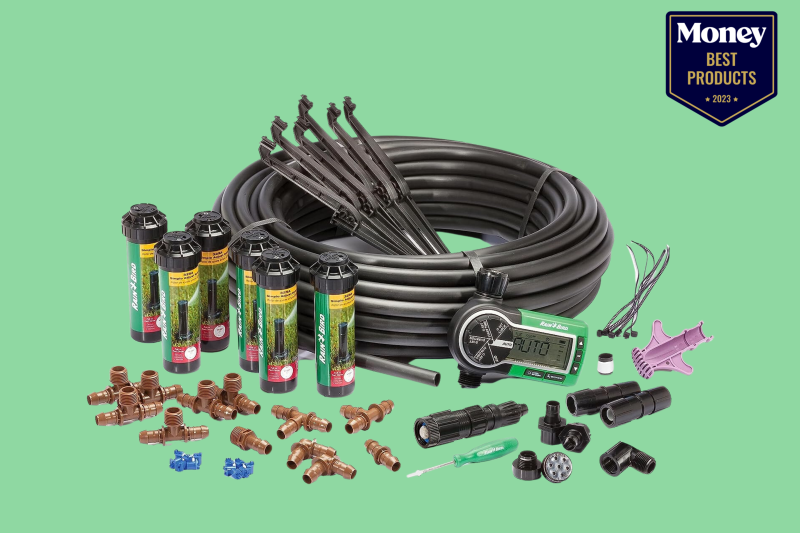 In today's fast-paced world, many of us are too busy (or too tired) to pull out the hose and water our lawns on a daily basis. Luckily, sprinkler systems offer a convenient, easy way to make sure your lawn gets all the water it needs with minimal effort on your part. A must-have for anyone who has grass or a garden on their property, these systems are ideal for watering multiple crops, plants or areas simultaneously, saving you time and minimizing water waste.
In this article, we'll delve into the most popular sprinkler systems of 2023. We'll look at a variety of options to suit different budgets and needs, from basic products to more advanced models. We'll also share the most essential factors to consider before making a purchase. Read on to learn more about how a lawn sprinkler can make tending your outdoor space more convenient.
Best Overall: Rain Bird Sprinkler System
Most Affordable: Galeidor Above Ground Sprinkler System
Easiest Installation: LADER Above Ground Sprinkler System
Most Convenient: PETUOL Drip Irrigation Sprinkler System
Most Stylish: Eden Above Ground Sprinkler System
Comparing the Finest Sprinkler Systems of 2023
List Price: $130.29
In our top spot is the Rain Bird Sprinkler System due to its easy installation and convenient features. Suitable for small and medium-sized areas measuring from 1,000 to 3,000 square feet, you can install this garden sprinkler in just a single afternoon. It connects to your outdoor faucet and has a user-friendly control panel, which allows you to start, cancel and schedule watering.
When the system is inactive, the sprinklers retract into the lawn for easy mowing and a tidy appearance. This product offers a 6- to 12-gallon-per-minute (GPM) flow rate and 45 to 75 pounds per square inch (PSI) of water pressure, depending on your faucet's settings and capabilities. The sprinkler system provides automatic, uniform coverage all season long so you don't have to worry about brown spots on your lawn.
Pros
Simple, quick installation
Automatic, programmable features
Even coverage for consistent results
Cons
System expansion isn't recommended
Inadequate for very large lawns
List Price: $26.99
If you're looking for a cost-effective option that delivers excellent results, consider the Galeidor Above Ground Sprinkler System. Ideal for watering large areas, this garden sprinkler system features a 26.2-foot hose made from thick, durable material for maximum leak resistance. It offers 90-, 180- and 360-degree spray scope options, which can be adjusted by simply rotating the nozzle for customized coverage.
In addition to the adjustable spray nozzles, the 11-inch-high ground spikes ensure your plants are watered at an even height. While the sprinkler heads are installed above ground, they can be hidden along the lawn or amid flowers for a discreet appearance. After a tool-free, 10-step installation process, this sprinkler system will be ready for use. The faucet adapter makes connecting it to your outdoor water source a breeze. Not only can this product save you time and money, but it can also reduce water waste, making it an eco-friendly choice.
Pros
Retractable nozzles for easy mowing
Three spray scopes
Adapter is compatible with various faucet types
Cons
Not ideal for small and medium lawns
Installation can be time-consuming
List Price: $34.74
The LADER Above Ground Sprinkler System stands out from comparable products thanks to its sturdy design and materials. Made primarily from a combination of acrylonitrile butadiene styrene (ABS) and polyvinyl chloride (PVC) materials, this set of sprinklers is impact-resistant and built to last. The main nozzle is made from anti-wear polyoxymethylene (POM) while the spikes, connectors, adapter and end cover are made from polypropylene (PP) for maximum corrosion resistance and longevity.
The installation process is straightforward and can be completed in only eight steps. The sprinkler system measures a generous 52.5 feet in length and is designed to resist leaks, solar rays and wear, further adding to the system's durability. When used collectively, the nozzles can cover 2,470 square feet, making this system well-suited for maintaining large yards, lawns, orchards and gardens.
Pros
Ideal for large-scale coverage
Long-lasting construction materials
Customizable design and settings
Cons
Hose can be difficult to cut
Installation tools aren't included
List Price: $59.99
Unlike some other models that require digging, the PETUOL Drip Irrigation Sprinkler System can be set up quickly and with ease by joining various fittings and drippers together. You can activate the entire network and water all your plants, crops or flowers at once by simply turning on your outdoor water valve. With its eco-efficient design, this sprinkler can reduce your water usage by 70% and save you money and time in the process.
For customized watering, you can manually adjust the settings of each individual nozzle by rotating its head until the desired effect is achieved. This sprinkler system is available in five size choices, and thanks to its versatile design, it can also be used to create a refreshing, cooling mist on your patio on hot days. Set it up near your pool or in your driveway for a fun way to entertain your kids or pets while keeping the heat at bay.
Pros
Individually adjustable nozzles
Water-efficient design reduces consumption
Easy-to-understand installation process
Cons
Cutting tool required but not included
Hose may be thinner than expected
List Price: $49.99
Some sprinkler systems are unsightly, but that's not the case with this one. If you're looking for a product that'll water your lawn while adding some decorative flair to your yard, consider the Eden Above Ground Sprinkler System. The sprinklers are cleverly designed to look like daisies and come in vibrant blue, yellow, purple and pink shades to add a splash of color and charm to your outdoor space. If you prefer a more traditional look, the set is also available in a classic style.
Featuring an eco-efficient design, this sprinkler system can reduce your water usage by up to 30% compared to traditional watering. There are no tools required for installation, and the system can cover a maximum of 1,638 square feet. Best of all, it's backed by a two-year manufacturer's warranty, so you can rest assured that your purchase is protected should you experience issues in the future.
Pros
Unique, stylish, colorful design
Tool-free, quick installation
Two-year warranty coverage
Cons
Indoor off-season storage is recommended
Only comes with four sprinklers
Sprinkler System Buying Guide
When it comes to choosing the best sprinkler system for your space, there are several features and factors to keep in mind. While you're shopping, take the following considerations into account to make an informed purchase.
Durability
Durability is essential for any sprinkler system, as it needs to be able to withstand harsh weather elements over time. Make sure to look for models that are made with corrosion and rust-resistant materials such as stainless steel or aluminum, as well as UV ray protection. This will ensure that your sprinklers will last through years of use without needing to be replaced.
Ease of installation
Look for sprinkler systems that are easy to install, requiring few or no tools. The installation instructions should be clear and easy to understand. You may want to read through customer reviews to gain insight into how long the process will take and how easy or difficult it is.
Water pressure capabilities
It's essential to choose a sprinkler system that offers adequate pressure for your watering needs. While its pressure will be somewhat dependent on your home's outdoor water source, the product should be capable of providing at least 45 to 70 PSI. Also, it's wise to aim for a model that has adjustable pressure so you can tailor it to your needs.
Coverage area
Before making a purchase, we suggest calculating the square footage of your lawn or garden. As you're shopping, check to make sure the product you're considering will be able to adequately cover the area. Additionally, look for sprinkler systems with adjustable spray scopes so you'll have more control over how much water is dispersed and where.
Timer settings
For maximum convenience, opt for a sprinkler system that has a timer or can be scheduled. This will allow you to get the most out of your purchase by programming the system to turn itself on and off at specific times so your lawn will always be well-hydrated, even if you're at work, asleep or away from home. Some sprinkler systems feature advanced technology and allow you to remotely control the system with a mobile app.
Flexibility
Flexibility is a crucial feature to consider, as it'll enable you to customize the sprinkler system to suit your space. Aim for a model with different components — such as valves, filters, clamps and connectors — so you can arrange the system however you want.
Warranty
When investing in a sprinkler system, we recommend choosing one that's backed by a manufacturer's warranty in case you experience any issues down the line. This will give you peace of mind knowing you won't be stuck with a defective product or repair costs if something goes wrong with the system.
Budget
Different models come with different price tags depending on their features and quality, so keep your budget in mind during your selection process. It's recommended to compare prices and features across different models so you can find one that suits your budget while still providing the features that you want.
Sprinkler System FAQs
What are the benefits of using a sprinkler system?
Using a sprinkler system can help conserve water and reduce costs associated with watering lawns and gardens. Additionally, sprinkler systems can help ensure that plants get adequate water and nutrients to remain healthy. If you opt for a model with a timer function, you'll have the added benefit of being able to schedule and control watering for optimal times of the day.
How do I install my sprinkler system?
Installation requirements may vary between models. Generally, the process involves digging trenches for the pipes; laying out and arranging the pipes; attaching the heads or nozzles to the pipes; connecting the sprinklers to a timer or controller; setting up valves and other components; and programming them to run automatically.
How much does a sprinkler system cost?
Sprinkler system prices vary greatly from one model to another. Some options cost as little as $25 while others may cost up to $3,500. Residential systems are typically at the lower end of this range but can still differ significantly in cost.
Can I install a sprinkler system myself?
Depending on the complexity of your property's landscape and the type of system you choose, you may need to hire a professional to install your sprinkler system. However, most home sprinkler systems can be self-installed in a single day. Read the instructions and watch any video tutorials that may be included with your purchase. If you don't feel confident in your ability to install the product, it may be best to seek professional assistance.
How do I maintain my sprinkler system?
To keep your sprinkler system in tip-top shape, check it at least once every season for any holes or damage that may require repairs. For best results, we suggest draining, drying and storing your product in a cool, dry, indoor location during off-seasons.
Why Trust Us
Our commitment to customers begins with a carefully curated product selection process, ensuring we provide high-quality and reliable options. We meticulously vet each sprinkler system, analyzing quantitative aspects, such as star ratings and review count, and qualitative factors, including review content and product features. Our dedicated team of bargain hunters consistently prioritizes your budget by meticulously scouring the market and identifying the best sprinkler systems available without compromising on quality or performance. Our panel focuses on presenting the pros and cons of each lawn sprinkler and converting technical specs into understandable insights. We aim to ensure convenience and ease of use with top-rated outdoor maintenance equipment.