The Best Stand Mixer Attachments for Your Money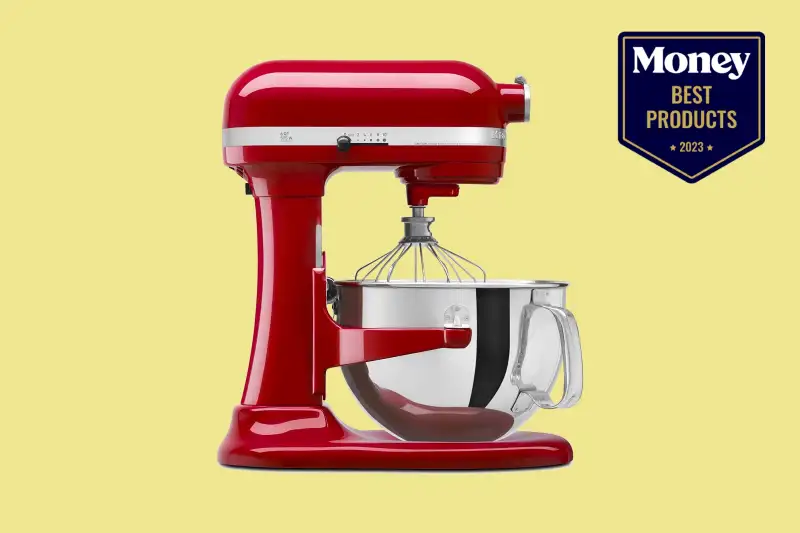 Whether you're mixing a batch of cookies or whipping up some mashed potatoes for the holidays, a stand mixer can help you get the job done more efficiently than any other tool. These mixers come with attachments that allow you to use your mixer in ways you never thought possible. From vegetable shredders and meat grinders to pasta makers and even juicers, there are a number of handy stand mixer attachments available for purchase. To help you out, we've reviewed the top-rated stand mixer attachments of 2023.
Best Overall: KitchenAid Stand Mixer Attachments
Ideal for Making Pasta: Antree Stand Mixer Attachments
Most Versatile: Kitort Stand Mixer Attachments
Ideal for Baked Goods: Kitchpower Stand Mixer Attachment
Most Durable: Tizze Stand Mixer Attachment
Comparing the Finest Stand Mixer Attachments of 2023
These stand mixer attachments from KitchenAid are a true culinary game changer. This set comes with three different types of blades, including a slicing blade that's ideal for vegetables and a medium shredding blade for shredding meats and cheeses. When it comes to tougher veggies, nothing can stand against the coarse shredding blade, and the two-in-one food pusher easily pushes ingredients through with minimal mess.
With a convenient storage case, these stand mixer attachments won't contribute to extra clutter on your countertop. Even better, everything can go straight into the dishwasher when you're done prepping your meal. Because of their superior quality and hassle-free cleanup, these stand mixer attachments sit at the top of our list.
Pros
Durable, rust-resistant stainless steel blades
Compatible with all KitchenAid stand mixers
Convenient packaging for easy storage
Cons
May not be sharp enough for some
Its slices can be too thin
The Antree Pasta Maker Stand Mixer Attachments are the perfect way to make your own pasta from scratch. This three-in-one pasta-making attachment kit lets you roll your dough before cutting it into your choice of spaghetti, fettuccine or lasagna noodles. Did we mention that you won't even need to switch out attachments? You can also easily change the thickness of your pasta thanks to its eight adjustable gears, from super-fine angel hair to extra-thick fettuccine.
These stand mixer attachments come with a sharp cargo groove that helps you get the perfect cut every time. Made from 304 stainless steel, they're exceptionally durable and can be by your side on all your pasta-making adventures. If that wasn't enough, this set also comes with a protective case for storing all your stand mixer attachments when they're not in use.
Pros
Easy to control — great for beginners
Adjustable thicknesses offer increased versatility
Comes in a convenient storage case
Cons
Difficult to clean
May not cut completely
The Kitort Food Grinder Stand Mixer Attachments can be just what you need to make your cooking dreams come true. With these attachments, you can grind meat and veggies into perfectly blended mixtures, allowing you to make everything from sausage to pesto. The pre-chilled grinder efficiently maintains grinding temperatures to help you avoid messes.
These stand mixer attachments come with three different grinding plates (fine, medium and coarse) that are great for grinding whatever ingredients you're cooking with into various sizes. Along with these plates, you'll also receive two sausage stuffer tubes and a sausage stuffing holder, helping you create everything from sausages to burgers in mere minutes.
Pros
Sharp blades offer optimal grinding
All-metal design for increased durability
Detachable parts for easy clean-up
Cons
Parts must be hand-washed
Sausage stuffer is low-quality
This Kitchpower Stand Mixer Attachment is a small but mighty tool that can make baking easier and more enjoyable. Housed in a metal alloy frame, this flex-edge beater is made of die-cast aluminum and features a non-stick coating that can help you get the most out of your stand mixer. Its flexible edge is designed to reach all corners of your mixing bowl, making it easier for you to mix ingredients without having to stop and manually scrape the sides.
Offering near-universal compatibility, this stand mixer attachment be sure to fit your mixer, allowing you to make delicious recipes like whipped cream and mayonnaise in a flash. Because this attachment has a silicone edge, you can also use it as a spatula to scrape every last bit of batter or dough out of the bowl when you're done mixing.
Pros
Teflon coating to avoid ingredients sticking
Flexible edges to reach all corners
Easy to attach and dishwasher-safe
Cons
Rattles a bit during use
May eventually start to chip
Whether mixing batter for cookies or whipping up some buttercream frosting for your favorite cupcakes, this stand mixer attachment from Tizze can help you achieve a smoother consistency. This whisk's design is perfect for aerating ingredients like eggs and whipped cream, and it can move quickly through even the thickest batter to ensure thorough mixing.
This wire whisk stand mixer attachment is made of high-quality stainless steel and also complies with Original Manufacturere Equipment (OEM) standards, making it a durable, long-lasting choice for all your baking adventures. It's easy to attach and detach and is a seamless choice for your stand mixer.
Pros
Rust-resistant stainless steel construction
Tilt-head design for better mixing performance
Complies with OEM standards
Cons
Not dishwasher-safe — must be hand-washed
Wires may pop loose
Buying Guide: Stand Mixer Attachments
While kitchen appliances can end up gathering dust on the shelf, this certainly won't be the case for your stand mixer if you get the right mixer attachments and accessories. Even if you already know the ways in which you can use your stand mixer, you might be baffled when it comes to selecting the right attachments from the hundreds of options available. We've put together a thorough buying guide to help you choose the most efficient stand mixer attachments.
Different types of stand mixer attachments
Pasta roller set
The pasta roller set is probably the most common stand mixer attachment. This attachment kit includes everything you'll need to roll and cut different pasta shapes and textures. If you follow a gluten-free diet or simply like to control your carbohydrate intake, these attachments are a must-have for your kitchen.
If pasta isn't quite what you're looking for, you can also find stand mixer attachments for grinding low-moisture cereals and grain foods. These are usually made of durable stainless steel to crush wheat grains, rice and corn just the way you want.
Meat
If you're a meat lover, grinding attachments mince meats into various textures. For example, you can easily make sausages out of beef mince or cut ham or turkey into thin, precise slices.
Fruits and vegetables
According to experts, adults should have five to nine servings of fruits and veggies each day. However, most people find it hard to stick to a healthy routine due to the time and effort it takes to prepare such meals at home, which is where certain stand mixer attachments can help.
Vegetable sheet cutters make wide, smooth strips of veggies that you can grill or put into a lasagna, while spiralizers turn zucchini and other vegetables into long, thin spirals that you can then stir-fry or eat instead of noodles. Some attachments also allow you to chop fruits and vegetables into small sizes to make a delicious, nutritious salad.
If you enjoy fruit, strainer and grinder attachments make it easier to prepare these fibrous foods in seconds. Some attachments remove seeds and peels, leaving a fine pulp, while other types of attachments can peel, cut and slice hard foods like avocados and carrots.
Miscellaneous
Certain stand mixer attachments won't save you a lot of time, but they will allow you to prepare unique specialty foods that can make for a memorable meal. With ice cream-making accessories, you can easily prepare cold dairy delicacies with your stand mixer, and you can also get a temperature-controlled mixing bowl that allows you to make and serve warm fondues and dips.
Factors to consider when purchasing stand mixer attachments
Power source
You can plug most stand mixer attachments into the machine's power hub. These accessories use the mixer's motor to perform heavy cutting and grinding tasks and are a wonderful choice for items that need proper, consistent blending. If you suffer from joint discomfort, electric attachments can be a terrific way to prepare fresh food while lowering the amount of strain on your body.
To prepare meals, some stand mixer attachments utilize hand-cranking or a similar method. Hand-crank alternatives are ideal for meals that require some texture because they usually leave bigger bits, which is great for condiments. Attachments that operate with the mixer's motor are mostly automatic, making them a great choice for anyone who suffers from chronic wrist pain.
Materials
Most stand mixer attachments are made of stainless steel or strong plastic. Steel attachments are often more resilient than plastic, but they're usually a little pricier. Plastic attachments are typically less expensive than metal ones, but they're more likely to break and wear out with time. To strike a balance between cost and quality, most stand mixer attachments feature a combination of metal and plastic.
Tips to maintain stand mixer attachments
Cleaning and maintaining your stand mixer attachments doesn't have to feel like a chore; you can easily keep them in pristine condition for years with the right care and attention. We've listed some proven tips to help you maintain your stand mixer attachments:
Store the attachments correctly: You should always store stand mixer attachments in a cool, dry place, as most are made of steel that can rust or corrode in humid environments
Properly clean them after every use: It's important to wash or clean stand mixer attachments to remove any food or grease build-up. Regular cleaning not only prevents attachments from becoming stained or damaged but also helps you avoid mixing the tastes and odors of different ingredients
Inspect them regularly: Closely inspect your stand mixer attachments every now and then for any signs of wear and tear. It's important to replace your attachments immediately if you notice any damage
People Also Asked
Q: Is it safe to put my stand mixer attachments in the dishwasher?
A: If you have multiple attachments and don't know if each is dishwasher-safe, hand-washing them will be a better choice. Look for cleaning instructions in the user manual to figure out if your stand mixer attachments are dishwasher-safe.
Q: Do I have to clean my stand mixer attachments daily?
A: It's better to clean your stand mixer and its attachments when you're done using them. Cleaning them regularly ensures there's no food build-up and that the attachments remain in tip-top shape for years to come.
Q: Do all KitchenAid mixers work with attachments?
A: Yes, but they'll have to be official KitchenAid stand mixer attachments.
Q: How long do stand mixer attachments last?
A: It depends on the quality and material of your attachments, but a high-quality stand mixer attachment will generally last you anywhere from five to nine years when taken care of properly.
Q: Are hand mixer attachments universal?
A: The bad news is that the majority of hand mixer attachments aren't universal; you'll have to check if a certain attachment is compatible with your mixer before purchasing.
Why Trust Us
Our commitment to the consumer begins with product selection and ends with the last word we write in each article. Each stand mixer attachment is carefully vetted quantitatively through star ratings and number of reviews qualitatively through careful examination of reviews and the features each one has to offer. Leveraging our team of bargain hunters, we're also always sure to keep your budget in mind while we find the best attachments on the market. Our team of experts is dedicated to accurately depicting the pros and cons of each stand mixer attachment, translating technical product specifications into information you can understand. Our mission is to make sure you get the most bang for your buck…or in this case the most dough for your dime.