The Best Stand Mixers for Your Money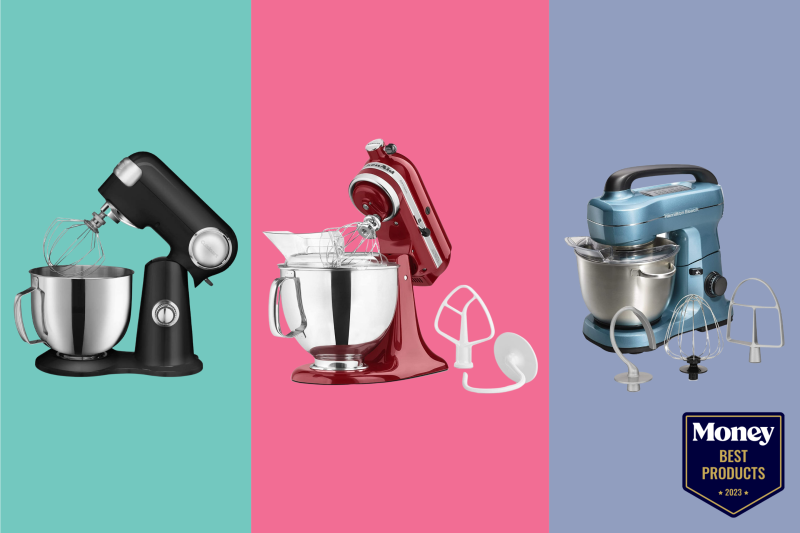 Stand mixers are a helpful kitchen companion for a wide range of cooking and baking tasks. Although these mixers take up a fair amount of counter space, they essentially allow you to do away with various other kitchen tools, making tasks faster and less messy. Who needs to dirty the entire kitchen counter to knead bread or pizza dough when you can simply place it in your mixer to auto-knead? If you're an avid baker, a stand mixer is one kitchen appliance you really should invest in. We've searched out the top stand mixers in 2023 to help you choose a device that will suit your needs and budget, taking into account their functionality, size, and ease of use.
Best Overall: KitchenAid Stand Mixer
Easy Storage: Hamilton Beach Stand Mixer
Great Accessories: Cuisinart Stand Mixer
Stainless Steel Bowl: Cusimax Stand Mixer
Glass Bowls: Sunbeam Stand Mixer
Large Capacity: Aucma Stand Mixer
Here are the Top Stand Mixers of 2023
List Price: $379.99 - $459.99
Available in a wide range of trendy colors and boasting 59-point planetary mixing action, this KitchenAid Stand Mixer is our number one pick. From a slow stir to a fast whip, the mixer's 10 speeds offer great mixing for thorough ingredient incorporation.
This stand mixer comes with a five-quart bowl, and its tilt-head design offers easy access to the bowl and allows you to effortlessly change attachments. You can also purchase additional bowls and attachments to turn it into a pasta maker, a cheese grater, a shredder, a spiralizer, or even a meat grinder. Thanks to its high-quality, versatile design, this stand mixer is our top pick.
Pros
Large, stainless steel bowl with a handle
Includes beater, whisk, and dough hook attachments
Features a pouring shield
Cons
Only works with compatible bowls
Fairly heavy machine
List Price: $129.99 - $132.99
With its large, non-slip handle, this stand mixer from Hamilton Beach can easily be lifted, moved, and stored. Its planetary mixing motion allows for more thorough mixing and prevents batter from getting stuck to the sides of the bowl, while the tilt-head design lets you easily add ingredients and change attachments without having to remove the entire bowl.
This mixer features a handy mixing guide on top of the unit. Since most recipes don't tell you which speed to mix your batter at or which accessory to use, this guide can help you achieve ideal results by using the right speed for the task at hand. It comes with a splash guard, a whisk, a flat beater, and a dough hook; all of these attachments and the 4-quart bowl are dishwasher-safe.
Pros
Built-in handle for increased convenience
Features a mixing guide on the machine
Comes with various attachments
Cons
Short power cord
Not very durable
List Price: $249.95
This stand mixer from Cuisinart can make your time in the kitchen a lot more convenient. With a 5.5-quart bowl and 12 speed options, it's a great choice no matter how fast or slow you need to mix. As an added bonus, the motor stays pretty quiet no matter the speed you're using.
This stand mixer features a tilt-head design for increased convenience when adding ingredients or switching out attachments. Speaking of attachments, this mixer comes with a whisk, a dough hook and a flat mixing paddle. There's also a splash guard with a handy pour spout. In addition to a standard instruction manual, you'll also receive a book of recipes to help you find new and delicious ways to use your new stand mixer.
Pros
Wide speed range
Comes with various attachments
Backed by a three-year warranty
Cons
Screws may come loose over time
Poor customer support
List Price: $125.99 - $137.99
The Cusimax Stand Mixer is available in a range of fun colors and can be an ideal choice for families who love to bake together. It features a splash guard, anti-slip feet, and a bowl-locking mechanism to make sure everything stays where it's supposed to while mixing, including your ingredients.
This stand mixer also has heat dissipation vents to prevent overheating during use, and its 5-quart stainless steel bowl is durable and offers excellent results when whipping up egg whites. This stand mixer comes with a whisk, a dough hook, and a flat beater, and its tilt-head design makes these attachments easy to pop on and off.
Pros
Tilt-head design for easy access
Planetary motion for better mixing results
Comes with several dishwasher-safe attachments
Cons
Only three speed settings
Not ideal for heavy-duty mixing
List Price: $159.87
The Sunbeam MixMaster Stand Mixer features a whopping 12 speed settings, allowing you to lightly fold in ingredients, knead pizza dough or whip up finely aerated meringues. Its "Soft Start" technology prevents dry ingredients from flying out of the bowl before you've even started mixing by gradually increasing the speed, leading to less mess and better results overall.
Unlike most stand mixers that come with a stainless steel bowl, this appliance comes with two glass bowls: a 2-quart bowl and a 4-quart bowl. Glass bowls are great for various uses since they can go in the microwave or be placed on a double boiler setup for melting chocolate, mixing custard or preparing crème anglaise.
Pros
Comes with two glass bowls
Tilt-lock design offers easy bowl access
Ergonomic handle for increased comfort
Cons
Not ideal for bulk recipes
Glass bowls are heavy
List Price: $139.99 - $159.99
This powerful stand mixer from Aucma is available in a range of gorgeous colors to help you spruce up your kitchen with style and functionality. It offers six speed settings, as well as a pulse function for when you need a little extra power. That said, no matter what speed it's set to, this stand mixer won't make too much noise while mixing.
This stand mixer comes with a large 6.5-quart stainless steel bowl that has handles for easy lifting. It features a splash guard with a space to conveniently add ingredients to the bowl, and its lift-lock design helps to keep the mixer's head in place during use, when removing the bowl, and while changing attachments.
Pros
Large, stainless steel mixing bowl
Whisk, beater and dough hook included
Several color options available
Cons
Large size requires more storage space
Loud during use
Buyer's Guide to Finding a Stand Mixer
Besides price, there are multiple things to consider when looking for a stand mixer, as the features you should look for will largely be determined by how often you use your mixer and what you'll be using it for.
If you bake occasionally for yourself and a couple of friends in your apartment's kitchen, a small stand mixer can be a wonderful culinary companion. If you often find yourself baking large quantities of treats for your family, though, a larger stand mixer with a few extra features can help you keep things consistent, clean and efficient.
If you're unsure where to start looking, keep reading to learn how to find a high-quality stand mixer in 2023.
What can I use a stand mixer for?
Since many stand mixers (but not all of them) have larger motors and more power than hand mixers, they're capable of processing thicker dough. Stand mixers can be used to mix batters for cakes, pancakes, and cookies, and they're a popular choice for whipping egg whites, cream, frosting, and other aerated ingredients.
Stand mixers can also be used for kneading bread and pizza dough, creaming ingredients together, and even mixing things like salad dressings, sauces, and mashed potatoes.
Once you start adding some of the more high-end attachments to top-end stand mixers, you can also use them to make ice cream, grind meat, and grate cheeses and vegetables.
Pros and cons of using a stand mixer
Pros
Stand mixers can handle large mixing capacities, allowing you to mix enough batter for a few batches in one go
They operate independently, allowing you to take care of other tasks while they're mixing
A variety of speed settings allows for better control and improved consistency
Newer models come with a wide range of attachments and features
They can be a great time saver, as they're a lot faster than working manually
They're easy to use
Cons
They require a lot of counter space
They can be heavy to store and move around
Stand mixers can generally only be used with the bowl they come with
Features to consider when making your purchase
Speed
Some stand mixers come with as many as 16 speed settings, but the average baker won't need that many. However, it's important to have a few different speed settings, as whipping speed has a big impact on the outcome of your baked goods.
Most stand mixers have between 6 to 10 speed settings. The lower settings are important to use when you start mixing, as these will prevent your ingredients from splattering all over the place. As wet and dry ingredients start to stick together, you can increase the mixing speed for better and more consistent ingredient incorporation.
Low speeds are ideal for bread and pizza dough, as they develop gluten and yeast without overworking the dough. High speed settings, on the other hand, are necessary for whipping egg whites and cream, as higher speeds allow for smaller air bubbles to be created. This offers better consistency and firmness and gives your product a light, fluffy texture.
Medium-density batters run the risk of being over-mixed or under-mixed at speeds that are either too high or too low. To avoid this, make sure you use the medium-speed settings on your stand mixer. Batters that are overmixed will be gluey and dense, while undermixed batters will contain clumps of flour and might not rise well due to poor ingredient distribution.
Locking mechanisms
Stand mixers come with various safety locking mechanisms. Some require you to lock the bowl in place before the machine will turn on, which prevents it from spiraling off the stand during mixing. Others feature a locking mechanism for the head to keep the beaters in place and the tilt mechanism up or down as needed.
Stability
Check whether your stand mixer has non-slip or suction feet on its bottom, as this will prevent the machine from moving around while mixing. It may make the mixer difficult to move when you want to, though.
Storage
Stand mixers are bulky pieces of equipment. It will be more convenient to use if you keep it on the counter, but you'll need a fair amount of counter space near an available power outlet.
You can store your stand mixer in the cupboard if you don't use it often and need the counter space, but keep in mind that it might be a little difficult to bring out. We recommend storing stand mixers in a chest-level cupboard, as keeping them at any sort of height can be dangerous while taking them out or putting them away. If space is a significant issue for you, check the dimensions of the stand mixer when it's set up before making your purchase.
Bowl capacity
Stand mixers usually come with one compatible bowl, although some units will include two bowls of different sizes. If you do a lot of mixing, check whether you can purchase extra bowls separately.
Bowl sizes generally vary between 4 to 7 quarts. If you run a home bakery or bake for a large number of people, go for either a stand mixer with a large bowl or one that offers multiple bowl sizes.
Bowl material
Mixing bowls that accompany stand mixers are usually either stainless steel or glass. While glass bowls allow you to see their contents from all sides, stainless steel bowls are better for whipping ingredients such as egg whites.
Both types are usually dishwasher-safe, but glass bowls may show wear and tear faster, and they also break more easily. This is a larger problem if you only have one bowl that's compatible with your stand mixer. However, glass bowls let you see if your ingredients are sticking to the bowl more easily.
Cord wrap
A cord wrap is a small but handy feature to have, especially if you're storing your stand mixer in the cupboard or need to unplug it when it's not in use. If your machine doesn't have a cord wrap, don't worry, because you can purchase these separately. These wraps stick onto the back or side of your appliance, making it easy to store the cord safely and neatly.
Mixing motion
While all stand mixers spin the beaters or whisks to create their mixing action, the spinning direction may differ, and some may also feature planetary mixing action.
A planetary mixing motion means that either the bowl or head will simultaneously rotate with the beater's spinning action. This results in more thorough mixing and also prevents batter from getting stuck to the sides of the bowl. Mixers that don't have this feature require you to scrape the sides of the bowl periodically to reincorporate the ingredients.
Planetary mixing motion also results in better, more consistent creaming of ingredients, such as softened butter and sugar. In comparison to hand mixers, which can result in a slight oily layer or gritty texture, This likely won't be a dealbreaker if you're a casual home baker as it won't make a huge difference to your end product, but it can definitely be nice to have.
Another factor to consider is the direction that the beaters spin; your stand mixer's beaters should spin from the inside out. If they spin from the outside in, everything will clump together in the middle of the bowl and you won't effectively draw in and incorporate the ingredients at the edges.
Accessories and attachments
Every stand mixer should include at least one bowl and three basic attachments: a beater, a whisk and a dough hook.
Flat beater or paddle
A flat beater is most commonly used to mix thin to medium batters for cheesecake, meatloaf and cupcakes. If your dough is not overly heavy and doesn't require excessive aeration, this is the attachment to use.
Some stand mixers have a flex-edge beater, which is simply a beater where one side of the paddle is covered with a silicone edge. This silicone edge allows you to scrape the sides of the bowl like a spatula without having to stop the machine and do it manually. This can be great for sticky ingredients, such as honey or cream cheese, and can help make sure you're using every last bit of your batter.
Dough hook
Dough hooks can come in either an S-shape or a C-shape. S-shape (or spiral) dough hooks work by pushing the bread or pizza dough from the bottom of the bowl, while C-shaped hooks push it from side to side. Both hooks are great for kneading heavy dough since they can withstand the dough's elasticity. Trying to use a paddle or a whisk to knead heavy dough will only cause your machine to overheat or an attachment to snap off.
Balloon whisk
A balloon whisk should have thin wire beaters and a hollow center. This is essentially a mechanized version of your regular hand whisk, and it's used to incorporate air into batters, cream and eggs. When whisking egg whites for chiffon cake, angel food cake or meringues, use a high-speed setting for a lighter, fluffier end product, but be careful not to overwhip.
Avoid using this attachment for medium to heavy batters, as this can damage your machine.
Many stand mixers also come with a removable splash guard. These can either cover the entire top of the bowl to prevent ingredients from splashing out while mixing or have a spout or hatch where you can add ingredients while the motor is running.
Newer, pricier stand mixers may offer a wide range of extra features, but these attachments often have to be purchased separately. The following are some common options:
Pasta maker
Meat grinder
Ice cream mixer
Grater
Sifter and scale
Shredder and slicer
Spiralizer
Sheet cutter
Grain mill
People Also Asked
Q: Are stand mixers worth it?
A: If you often find yourself preparing tasty treats for yourself or for your family and friends, a stand mixer can definitely be worth it. Not only do they make things a little easier by cutting down on the manual work you'll have to do, but they're also compatible with a wide range of attachments that allow you to use your stand mixer for everything from shredding vegetables to making ice cream.
Q: What are stand mixers good for?
A: Stand mixers are great for mixing cake and cookie batter, as well as kneading dough for bread and pizza. Stand mixers are versatile appliances, and you can broaden their potential uses by purchasing additional attachments.
Q: What wattage should a stand mixer be?
A: Good stand mixers usually range from 250 to 1,000 watts or more. If you're doing heavy-duty baking, opt for 500 watts or more. For general home use, a 250-watt machine will do.
Q: Can you store a stand mixer on its side?
A: No, stand mixers should ideally be placed upright to prevent the interior motor components from moving around.
Q: Does it matter if I place my stand mixer near the stove?
A: The heat from a stove or oven can affect your batters and your success in whipping egg whites and cream, among other ingredients. It's highly beneficial to use your mixer in a cool area of the kitchen that doesn't receive steam, evaporation or heat from nearby appliances.
Why Trust Us
Our commitment to the consumer begins with product selection and ends with the last word we write in each article. Each stand mixer is carefully vetted quantitatively through star ratings and number of reviews qualitatively through careful examination of reviews and the features each one has to offer. Leveraging our team of bargain hunters, we're also always sure to keep your budget in mind while we find the best mixers on the market. Our team of experts is dedicated to accurately depicting the pros and cons of each stand mixer, translating technical product specifications into information you can understand. Our mission is to make sure you get the most bang for your buck…or in this case the most dough for your dime.
More from Money:
Mix It Real Good With the Best Cordless Hand Mixers
Stir, Mix and Whip With the Best Stand Mixer Attachments