The Best Step Counters for Your Money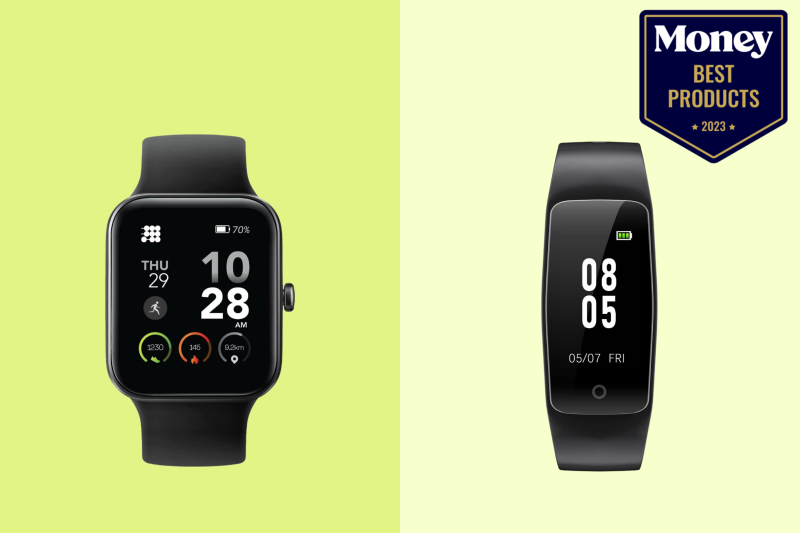 Whether you want to get better rest at night or feel more confident in yourself, health and fitness are important areas to focus on. One easy and affordable way to prioritize them is by keeping track of your daily steps. Fortunately, there are innovative products and technologies to help you do so — one of which is a pedometer. Often available at affordable prices and with user-friendly designs, step counters can make staying active fun and accessible. Think of these trusty devices as your own personal cheerleader, helping you set and achieve your fitness goals.
In this article, we'll review the top-rated step counters of 2023 to help you easily track your steps. While all offer the same basic function, each option has unique features catered to different consumer needs. From the marathon trainer to the casual walker, there's a trusty step counter out there to match your stride. So, let's step into the world of these game-changing gadgets and break down why they're on everyone's fitness radar.
Best Overall: Cubitt CT2S Series 3 Smart Watch
Easiest To Use: NESKLA 3D Pedometer for Walking
Most Reliable: Realalt 3DTriSport Walking 3D Pedometer
Best for Quick Charging: Kummel Fitness Tracker
Best Value: GRV Fitness Tracker
Comparing the Best Step Counters of 2023
List Price: $64.95
Embrace a healthier, more active lifestyle with the Cubitt CT2S Series 3 Smart Watch. This stylish and user-friendly gadget, complete with a 1.7-inch TFT-LCD color HD touch screen, is your ultimate companion for comprehensive health and fitness tracking. Beyond being a step counter, it's a heart rate monitor, blood oxygen tracker, sleep analyzer, and stress gauge.
e all rolled into one. The integrated accelerometer sensor combined with other technology allows you to track time, date, steps, calories burned, and distance with this multifunctional pedometer. You can also stay connected with smart functions like receiving calls, texts, and social media notifications.
This product features a convenient wake-up function and customizable displays, allowing you to personalize the screen with your own pictures and text. The watch is IP68 waterproof, making it ideal for adventurous souls who love water activities. It features 14 different sports modes to track your workout progress, no matter the activity. This pick is also compatible with iOS, Android OS, and Strava for convenient data synchronization. With its easy setup and comfortable wear, you'll hardly feel it resting on your wrist while you exercise. Between its personalization features and a wide array of tracking functions, this premium step counter is the best overall option on our list.
Pros
Comfortable to wear
Easy to set up and navigate
Many health and workout tracking features
Cons
Charging cable can disconnect easily
VeryFit app text may be hard to read
List Price: $19.99
If you're looking for a simple step counter that's easy to use, check out the NESKLA 3D Pedometer for Walking. This device is ideal for any non-tech-savvy individuals and fitness enthusiasts thanks to its large LCD display featuring big numbers and straightforward operation. It doesn't require any complicated setup or programming — all you have to do is clip it to your belt or lanyard or slip it in your pocket or bag and start walking. Plus, this product is very affordable at under $20.
Equipped with advanced 3D Tri-Axis Sensor technology, this pick offers reliable accuracy compared to many other pedometers. It also intelligently auto-sleeps when you aren't moving and auto-wakes, counting your steps as soon as you start moving again. This step counter also comes with a removable clip lanyard for added convenience. Weighing just 26.5 grams, this device is lightweight enough that you won't be bothered by any bulkiness while logging your daily steps. Additionally, this pedometer offers a remarkable battery life of up to one year due to the included CR2032 battery.
Pros
Very simple, easy-to-use design
Long-lasting batter doesn't require charging
Convenient and lightweight to wear or carry
Cons
Doesn't have a backlight
Only starts counting after taking 10 steps
List Price: $42.96
The Realalt 3DTriSport Walking 3D Pedometer is a dependable, long-lasting step counter packed with useful features and bonuses, making it a worthwhile investment. This pick does more than just count your steps. Its continuous activity duration monitoring and 3D Tri-Axis Sensor technology tracks every run, burned calorie, and minute of exercise with precision, keeping you motivated to reach your daily activity targets. With personalized fitness settings, this gadget adapts to your unique fitness goals. Plus, you can monitor your walking distance in either miles or kilometers based on your preference.
Besides its built-in clock and step goal setting, this pedometer has 30 days of memory capacity to store fitness data, ensuring you stay informed about your progress. It's easy to set up, with no Bluetooth or downloads required. It also comes with a convenient clip and strap for easy carrying to keep your hands free while you work out. As a bonus, it includes a free eBook to guide your fitness journey. You can rest assured that this pedometer is a reliable choice as it comes with an 18-month warranty for peace of mind.
Pros
Accurate tracking of steps, distance, and calories
Time displays in 12- or 24-hour format
Ability to view past 30 days' data
Cons
Fairly complex initial setup process
Button cell battery isn't rechargeable
List Price: $32.99
Step up your fitness game with the Kummel Fitness Tracker, which is designed to monitor various health and activity data without interruption. With its long-lasting battery life of seven days, this step counter ensures that your progress is monitored throughout the week so you don't need to worry about your device dying. When it's time to charge this pedometer, it recharges to full battery in only one to two hours by USB. This product can be paired with a user-friendly app to explore its smart features.
This waterproof activity tracker doesn't just count your steps — it also keeps an eye on your real-time heart rate and sleep patterns. It can be used to monitor calories burned, distance, and duration of exercise as well. Boasting up to 14 sports modes for activities ranging from yoga to tennis, this step counter is useful for all your fitness needs. It can be synced to your phone to display notifications for calls, texts, and social media to keep you in the loop while you're staying active.
Pros
Available in five aesthetically pleasing colors
Ideal for tracking sleep, heart rate, and more
Great battery life of one week
Cons
App has a learning curve
Biking distance may not be accurate
List Price: $25.99
Searching for a multifunctional step counter that won't break the bank? Consider the GRV Fitness Tracker, which is available for under $30. For maximum convenience, this pedometer doesn't require Bluetooth connectivity, an app, or even phone synchronization to utilize its numerous features. It can accurately track your steps, calories burned, distance traveled, and sleep patterns all on its own. This durable option also boasts an IP 67 water-resistance rating, ensuring it can be worn safely while swimming, washing your hands, and sweating from an intense workout.
This step counter features a minimalist, user-friendly design with a digital display and single-button touch operation, making it suitable for all ages. It's also easy to set up; all you need to do is input some basic information in its settings and you're ready to go. This product has a long-lasting battery life, providing seven days of usage on a single charge. Its built-in USB can be used to quickly and conveniently recharge the device in only two to three hours. Note that it's best to charge this pedometer before the battery fully depletes to maintain your settings.
Pros
Water-resistant and durable construction
Good battery life and quick-charging feature
Great features and accuracy for its low price
Cons
Strap could be a little longer
No app for data storage
Buying Guide: Step Counter
As technology makes setting and tracking your fitness goals easier than ever, tools like step counters can become an indispensable and useful part of your daily routine. A step counter, also known as a pedometer, is a device that helps you track the number of steps you walk each day, with the aim of motivating you to be more physically active and track your progress over time. However, with a plethora of options available in the market, choosing the right one for your needs can be a daunting task. This guide simplifies this process by outlining the vital factors to consider while shopping for a step counter.
Accuracy
The first feature that you should consider while buying a step counter is its accuracy. The primary purpose of a step counter is to count your steps, so if it doesn't do this accurately, it defeats the purpose. Look for a step counter that uses an advanced mechanism, such as multi-axis sensors and filtering algorithms, so that it doesn't count random movements as steps.
Battery life
Since step counters are wearable devices meant to be used continuously, their battery life is of utmost importance. While some devices will require daily charging, others could last for weeks or even months on a single charge. Take into consideration your lifestyle and how frequently you are willing or able to charge the device.
Ease of use
While it's good to have a step counter with multiple features, it should not be so complicated that you find it challenging to use. The device should have a straightforward set-up process, and the display should be easy to read. Look for a pedometer with an intuitive interface that simplifies your fitness tracking rather than complicates it.
Durability
Given that your step counter will be used daily and subjected to elements such as sweat and dust, it needs to be durable. Choose a step counter that's resistant to these elements and can withstand daily wear and tear. Some step counters are even water-resistant, which is a bonus if you plan to use yours while swimming or running in the rain.
Connectivity
Most modern step counters come with the feature to sync with your smartphone or computer, offering you a detailed analysis of your physical activity. This data can be invaluable in setting and achieving your fitness goals. If you'd like to have this feature, ensure that the step counter you choose is compatible with your device's operating system and comes with a user-friendly app.
Price
While price should not be the sole determining factor, it's undoubtedly crucial. The step counter you choose should not only fit within your budget but also meet all your requirements. Remember, a higher price tag doesn't always equate to better quality; many affordable options offer impressive functionality and accuracy.
Extra features
Apart from counting steps, many step counters come with additional features like sleep tracking, heart rate monitoring, or GPS tracking. Some models can also track activity for other types of exercise. While these features can add value, they may also increase the complexity and cost of the device. Identify the features that are most important to you and look for a step counter that provides them.
Comfort and design
Last but not least, consider the comfort and design of the step counter. Since you will be wearing this device for most of your day, it should be comfortable and aesthetically pleasing. Pedometers can be worn in different ways; some models can be clipped onto your waistband while others are worn on the wrist like a watch. Choose a design and size that suits your style and wearing preferences.
People Also Ask
How do I use a step counter?
To use a step counter, simply attach it to your body as instructed by the manufacturer. This will usually be on your waist, wrist, or ankle. Once it's in place, it should start counting your steps.
How can I ensure the accuracy of my step counter?
To ensure the accuracy of your step counter, make sure it's securely fastened and in the correct position. Different models may require different positioning, so refer to the user manual for specific instructions. It's also a good idea to occasionally manually count your steps over a short distance to check the accuracy of the device.
Why is my step counter not counting steps?
If your step counter isn't counting steps, it may be because it's not securely attached, it's in an incorrect position or the motion sensor is malfunctioning. Make sure the device is correctly positioned according to the user manual. If it's still not working, it may be necessary to reset the device or replace or recharge the battery.
Can I wear my step counter in the rain or while swimming?
This depends on the specific model of your step counter. Some models are waterproof, while others are not. Be sure to check the user manual or product description for information on water resistance.
How can I sync the data from my step counter to my phone or computer?
Most modern step counters come with Bluetooth functionality, allowing you to sync your step data to an app on your phone or computer. To do this, you will need to download the app recommended by the manufacturer, and then follow the provided instructions to pair your step counter with your device.
Why Trust Us
Our commitment to customers begins with a carefully curated product selection process, ensuring we provide high-quality and reliable options. We meticulously vet each step counter, analyzing quantitative aspects, such as star ratings and review count, and qualitative factors, including review content and product features. Our dedicated team of bargain hunters consistently prioritizes your budget by meticulously scouring the market and identifying the best step counters available without compromising on quality or performance. Our panel focuses on presenting the pros and cons of each product and converting technical specs into understandable insights. We aim to ensure you are equipped with a step counter that is reliable and easy to use, so you can spend less time troubleshooting the product and more time reaching your step goals.