The Best Toasters for Your Money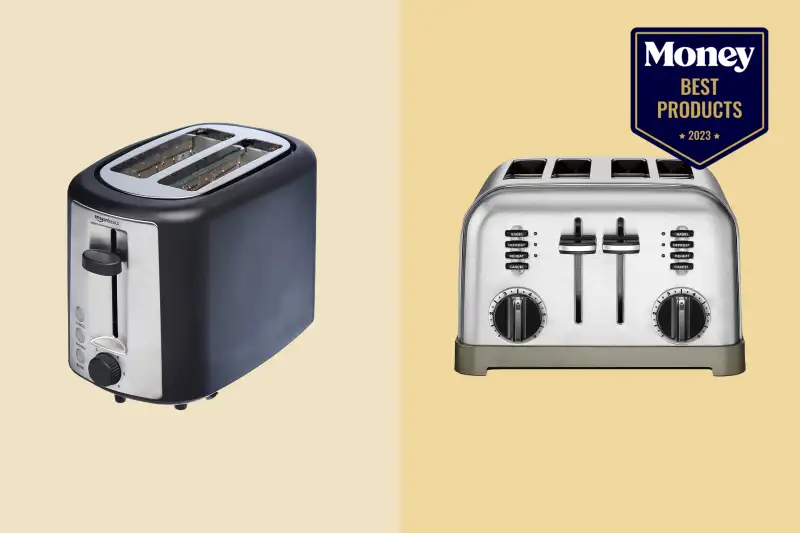 What's the best thing since sliced bread, you ask? Well, it's toasted bread! If you're in search of your next toaster, then you've come to the right place. The toaster might seem like a simple kitchen appliance, but it's actually a surprisingly complex piece of technology. With so many different models and features to consider, finding the right toaster can be overwhelming.
But don't worry, we've got you covered. We've scoured the market and found the highest-rated toasters of 2023. Whether you're looking for something that can make breakfast quick and easy, or you're on the hunt for a toaster that can do it all, we'll recommend a product that can work for you. So, let's explore the world of toasters!
Best Overall: Chefman Toaster
Best Overall: Amazon Basics 2 Slice Toaster
Most Stylish: Cuisinart CPT-180P1 4-Slice Toaster
Easiest to Clean: Hamilton Beach 2 Slice Wide Slot Toaster
Best Warranty: Elite Gourmet 4 Slice Toaster
Most Affordable: CUSINAID 2 Slice Toaster
Reviewing the Premium Toasters of 2023
Upgrade your breakfast game with the Chefman Toaster, which is a sleek and versatile appliance that brings a touch of modern elegance to your kitchen. Its classic brushed stainless-steel exterior not only adds a timeless appeal to your countertops but also signifies a significant upgrade in functionality and style.
Experience toasting perfection like never before with the Chefman Toaster's impressive features. The seven different shade settings, along with the bagel, reheat, and defrost functions, provide a wide array of customizable options to meet your every toasting need. Whether you're craving a crispy bagel, reheating yesterday's toast, or defrosting frozen slices, this toaster has you covered.
The Chefman Toaster's design embraces convenience with extra-wide slots that effortlessly auto-adjust to accommodate a variety of foods. From thick artisanal breads and bagels to muffins, buns, pop tarts, pancakes, and waffles, this toaster can handle it all. Say goodbye to struggling to fit your favorite treats into a narrow slot; these spacious slots ensure a hassle-free toasting experience. This best overall toaster is a must-have addition for anyone seeking a seamless toasting experience that combines style, versatility, and user-friendly design.
Pros:
Extra-wide slots for various food types
Bagel mode for perfect bagel toasting
High lift lever for safe food retrieval
Cons:
List Price: $29.95
Equipped to handle all of your toasting needs, the Amazon Basics 2 Slice Toaster is the top product for busy households. With its features that make it simple to use and extra-wide 1.25-inch slots, this model can toast even the thickest slices of bread as well as your favorite bagels with ease. And with six different browning settings, you'll be able to find the perfect level of doneness every time. Making bagels has never been easier, thanks to its special bagel setting that only toasts one side, keeping the other side soft and warm. And what about frozen waffles or pastries? No problem! This toaster's frozen setting can defrost and crisp up cold foods, too. And for your convenience and safety, if you need to stop the toasting session early, just hit the cancel button.
This product's extra-lift lever allows you to easily and safely remove even the smallest slices of toast without burning your fingers. Its 37-inch power cord comes with a cord wrap, so you can keep your countertops clutter-free. Cleaning this toaster is also a breeze with its removable crumb tray located in the back. Another useful feature of this toaster is that both its sides have illuminated buttons, allowing you to keep track of the toasting cycle at all times. Finally, this model is relatively affordable compared to other picks. Between its range of browning and temperature settings and conveniently sized construction, this toaster is the best overall option on this list.
Pros
Wider slots are ideal for thick bread
Illuminated buttons help track cooking stages
Removable crumb tray makes cleaning easy
Cons
Toasting can sometimes be inconsistent
List Price: $69.95
Are you looking for a toaster that not only performs well but also adds a touch of sophistication to your countertop? Look no further than the Cuisinart CPT-180P1 4-Slice Toaster! With its sleek brushed stainless steel design and polished chrome and black accents, this toaster is not just an essential kitchen appliance but also an eye-catching addition to your kitchen décor. It comes in a total of four stylish colors. The two control panels, each with its own six-setting browning dial, make toasting a breeze. And with dual reheat, defrost, and bagel buttons, you'll never have to settle for soggy or under-toasted bread again. The LED indicators on the buttons make the toaster more convenient to use.
Its four 1.5-inch wide toasting slots can accommodate all types and sizes of bread, bagels, waffles, pastries, and more. And with the extra-lift carriage lever, you'll never have to worry about burning your fingers while retrieving your toast. The slide-out crumb tray and convenient cord wrap make this toaster an excellent choice for everyday use. You can rest assured knowing that the manufacturer also used the safest BPA-free materials in their construction. Offering a great combination of style and functionality, this reliable toaster not only toasts your bread evenly but also adds a touch of class to your kitchen!
Pros
Pull-out crumb tray for easy cleaning
Easy-to-use controls
Attractive design suitable for countertop display
Defrost, reheat, and bagel functions
Cons
Slide lock mechanism is inadequate
No instruction manual is included
List Price: $31.99
Easy to clean thanks to its drop-down crumb tray that doesn't require removal, the Hamilton Beach 2 Slice Wide Slot Toaster is a must-have for any busy home chef. Its extra-wide slots can easily accommodate thick slices of bread, bagels, or any other breakfast favorites. The toaster also features a bagel setting that perfectly toasts the cut side while warming the outside and a defrost setting for frozen waffles and pancakes.
One of the most useful features of this toaster is the toast boost function, ideal for those small items like English muffins that can be hard to extract from the toaster. With just one touch, the toast boost lifts food higher, making it easier to remove. The adjustable shade selector on this model also allows you to achieve the ideal toast every time, whether you prefer a light or darker doneness. The black and stainless steel design of this toaster not only looks great in any kitchen but is also made out of premium material, so it's durable and long-lasting. The interior is also simple to wipe down and clean due to this stainless steel construction.
Pros
Quick, evenly toasted results every time
Easy-to-empty crumb tray
Effortless retrieval with extra-lift feature
Cons
Shorter slots require pushing slices into place
Toasting consistency may not be uniform
List Price: $34.99
Looking for an option that will be a reliable investment? The Elite Gourmet 4 Slice Toaster is sold with a one-year warranty, so you can buy it with confidence knowing that your appliance will be backed by great customer service. For convenient daily use, the four extra-wide 1.5-inch toasting slots can easily accommodate a variety of bread types, including thick slices of bread, bagels, and even Texas toast. And with six adjustable toasting levels, you can achieve any preferred level of crispiness from just a hint of warmth to dark and crunchy.
This model allows you to quickly reheat and warm previously toasted bread at a lower temperature, so you can enjoy warm, crispy toast no matter whether the bread is fresh or leftover. The convenient cancel button will come in handy if you need to stop a toasting cycle early. With the retractable warming rack, you can warm pastries, buns, rolls, pitas, and more — making this toaster the ideal appliance for breakfast lovers! The drop-down crumb tray also ensures easy cleanup while built-in cord storage helps keep your countertop stay neat and tidy.
Pros
Space-saving, non-bulky design fits anywhere
Holds up to four slices
Long slots can accommodate larger bread
Warming rack efficiently melts butter
Cons
Difficult-to-read heating level adjustment knob
Overpowered release mode may fling toast off-counter
List Price: $25.99
Available for under $30, the CUSINAID 2 Slice Toaster is a budget-friendly appliance that fits well in a stylish and practical kitchen. With its multiple toasting modes and six browning settings, you won't have to settle for subpar toast again. The heating wires on both sides of each slot ensure that every slice of bread is evenly toasted while the LED indicators make it easy to choose between defrosting, reheating, and canceling. Safety is a top priority with this toaster, which is made with fire-retardant materials. And with its removable crumb tray and cord wrap storage, it's easy to keep the toaster and your countertop clean.
This toaster's unique and stylish design sets it apart from others. Made with brushed stainless steel and featuring an arc-shaped design, it's a durable and nice-looking addition to your kitchen. With its compact size, it won't take up too much space on your counter either. In a nutshell, this toaster offers even and quick toasting, multiple settings, and long-lasting construction all in one affordable package. It's a great choice for anyone looking for a toaster that does it all but doesn't come with a high price tag.
Pros
Six browning settings for customizable toasting
LED indicators for effortless operation
Easy-to-clean crumb tray
Cons
Cord placement is inconvenient
Not suitable for thick slices of bread
Buying Guide: Toasters
With toasters being such a fundamental part of breakfast, from bagels to buttered toast, it's not surprising that manufacturers are constantly investing in research, development, and production of this kitchen appliance. Every passing year, it feels like toasters are getting better which makes it tough to ensure that what you're buying is truly the best bang for your buck.
That's where this buying guide comes in. We put together a detailed breakdown of everything you need to know to choose the right toaster for your needs. Whether it's size, features, or value that you're looking for, this guide will teach you how to narrow down your options and select the ideal model for your kitchen.
Size
When selecting a toaster, it's important to choose one that fits properly in the space available in your kitchen. It's a good idea to identify where your toaster will be placed in the kitchen and to measure that space to get an idea of what size you're looking for. Once you have a general idea, consider the height and width of each model. Ideally, a toaster shouldn't be too small to use or too overbearing in the kitchen.
Color options
Toasters come in a variety of colors to match your home décor. From classic white, black, and silver to more vibrant hues like red or blue, you're sure to find a color that suits your style. Whether you're looking to coordinate with other appliances or add a bold statement, the options are endless with toasters. So go ahead, pick your favorite style and enjoy a bright, colorful addition to your kitchen!
Number of slots
When choosing a toaster, consider the number of slots available for slices of bread. Toasters typically come with two or four slots. If you frequently make toast for more than two people, a four-slot toaster is a better choice. This way, you can make more toast at once to save time. If you usually only make toast for one or two people, a two-slot toaster is sufficient and will save you some money as well.
Slot size
It's also important to consider the size of the toaster slots. Some toasters are designed specifically to accommodate thicker slices of bread, such as homemade loaves or bagels. If you frequently use these types of bread, then it's important to look for a toaster with wide slots.
Browning control settings
The browning control is crucial in toasters, letting you personalize your toast's color and crispiness to your preferences. If you consider yourself a toast connoisseur, then this is probably the most important purchasing factor for you. Many toasters offer several browning settings, giving you a variety to choose from and opening up a world of possible ways to use your toaster. Whether you want lightly toasted bread or a crunchy, dark texture, the browning control lets you make your toast just the way you like it.
Toasting timer
Toasting bread just right is easy with a timer. Many toasters have an adjustable timer that lets you set toasting time from one to seven minutes or longer. This ensures perfect toast every time and frees you up to do other chores or just relax while your bread cooks.
Crumb tray
A crumb tray is a handy feature for those who frequently use their toaster. It allows for quick and easy cleanup after each use. Simply slide out the tray and dispose of any collected crumbs in the sink for mess-free toasting.
Keep-warm function
A keep-warm feature is a great addition to have in a toaster, especially for families or households where people eat breakfast at different times. With this feature, your toast will stay warm until you're ready to eat it, ensuring that every slice is fresh and delicious, no matter when you sit down to enjoy your breakfast. It's the ideal solution for those busy mornings when everyone is on a different schedule.
Cord length and storage
Think about the placement of your toaster in the kitchen and the convenience of its cord storage. A toaster with a cord wrap option or storage compartment can help keep your countertops clutter-free, while a longer cord gives you more flexibility in where you choose to place your appliance. Make sure the cord length works with your kitchen's outlet location to ensure seamless and stress-free toasting
Reheat and defrost settings
If you're someone who values convenience and efficiency in the kitchen, you'll love the reheat and defrost features on some toasters. These settings allow you to quickly warm up yesterday's toast or thaw out frozen items to be cooked. With just a few clicks, you can enjoy perfectly toasted bread or quickly prepare frozen waffles, saving you time and effort in the kitchen.
Auto shut-off feature
The auto shut-off feature is a handy safety addition found in some modern toasters. After a certain time elapses without use, the toaster automatically turns off, offering peace of mind and reducing the risk of fire or other hazards. This is especially useful for those who often get distracted and forget to turn off their appliances. With this feature, you can focus on your tasks and let the toaster take care of itself.
Non-stick interior coating
A non-stick interior coating makes cleaning your toaster a breeze. It also ensures a smoother cooking experience for items like waffles and paninis. No more worrying about stubborn bits of dough or crumbs sticking to the interior of your toaster, this feature helps you enjoy nicely cooked breakfast treats with ease!
Anti-jam mechanisms
Some toasters come equipped with an anti-jam mechanism, a safety feature that automatically turns off or opens the appliance when something gets stuck inside. This prevents possible damage from smoke or fire and also protects the toaster from any further harm or malfunctions.
People Also Ask
What features should I look for in a toaster?
When shopping for a toaster, consider the size and number of slots, shade settings, and browning control options. Look for additional features like bagel and defrost settings, a crumb tray, and a cool-touch exterior. Don't forget to check the construction material and see if the model comes with an extended warranty.
How much does a quality toaster cost?
The cost of a quality toaster can vary greatly depending on the features, brand, and material. On average, a good quality toaster can cost anywhere from $20 to $100. Higher-end models with more advanced features can cost even more.
Does a toaster need regular maintenance?
A toaster generally does not require much regular maintenance. It's recommended to clean the crumb tray after each use to prevent build-up and ensure efficient toasting. It's also a good idea to periodically unplug the toaster and wipe it down to remove any dirt or debris.
How long do toasters usually last?
The lifespan of a toaster varies, but on average this kitchen appliance can last anywhere from two to five years with proper care and usage. Factors that can affect the lifespan of a toaster include frequency of use, quality of construction, and its settings and features. Regular cleaning and maintenance can help extend the lifespan of a toaster.
Can I toast bagels in a regular toaster?
Yes, you can toast bagels in a regular toaster. Many toasters also have a bagel setting that allows you to only toast the cut side of the bagel while warming the outer side. This feature is especially useful, as bagels are thicker than regular bread and require a different toasting approach.
Are there any safety precautions to consider when using a toaster?
Yes, safety precautions should always be considered when using a toaster. These include ensuring the toaster is placed on a stable surface away from flammable items, not overloading the toaster slots with thick slices of bread or items that could get stuck, and unplugging the toaster when not in use. It's also important to keep the toaster clean and free of crumbs, as this can reduce the risk of fire.
Why Trust Us
Our commitment to the consumer begins with product selection and ends with the last word we write in each article. Each toaster is carefully vetted quantitatively through star ratings and a number of reviews qualitatively through careful examination of reviews and the features each one has to offer. Leveraging our team of bargain hunters, we're also always sure to keep your budget in mind while we find the best toasters on the market. Our team of experts is dedicated to accurately depicting the pros and cons of each toaster, translating technical product specifications into information you can understand. Our goal is to make sure you get the most bang for your buck…or in this case the best toast that you can prepare without breaking the bank.