The Best Toiletry Bags for Men for Your Money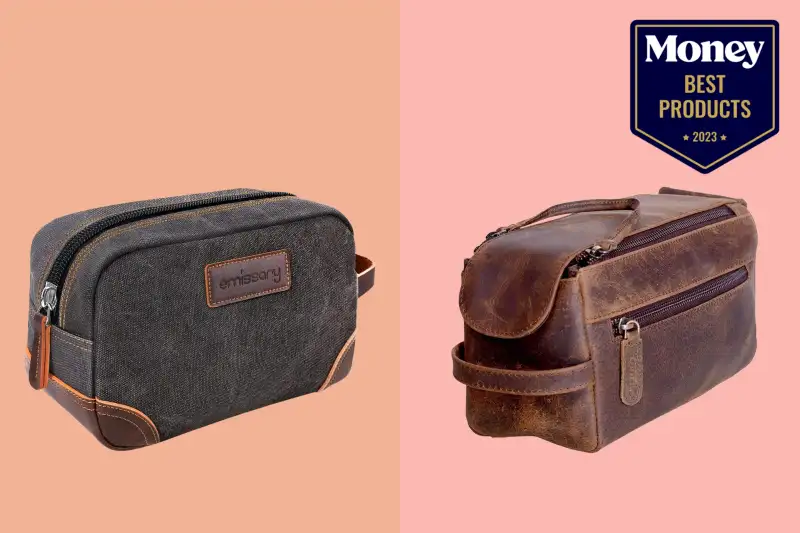 Toiletry bags are an essential item for the well-prepared modern man. Whether you're a frequent traveler or just need something to keep your everyday items organized, a quality toiletry bag is a must-have.
In this article, we'll take a look at the leading toiletry bags for men available in 2023. We've thoroughly researched the market and selected the top products that offer excellent value for money. We'll also share a detailed buyer's guide to provide you with an overview of the features to look for so you can make an informed purchase for your needs and budget. Read on to discover how to make traveling easier with a men's toiletry bag.
Best Overall: BAGSMART Toiletry Bag for Men
Large Capacity: Elviros Toiletry Bag For Men
Most Portable: D&D Wanderlust Hanging Travel Toiletry Bag
Most Premium: KOMALC Premium Buffalo Leather Unisex Toiletry Bag
Best Value: emissary Mens Toiletry Bag
Reviewing the Finest Toiletry Bags for Men of 2023 in Detail
List Price: $16.99
The H&S Travel Toiletry Bag is a great option for a lightweight and durable bag to carry all of your essentials. It features a simple, yet sophisticated, black and grey design and is made of a tough, waterproof material so you can keep your toiletries organized and dry wherever you go. This toiletry bag offers 3 spacious compartments and zippered pockets for storage and security and it can easily store heavier items like shampoo bottles and body wash.
The attached metal hanging hook makes it perfect for bringing to hotels, keeping it away from potentially unhygienic surfaces. This bag makes a great gift for both men and women and its versatility allows you to use it at home or while traveling without taking up too much extra space.
Pros:
Lightweight and waterproof design, perfect for travel

3 compartments for organized storage

Features a built-in metal hanging hook
Cons:
Only available in one color
List Price: $19.99
The BAGSMART Toiletry Bag for Men is known for its remarkable organizational features, premium quality materials, and exceptional value. This high-quality bag features water-resistant fabric that you can easily wipe clean. It has a large capacity, featuring multiple pockets to keep all of your toiletries and shaving supplies organized. The main compartment provides plenty of space for your essentials and comes equipped with six elastic straps. These straps not only keep your items organized but also ensure that they remain well-secured in an upright position.
The front pocket has waterproof storage for wet belongings, so you can separate them from dry items. Its double zipper design features an attached pull, granting convenient access and full visibility to the wide main compartment. The back panel lays flat and has an additional 10 elastic loops for storage for razors, toothbrushes, and other grooming tools. Featuring a black exterior and matte black zippers, this men's toiletry bag also boasts a sleek design. This is an excellent choice for anyone looking for a spacious and eye-catching option to store their toiletries and grooming supplies while traveling.
Pros
Durable, waterproof exterior
Quick access to the main compartment
Easy to organize with 16 elastic loops
Sleek matte black finish
Cons
No exterior pockets
Handle may be a little small
List Price: $28.97
The Elviros Toiletry Bag For Men is the ultimate choice for those in the market for a quality travel bag with ample storage space. The interior of the bag is designed with multiple pockets to store items such as shampoo, toothpaste, razors, shaving cream, and more. With a length of 12 inches, a width of 6.7 inches, and a height of 7.1 inches, it's spacious enough to fit your essentials while still compact enough to fit in your luggage without taking up too much room. Its double zipper design also makes it easy to access the contents of the bag. This men's toiletry bag features a high-quality polyurethane (PU) leather construction, a water-resistant nylon lining, and reinforced seams for improved durability and moisture resistance.
Two flat panels on each side of the bag unzip, allowing it to lay flat, while the integrated elastic hoops help you organize your items. It also comes with a waterproof bundle pocket, allowing you to keep wet items separate from the main compartment. Perfect for the modern man, it offers generous capacity and premium durability to keep your essentials organized, secure, and easily accessible. Its combination of functionality, durability, and style make it an ideal choice for anyone looking to stay organized on their next trip.
Pros
Durable, high-quality construction
Organized storage with a spacious design
Premium water-resistant lining and waterproof pocket
Double-zipper design for easy access
Cons
Not ideal for minimalist travelers
No removable interior compartments
List Price: $34.99
The D&D Wanderlust Hanging Travel Toiletry Bag is the most portable choice thanks to its travel-friendly features. With an extra-large, 360-degree swivel hook, you can hang it wherever you want for convenient access to your items. This deluxe organizer has a fold-out design with multiple compartments to organize all your travel essentials. Made of laminated mesh, the upper two compartments are perfect for storing smaller items that require extra protection from moisture or leaks. The roomy lower section is tailor-made to keep full-size bottles upright and snugly fit while still providing adequate space for other everyday toiletries. Equipped with two side pockets, your most-used essentials will always be at hand, with the added assurance of premium YKK zippers to keep your belongings secure.
This men's toiletry bag is a game changer for anyone planning extended trips. It folds down compactly, freeing valuable luggage space without adding extra bulk. This product also comes with a lifetime guarantee so you can have confidence taking it on all your adventures. Between its 10 compartments, six zippered pockets, and versatile hanging and folding options, this option is versatile enough for all kinds of travel. Its sturdy design, ample storage, and top-quality waterproof nylon construction make it a reliable men's toiletry bag for various needs.
Pros
Durable material construction for outdoor travel
Elastic-mesh pockets to keep full-sized bottles upright
Foldable to save space while traveling
Extra-large swivel hook for hanging bag anywhere
Cons
May feel bulky if overpacked
Can be hard to close when full
List Price: $59.99
The KOMALC Premium Buffalo Leather Unisex Toiletry Bag is the most premium choice for sophisticated travelers who appreciate quality craftsmanship. Crafted by experienced artisans, this deluxe option boasts full-grain buffalo leather with a sophisticated design that looks great whether you're traveling for business or pleasure. It comes in six different colors so you can choose the one that best suits your style. The metal YKK zippers provide a rich, classy look and enhanced durability, while the water-resistant interior lining keeps all your toiletries safe and dry. A small front pocket, perfect for storing smaller items, can be easily accessed with the external zipper.
With dimensions of 9.3 x 5.0 x 4.3 inches, this stylish yet functional men's travel kit will easily fit all your essential items without taking up too much room in your luggage. The bag's design includes a convenient top handle for easy transport and reinforced studs at the bottom that protect against wear and tear. Whether you're going on a weekend getaway or an extended vacation, this timeless piece of luggage will keep all your toiletries organized and secure. With its exceptional craftsmanship and meticulous attention to detail, this pick will make you feel like a first-class traveler no matter where your journey takes you.
Pros
Astounding attention to detail in craftsmanship
Sturdy, heavy-duty, smooth brass zippers
Genuine leather with great leather smell
Vintage dust bag and care instructions included
Cons
Authentic leather makes it somewhat expensive
Tough material requires a break-in period
List Price: $19.97
The emissary Men's Toiletry Bag is an ideal travel partner for budget-conscious consumers seeking style and functionality for an affordable price. Made from a combination of rugged canvas and premium PU leather, this option is both lightweight and durable. The water-resistant material used in this item provides unparalleled protection for your belongings, even in damp conditions. Despite its compact size, this versatile bag offers ample storage space for all your travel necessities. This toiletry bag features a spacious primary compartment, measuring 9.8 inches long, 5.9 inches wide, and 4.5 inches high, with a volume of almost 4 liters. It can easily accommodate larger items, such as shaving cream or shampoo bottles. The internal pocket offers convenient access and adequate storage for smaller items.
Made from top-quality leather and durable canvas, this affordable yet quality men's toiletry bag has a sturdy side handle for easy travel with your essentials. Its versatility makes it perfect as a travel kit for toiletries, a flight carry-on, or a bathroom bag to hold all your essentials. This pick represents an exceptional blend of quality, functionality, and affordability. Featuring durable construction, a spacious main compartment, and a waterproof design, it offers unbeatable value for an unbeatable price — making it the ideal option for those seeking high-end features without breaking the bank.
Pros
Durable, tough canvas material
Water-resistant construction for added protection
Spacious main compartment and pockets
Excellent value for the price
Cons
Bag isn't large enough for washcloths
Handle may be too short for some
Buying Guide: Toiletry Bags for Men
Every man needs his own toiletry bag. Whether you're headed off on a business trip or out camping for the weekend, having a bag to store your bathroom essentials can make all the difference in keeping your toiletries organized and ready for use. There are many options out there, however, and the last thing you want to do is settle for something that doesn't meet your needs.
In this comprehensive buyer's guide, we'll outline the key factors to consider to find the ideal toiletry bag for your needs and budget. This guide will equip you with the knowledge you need to choose the right option to safeguard your grooming essentials and reflect your individual style.
Durable construction
When it comes to selecting a toiletry bag, durability is key. It's essential to verify that the construction is of the highest quality and can tolerate daily use without deteriorating or fraying. Look for bags with reinforced seams, heavy-duty rivets, and strong metal zippers that will maintain their integrity and keep your belongings secure for years to come.
Material
When choosing a men's toiletry bag, the material is an essential factor to consider. Durable and easy-to-clean materials are ideal, ensuring your bag remains in excellent condition over the long term while protecting it from spills and stains. Choosing a material that maintains its shape is also ideal, as this allows ample space for your items without feeling too cramped or overloaded.
Waterproof material
To protect your personal belongings from spills and moisture, choose a toiletry bag made of waterproof materials, such as those coated with a waterproof layer or made from plastic. This simple yet effective choice will greatly reduce the risk of damage caused by exposure to water and humidity.
Capacity and size
When selecting a toiletry bag for men, the capacity and size are important. You need a size proportionate to the number of grooming essentials you plan to bring along. If you're traveling light, a small bag will do just fine. If you need to carry more items, however, opt for a larger one that accommodates everything without weighing you down. It's all about finding the perfect balance between space and weight.
Sturdy zippers
Well-secured belongings are just as important as accessible ones — and quality zippers are essential for both. When looking for the right pulls, opt for metal ones since they are sturdier than plastic and are easy to grip. Also, ensure you have smooth zipper glides on your bag that won't jam.
Easy access to items
A bag with easy access lets you swiftly grab whatever you need. Look for spacious compartments with multiple internal and external pockets for quick access, so you don't have to dig through everything inside.
Portable
When choosing a bag, it's essential to consider both convenience and comfort. Opt for a lightweight, easy-to-carry option with a comfortable handle or shoulder strap that's nice to wear for extended periods. Look for toiletry bags made from quality materials, like nylon webbing or faux leather with padding, that provide extra support against shoulder strain during extended travels or hikes with heavy loads.
Compartments and pockets
A quality toiletry bag should easily store all your travel necessities without overwhelming you with added weight or bulk. It should have ample compartments and pockets on both the inside and outside, complete with extra loops to ensure streamlined packing. Look for products with multiple compartments which will help keep all your items organized and separated so you know exactly where everything is at all times. Ensure they're large enough to hold all your essentials but secure enough to prevent accidents while traveling. This feature also helps maximize the space within the bag so that there's no wasted room or clutter.
Colors and designs
Men's toiletry bags are essential for travel but can also express your personality and sense of style. You'll find everything from simple blacks and browns to bold and bright designs. If you prefer classic and neutral colors, look for something minimalist and ergonomic that suits you well.
People Also Ask
What are the ideal materials for men's toiletry bags?
Choosing the right material for a toiletry bag is essential. Canvas boasts strength without the added bulk, while nylon offers waterproof qualities that don't weigh you down. If a more refined option is needed, leather is preferred, despite its higher price. Lastly, polyester is a great alternative if you need a lightweight, stain-resistant choice to tote your toiletries. Keep in mind, though, that it's not waterproof like nylon.
What's the proper toiletry bag size for my grooming essentials?
When it comes to picking out the right size toiletry bag, it's essential to keep in mind what exactly you plan on packing inside. If all that's needed is a few smaller items like soap or shampoo, a smaller bag of around 10 inches should suffice. But if you're looking to take along a more extensive collection of toiletries such as razors, scissors, and contact solution, it's recommended to select a larger bag around 15 inches.
What features should I look for in a men's toiletry bag?
Well-crafted men's toiletry bags are essential to protect items from water and ensure maximum storage capacity. The main compartment should be spacious enough to fit larger items and should be complemented by smaller pockets to store razor blades, contacts, and other essentials. A well-made travel bag must have sturdy handles or straps to facilitate transportation and hanging in transit. It should also include zippered closures and external pockets.
How do toiletry bags for men designed for travel differ from regular ones?
Travel toiletry bags designed for men prioritize size and storage. They are intentionally compact to easily fit into luggage without taking up excessive space. They typically come with carrying handles or straps to enhance portability and often feature a fold-in-half design. In contrast, regular toiletry bags tend to be larger and less compact, taking up more space in your luggage.
What are some benefits of traveling with a men's toiletry bag?
Toiletry bags have become essential travel gear. Multiple compartments and internal pockets allow easy packing and organization of grooming essentials, so you never have to search through your luggage for your toothbrush, razor, or other essentials. They also safeguard your belongings against any damage from leaks and spills.
Why Trust Us
Our commitment to the consumer begins with product selection and ends with the last word we write in each article. Each men's toiletry bag is carefully vetted quantitatively through star ratings and the number of reviews qualitatively through careful examination of reviews and the features each one has to offer. Leveraging our team of bargain hunters, we're always sure to keep your budget in mind while finding the best toiletry bags for men on the market. Our team of experts is dedicated to accurately depicting the pros and cons of each men's toiletry bag, translating technical product specifications into information you can understand. We aim to offer unbeatable value on your travel accessories, so you can get the most comfortable and enjoyable travel experience for your buck.