The Best Window Air Conditioners for Your Money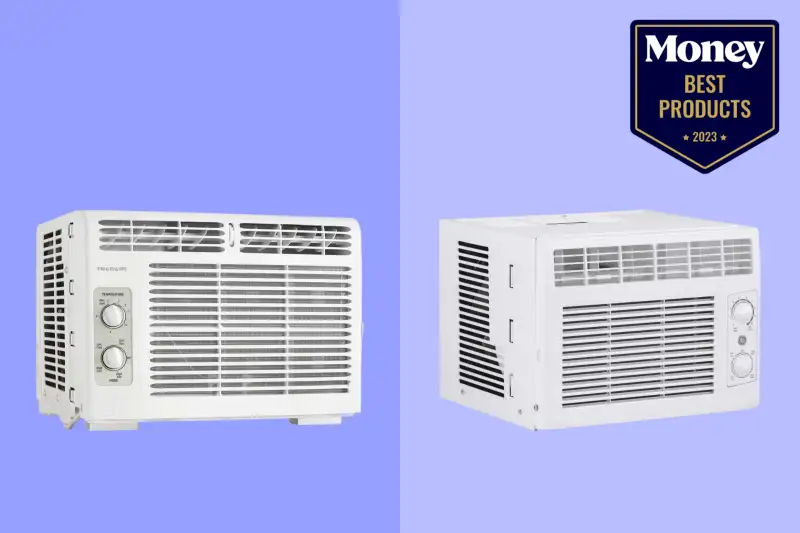 As the temperature rises, it's time to think about ways to beat the heat. Central air conditioning is ideal, but not always an option. That's where a window air conditioner comes in. Window air conditioners are a great choice because they're affordable, effective, and easy to install.
In this article, we'll be discussing the highest-rated window air conditioners in 2023. We'll take a close look at the features of each product to help you find the perfect match, plus provide an in-depth overview of what to look for when shopping for a window air conditioner. With our buying guide, you'll be able to make an informed choice and enjoy cool comfort all season long.
Best Overall: Midea U-Shaped Smart Window Air Conditioner
Most Energy Efficient: LG Mounted Window Air Conditioner
Easiest Installation: Frigidaire Window-Mounted Room Air Conditioner
Most Budget-Friendly: hOmeLabs Window-Mounted Air Conditioner
Ideal for Small Spaces: GE Window Air Conditioner
Reviewing the Top Window Air Conditioners of 2023 in Detail
List Price: $499.00
Our choice for the Best Overall award goes to the Midea U-Shaped Smart Window Air Conditioner. Delivering cooling of 12,000 British thermal units (BTUs), this air conditioner (AC) efficiently cools medium to large rooms with up to 550 square feet of space. With its distinct U-shape, this model provides an unobstructed view and maximizes natural light, all while offering added security with its anti-theft mechanism. The design also allows for breezy ventilation thanks to the Open Window Flexibility feature. With its powerful, high-efficiency inverter system, this cooling unit delivers ultra-quiet temperature adjustments to any room. The inverter system also significantly reduces noise and vibrations so that you can enjoy your space without any annoying distractions.
The MideaAir app, compatible with iOS and Android, enables remote AC control through cloud connectivity across different devices. With Alexa and Google Assistant compatibility, it's even more accessible and user-friendly. A quick-snap bracket makes it easy to securely and easily install this air conditioner in single or double-hung windows measuring 22-36 inches wide and at least 14 inches high. With its powerful cooling, easy installation, and smart controls, this is the top choice on our list for those looking for a quiet, comfortable cooling solution.
Pros
Utilizes apps like Alexa and Google Assistant via Wi-Fi
Operates at ultra-quiet 42 dBA noise level
Saves up to 35% in energy costs
Allows window to open without removing unit
Cons
Wi-Fi required for remote control access
Unit doesn't accommodate all window sizes
List Price: $339.99
The LG Mounted Window Air Conditioner is perfect for cooling medium-sized spaces effectively and quietly. With 8,000 BTUs, it can cool up to 350 square feet, producing only about 53dB in low mode, which is about as loud as your average fridge. The filter sits at its forefront for easier access, simplifying maintenance, and enhancing air quality. It's also replaceable, washable, and reusable, so you'll have optimal airflow all year while saving money on replacement filters. Boasting an Energy Star certification, this unit offers efficient energy usage and cost savings, leading to reduced electricity bills.
This window AC unit is a breeze to install, as it's designed for a one-person setup and requires no tools. It also comes with user-friendly electronic controls and a remote, allowing you to adjust your settings from the comfort of your seat. This pick boasts three fan and cooling speeds and a personalized "auto cool" option that adapts to your room's specific cooling requirements. It also has an Auto Restart feature to quickly restore your favored temperature settings after a power outage. This window air conditioner is an excellent choice for a cost-effective, comfortable, and convenient way to stay cool and save money at home or in your office.
Pros
User-friendly control panel with digital temperature display
Multiple cooling and fan speeds for customization
Energy-efficient cooling up to 350 square feet
Filter light indicates when it needs cleaning
Cons
Unit lacks Wi-Fi or smart home capabilities
Installation instructions lack clarity for first-time users
List Price: $179.00
The Frigidaire Window-Mounted Room Air Conditioner is an excellent option for anyone seeking an efficient, lightweight, easy-to-install unit. This unit's SpaceWish Adjustable Design Panels make it easy to set up in almost any kind of window. You simply center the lightweight unit within your window, slide the panels in place and extend them to ensure a perfect fit. Once installed, this 5,000 BTU AC unit effectively cools up to 150 square feet, making it the perfect addition to bedrooms, offices, or any space that requires efficient cooling.
This model has temperature control settings to customize to your preference. It also features Effortless Temperature Control that continuously monitors external conditions and adapts to maintain your desired temperature. With this added feature, you can remain comfortable all day without having to constantly fiddle with the settings. This window AC unit also has a washable filter that captures tiny dust particles, boosting airflow and improving the air quality of your indoor spaces. This product's lightweight, portable design and optimal cooling features make it an exceptional choice for anyone seeking a quality air circulation and cooling upgrade. With its simple installation process, anyone who needs relief from the heat will quickly reap the benefits of its top-quality performance.
Pros
Adjusts to consistently maintain a set temperature
Restarts to restore temperature after power outage
Installs quickly with adjustable SpaceWish Panels
Removes dust particles to improve air quality
Cons
Unit lacks remote control capability
Basic design isn't appealing to all users
List Price: $159.99
The hOmeLabs Window-Mounted Air Conditioner is a cost-effective, reliable solution for beating the heat. This air conditioning unit packs 5,000 BTUs of cooling power to effectively refresh and cool areas up to 150 square feet. This compact unit, measuring 16 x 12 x 15 inches, is ideal for small living spaces like apartments, dorm rooms, and bedrooms. It accommodates windows 23 inches wide by 13 inches high. Its two-way air direction control and adjustable fan speeds provide powerful cooling at a quiet hum. With seven temperature settings, it quickly cools your room in under 15 minutes, making it perfect for when you need fast relief from the heat.
For optimal air quality, this window air conditioner features a reusable, washable filter that you can easily clean using warm water and dish soap. The system includes all the necessary parts for quick installation, including support brackets, leaf guards, window seal foam, and a user-friendly guide for a no-drip setup. With its compact size and quick cooling capabilities, this budget-friendly air conditioning can help keep you cool all season long without breaking the bank.
Pros
Has seven temperature selections with two-way airflow
Provides adjustable fan speeds to maintain temperature
Achieves designated temperature in just 15 minutes
Includes everything needed for no-drip installation
Cons
May not be efficient for open-floor plans
May be noisy at high fan speeds
List Price: $189.00
The GE Window Air Conditioner is optimal for combating intense heat in notoriously hot small spaces, such as garages, attics, or upstairs bedrooms. With a 5,100 BTU cooling capacity, this unit efficiently chills rooms up to 150 square feet. It has two cooling modes and two powerful fan speeds, providing the flexibility you need to achieve and maintain your ideal room temperature. The 10 distinct temperature settings provide flexibility to set the room's temperature to your optimal comfort level. This window air conditioning unit also operates with minimal noise, ensuring undisturbed sleep and uninterrupted work.
With its lightweight design, this product is incredibly easy to move around. The slide-out and washable filter makes cleaning quick and easy. It also includes an EZ-Mount installation kit and fixed chassis, making it perfect for easy installation in double-hung windows. With its advanced cooling system, integrated temperature control, and powerful fans, this window air conditioner is the ideal choice for quickly and quietly cooling overheated small spaces.
Pros
Powerful 5,100 BTUs for 150 square feet
Simple installation with EZ-Mount installation kit
Efficient with multiple fan and temperature selections
Washable filter slides out for easy access
Cons
Regular maintenance is required to prevent issues
Fixed chassis may not accommodate all windows
Buying Guide: Window Air Conditioners
During the warmest months of the year, the blazing heat can make being indoors unbearable, turning your home into a stuffy, uncomfortable space. Luckily, window air conditioners provide an affordable and effective solution to cool down your home and create a comfortable indoor environment. They're easy to install, require minimal maintenance, and don't take up much space. But while all window air conditioning units serve the same purpose, not all are created equal.
That's why we've created this comprehensive buying guide to help you make an informed purchase. Our guide walks you through the essential factors to consider when choosing the right window air conditioner for your needs and budget. So, read on to find your ideal unit to beat the heat and keep your home comfortable all summer.
Energy efficiency rating
When purchasing an air conditioner, choosing one with an energy efficiency rating (EER) that meets or exceeds the Energy Star standard is essential. Not only does a higher rating mean lower electricity bills, but many of these models also have special features such as an eco mode, sleep mode, and ionizers that further reduce energy usage. Look for the Energy Star label when shopping for AC units, as it ensures that the product satisfies the U.S. Environmental Protection Agency's energy-efficiency regulations.
Cooling capacity
Choosing the right size window air conditioner is crucial for enjoying a comfortable living space in fluctuating temperatures. To ensure proper cooling, find a unit that suits your room size and climate. Smaller areas require lower cooling capacity, while larger spaces need higher British thermal units (BTUs). As the best measure of a unit's power and cooling effectiveness, look for a window unit with a BTU rating that aligns with your needs. Also, be sure to measure your window to select a cooling unit that fits appropriately. Choosing the right fit will ensure the best performance and functionality possible.
Noise level
When choosing a window air conditioner, be sure to consider its noise level. Look for models with features that reduce noise, such as specially crafted fan blades, vibration isolators, and sound-insulating materials. Those highly sensitive to noise should also check each unit's decibel (dB) ratings, as some models can be quite loud.
Remote control capabilities
Some window air conditioners have remote control capabilities that allow users to adjust the temperature or turn the unit on and off without physically touching it. This handy feature can be especially useful if you have difficulty accessing the unit due to height restrictions or other physical limitations. Investing in a remote-controlled model may also be worthwhile if you plan to use the AC unit frequently.
Timer and temperature settings
Some window air conditioners have timers and temperature settings for convenience. These options allow you to pre-program your unit to turn off and on at certain times and adjust temperatures throughout the day. Not only do these features help optimize your comfort levels, but they also promote energy efficiency.
Air filter
Indoor air quality is crucial for a healthy living space. Air filters play a vital role by trapping airborne pollutants like dust, pollen, and pet dander, preventing them from circulating in your home. Not only does this keep the air clean and fresh, but it also alleviates allergy symptoms, ultimately improving your health. When choosing a window air conditioner, prioritize models with reusable filters that you can easily clean and replace quickly.
Installation requirements
Properly installing your new window air conditioner is key to ensuring its top performance. Be sure to read and follow the manual instructions carefully. Doing so will ensure your installation goes smoothly and your air conditioner runs efficiently. If you opt for a professional installation, ensure the service provider has the necessary insurance and certification.
Special features
Some window units have special features such as an eco mode, sleep mode, and ionizers. These features offer significant advantages, enabling users to set their devices to the ideal temperatures in accordance with the weather conditions and time of day. As a result, you can maximize energy savings and enjoy cooling comfort with minimal hassle. Premium models also offer Wi-Fi capabilities and app compatibility, allowing users to control their window AC units from their mobile devices.
Price
When shopping for a window air conditioner on a budget, there are several variables to consider, including size and features — all of which can impact the price. You should also take into account additional costs, such as installation fees and energy consumption of less efficient models, to get a realistic picture of affordability. It's essential to establish a budget and compare various brands and features before making a final decision. Once you've narrowed down your options, choose the unit that caters most effectively to your needs and budget.
Warranty
Checking warranty coverage before purchasing a product can provide peace of mind if something goes wrong. While typical coverage includes at least one year on parts and labor, the duration and details vary among brands. Before making any purchase decisions, it's important to examine the warranty policy carefully. Anticipating the manufacturer's guidelines early on can help safeguard your investment against unexpected repair costs or defects that may arise in the future.
People Also Ask
How do I choose the right window air conditioner for my home?
Choosing the optimal window air conditioner for your home requires careful consideration of factors such as size, energy efficiency rating, added features, noise level, and budget. Assessing your individual needs alongside these factors is essential to making a well-informed decision.
What size window AC unit do I need?
When purchasing a window air conditioner, selecting the proper size is key to ensuring optimal performance. An air conditioner that's too small for your room won't be able to cool it down properly, while one that's too large will constantly cycle on and off and waste energy. Calculate the room's square footage by multiplying the length by the width to determine the ideal size for your space. Once you get the square footage, use a BTU calculator to determine the necessary BTU rating for your space. Selecting the right-sized unit ensures efficient cooling and saves money in the long run through energy savings.
Are there any special features available with window air conditioners?
Window units offer a variety of features, from multiple fan speeds and precise thermostats, to programmable on/off timers. Some also have built-in dehumidifiers, air filters, and remotes for adjusting settings from the comfort of your couch.
How often should I clean my window air conditioner?
It's ideal to regularly clean your window AC unit every three months to keep it running optimally. In areas with high levels of dust and allergens, it's advisable to clean it more frequently. This not only enhances its performance but also prolongs its lifespan.
Is it easy to install a window air conditioner?
Installing a window air conditioner is usually relatively simple, but the process may vary depending on the unit's size and design. While most models are easy to slide into place, advanced units with larger dimensions may require professional installation.
What noise level should I expect from a window air conditioner?
When it comes to window air conditioners, noise levels are a common concern. While decibel ratings can vary among models, modern units often include noise-canceling technology for minimal operating noise. In fact, many models exceed expectations, with some even explicitly designed for ultra-quiet operation.
How much do window air conditioners cost?
When shopping for a window air conditioner, prices can vary greatly. Units can start at around $150 and run upwards of $800 or more depending on size, energy efficiency, noise level, and smart capabilities.
Why Trust Us
Our commitment to customers begins with a carefully curated product selection process, ensuring we provide high-quality and reliable options. We meticulously vet each window air conditioner, analyzing quantitative aspects, such as star ratings and review count, and qualitative factors, including review content and product features. Our dedicated team of bargain hunters consistently prioritizes your budget by meticulously scouring the market and identifying the finest window air conditioners available without ever compromising on quality or performance. Our panel focuses on presenting the pros and cons of each window air conditioner and converting technical specs into understandable insights. We aim to ensure remarkable and efficient home cooling with top-rated air-cooling equipment.