Use TikTok's Latest Amazon Finds To Reorganize Your Bathroom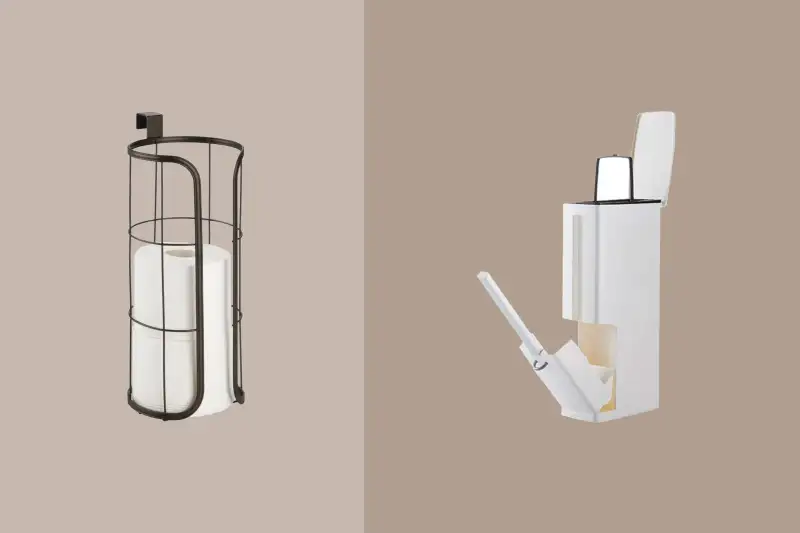 What if we told you that there's a lot of storage potential in your bathroom that isn't utilized because you don't have the right organizing tools? TikTok is buzzing with clever products starting as low as $12 that'll help you get your bathroom looking spick and span. From trash cans with secret storage compartments to fog-proof mirrors, you'll never believe that these products actually existed — and how desperately your bathroom needed them!
These Amazon must-haves have been flying off the shelves ever since TikTok creators started raving about them. These products aren't just affordable, they're also very easy to install and are rental-friendly. We've rounded up some of the most clever organization solutions for every bathroom size and budget, from tissue roll organizers to storage shelves. Plus, these products are chic enough to add a luxurious touch to your bathroom, so you won't need to sacrifice style while getting organized.
Baffect Trash Can & Toilet Brush Set: $29.97
Elpheco Automatic Bathroom Trash Can: $34.99
mDesign Toilet Tissue Roll Holder: $17.49 (was $20.99)
Lifty Loo Toilet Seat Handle, Two-Pack: $11.97
ToiletTree LED Fogless Shower Mirror: $33.95 (was $39.95)
LeverLoc Corner Shower Caddy: $24.69 (was $25.99)