The Best Prime Day Deals under $50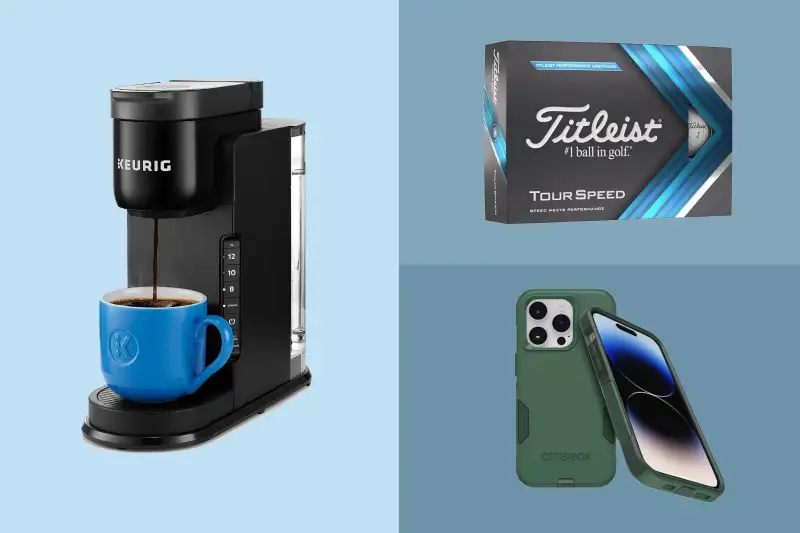 Amazon Prime Day is finally upon us — one of the biggest shopping events of the year — and it's always a great time to score the best deals on just about any item you can imagine. And even if you're on a budget, we've compiled a list of amazing items that are on sale for less than $50 right now.
From coffee makers to vacuum cleaners, and even scented Yankee candles, this diverse list will surely include something for you (without breaking the bank). These Prime Day deals end on July 12th, so don't miss out on limited-time savings! Get yourself something nice, or maybe even shop for a gift to give to a special someone.
Keurig K-Express Coffee Maker: $49.99 (was $79.99)
For all the coffee lovers out there, you can brew delicious coffee in minutes with the Keurig K-Express machine, offering strength-adjustable single-serve brewing, three cup sizes, and an energy-saving auto-off feature for delicious, convenient results.
Anker 335 Power Bank: $47.99 (was $59.99)
Stay charged on the go with the Anker 335 power bank, a portable charger with USB-C fast charging, and a comprehensive safety system to provide the ultimate protection for your devices. It can charge even the latest iPhones up to three times so that you can enjoy your travels without worry.
OtterBox Commuter Series Case: $31.96 (was $39.95)
There are very few situations that feel worse than dropping and cracking your phone. Protect your iPhone 14 Pro with OtterBox's slim and tough commuter series case, featuring port protection, 3x drop military standard protection, a pocket-friendly design, and 35% recycled plastic.
Yeti Rambler Insulated Tumbler: $26.60 (was $37.50)
The Yeti Rambler insulated tumbler is the perfect companion to keep your drinks hot or cold with a vacuum-insulated design, mag slider lid, and dura coat coating that won't crack, peel, or fade. Perfect for when you're running late or when you just want to enjoy your drink at the ideal temp.
Nutricost Creatine Monohydrate: $17.15 (was $24.50)
Promote muscle growth with the Nutricost creatine monohydrate micronized powder. It provides high-quality micronized creatine monohydrate, at 5 grams per serving, to help you get the strength and endurance you've been working for at a fraction of the cost compared to other brands.
Black+Decker Handheld Vacuum: $40.00 (was $59.99)
The Black+Decker cordless handheld vacuum offers powerful suction, multi-surface use, cordless cleaning, an ergonomic design, a pull-out crevice tool, and much more. It's the perfect vacuum for quick and easy cleaning and unexpected messes.
Titleist Tour Speed Golf Balls: $36.97 (was $41.99)
Experience speed, performance, distance, and control with the Titleist tour speed golf balls. They offer great performance and control so that you can play your best games, and are available for a great price for the whole dozen.
Amazon Basics Foam Roller: $20.02 (was $29.28)
The Amazon Basics round foam roller is perfect for balance, strengthening exercises, flexibility, and rehab exercises, with its lightweight design, molded edges, and high-density polypropylene construction. It's just the thing you need for those aches and pains.
Yankee Candle French Vanilla: $14.31 (was $30.99)
Experience the sweet, traditional aroma of the French vanilla-scented Yankee Candle. It comes in a 22-ounce jar boasting 110-150 hours of burn time and quality paraffin-grade candle wax for a clear, consistent burn. These are some of the best candles out there, so get yours at this great half-off price.
Ben Johns Pickleball Set: $43.90 (was $79.99)
Get the official paddle set of the World's #1 pickleball player, Ben Johns, complete with two fiberglass paddles, two indoor and two outdoor pickleball balls, and a convenient pickleball bag. It's a great choice for new and old players alike to be able to polish their skills.