Amazon Is Overflowing With DIY Deals: Save up to 50% on Denali Tool Kits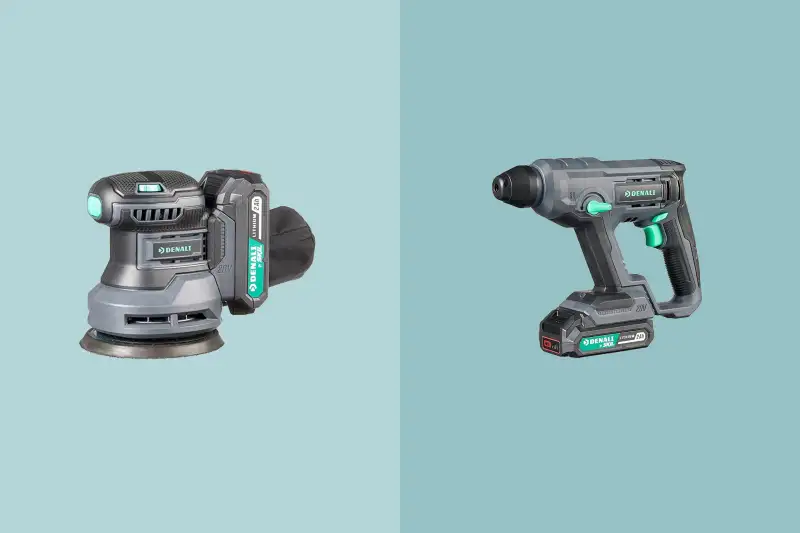 DIY projects can be therapeutic and satisfying, but they require the right tools. Whether you're a homeowner or a renter, having a basic tool kit on hand is a great way to save money in the long run. If you've been putting off your renovation projects because you don't have the equipment you need, now is the perfect time to get it. Right now, Amazon is offering up to 50% off Denali tool kits, so you can stock up on all the necessary items you need without breaking the bank.
In this post, we'll review some of the best Denali tool kits on the market, and tell you about some of the standout features that make them great for DIYers. So if you've been itching to start your next project, now is the time to stock up and save!
Denali by SKIL 4V Cordless Stick Screwdriver Kit: $29.56 (was $36.95)
The Denali cordless screwdriver is a great tool for any DIYer's arsenal. Despite its small size and slim body, this powerful cordless screwdriver packs a lot of punch. It features a built-in 2000 mAh lithium-ion battery and USB-C charging cable for easy recharging. It also comes with an impressive 34-piece bit set and carrying case that makes it easy to store and transport anywhere.
Denali by SKIL 20V Cordless Drill Driver Kit: $59.50 (was $79.95)
The Denali drill driver kit provides power and versatility for any DIY project. This cordless drill set comes with a carry bag for added convenience. From DIY tasks like drilling holes and tightening screws to larger projects, this set provides the perfect combination of power and convenience. Its lightweight design is great for easy portability, making it suitable for professional or home use.
Denali by SKIL 20V Cordless Reciprocating Saw Kit: $67.46 (was $89.95)
The Denali cordless saw kit is perfect for making quick and precise cuts through a variety of materials. This powerful set makes it easy to work with wood, fiberglass, metal, plaster, drywall, and more. The variable speed trigger provides maximum control for different projects while the LED light illuminates the work surface in dark spaces making it easier to work with precision. All of these features make this product an absolute must-have for any DIYer or construction worker looking for efficient cutting power.
Denali by SKIL 20V Cordless Sander Kit: $56.21 (was $79.95)
The Denali cordless sander kit is a powerful and versatile tool that is perfect for both beginners and professionals alike. If you are looking for an effective way to sand without having to worry about dust or cords getting in your way, then this option is definitely worth considering.
Denali by SKIL 20V Cordless Angle Grinder Kit: $65.96 (was $87.95)
The Denali cordless angle grinder kit provides an innovative solution to everyday projects like grinding metal, cutting tile, sanding wood, and more. With its reliable performance and safety features, users can be sure that their projects are taken care of with the highest quality output.
Denali by SKIL 20V Cordless Rotary Hammer Kit: $82.46 (was $109.95)
The Denali cordless rotary hammer kit is a powerful tool designed for professionals and do-it-yourselfers alike. This versatile tool has the ability to act as both a drill and a hammer drill making it perfect for working on materials such as wood, plastic, metal, or masonry. It also features an LED light to illuminate your work area for added safety and convenience. It's cross-compatible with all SKIL PWRCORE 20 tools, batteries, and chargers, so you can interchange them easily if needed and benefit from a longer battery life thanks to the intelligent PowerCore technology embedded in the tools.
Denali 170-Piece All-Purpose Tool Kit & Socket Set: $81.89 (was $104.99)
The Denali all-purpose tool kit is a necessity for any serious DIY enthusiast. The 170 pieces give you a comprehensive set of tools to tackle a wide range of jobs, from basic repairs to more complex projects. The set includes a variety of different sockets, as well as ratcheting handles, wrenches, a hex key set, screwdrivers, and pliers. Whether you're doing odd jobs around the house or completing more serious projects like vehicle maintenance, these tools will serve you reliably for years to come.
Denali 142-Piece Mechanics Tool Kit & Socket Set: $64.08 (was $80.10)
The Denali mechanics tool kit and socket set is a comprehensive toolbox must-have for anyone who loves to tinker. If you're looking for a low-profile directional lever for simplified single-hand operation and catch point reduction, this is the perfect tool set for you. And its limited lifetime warranty will ensure that your purchase will last you a long time. With its ample assortment of tools, superior build quality, convenient carrying case, and more, it's no wonder why this set has become so popular among DIYers everywhere.
Denali 14-Piece Pilot Point Drill Bit Set & Carry Case: $13.28 (was $25.49)
The Denali drill bit set is a reliable collection that can help you get the job done right. The 14-piece set includes various bit sizes, perfect for drilling holes in wood, plastic, and various metals, including cast iron and stainless steel. The carry case included in the set provides secure clip latch closure to keep pieces neatly organized and organized. With a discount of over 50%, this set is an excellent value that is sure to suit both professionals and hobbyists.
Denali Wheeled Toolbox with Removable Top Storage: $82.93 (was $98.99)
What sets the Denali wheeled toolbox apart from other toolboxes are the two removable tool trays and attached cable hooks which help keep everything organized and in its place. If you are looking for a toolbox that is easy to transport yet provides ample space for all your items, then look no further than this wheeled option. Its sturdy construction combined with its reliable strength, portability, and versatility make it a great choice for any job or home improvement project.