Pet Parents: Don't Miss Savings up to 35% on Your Dog's Favorite Treats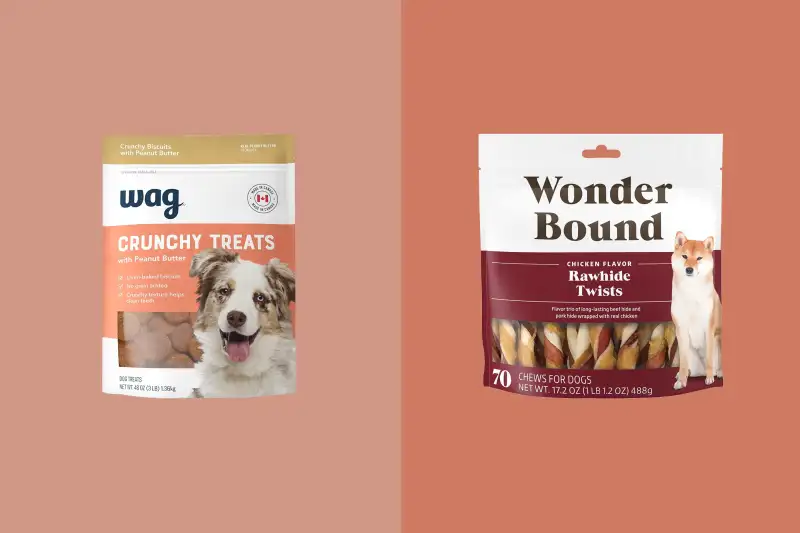 If you own a dog, you know how exciting it is to treat your pup to something special every now and then. Seeing their tail wag is one of the most rewarding parts of being a pet parent. Unfortunately, it can be hard to find premium treats that don't cost an arm and a leg. If you're looking to treat them to something special, don't miss out on these tasty deals that can save you up to 35%, so you and your pup can get the most bang for their buck.
We've rounded up some of the most popular brands and flavors of treats, so your pup can enjoy something different every day of the week. We've also included treats of different shapes, sizes, and flavors, so you can find the perfect treat for your pup's tastes and lifestyle. Plus, we've selected options for every budget, so you can give your pup the best without breaking the bank. You don't have to choose between spoiling your four-legged friend and balancing your budget with these awesome deals!
Wonder Bound Chicken Flavor Rawhide Twist Sticks: $7.04 (was $10.43)
These chicken-flavored twist sticks are the perfect treat for your pup. Made with real meat, these twists contain chicken wrapped around beef and pork hides. This delicious combination will provide your pup with an enjoyable and long-lasting experience as they happily chew away. Additionally, the gnawing action of these tasty treats can help reduce plaque and tartar buildup in your pet's mouth, promoting their dental health. Here's why dog parents are loving them:
"Both of my dogs (one large, one small) love these little rawhide sticks, chew them up quickly, and are excited when I open the bag up one of them is somewhat picky, so this is a good recommendation that most dogs will probably like these. There are a ton in one bag so no need to be buying a new package every other week, these will last awhile!"
Wag Chewy Whole Muscle Chicken Jerky Dog Treats: $11.99 (was $15.99)
Amazon's Wag chewy American jerky treats are an excellent choice for pet owners looking for a higher-quality option for their four-legged friends. The chewy texture of these treats is closer to traditional jerkies and dog owners may choose to break up the pieces into smaller portions before serving. See what customers are saying about these treats:
"These are by far one of Raiders treats! This is why I gave it a 5-star on taste! The pieces have some meaty parts to them. This gives me a few minutes without my lap dog on my lap. He gets super excited when I reach for the chicken jerky bag! The flaxseeds help with his skin and coat."
Wag Baked Crunchy Peanut Butter Biscuit Dog Treats: $14.49 (was $19.22)
If you have a fussy dog, these are definitely the treats for them! One buyer even said, "My dogs are so picky about their treats & toy's. But they love these! My Shepard has allergies, so I purchased the Turkey one's. What a hit they were! They're now on our monthly purchases."
Made with real peanut butter and crunchy texture, these treats help clean your pup's teeth and are also baked with real, wholesome fruits and vegetables. No added grain, corn, wheat, soy, or egg, as well as no added artificial colors or flavors.
Wag Chicken and Waffle Bite Dog Treats: $7.49 (was $9.99)
Get your dog addicted to these waffle bites which are a big hit among thousands of pet parents. One review for these tasty treats says, "I can't comment on the flavor but I know my pugs can't get enough! They are absolutely addicted to them! I'm gonna go broke trying to keep enough in the house. They are soft enough to break into small pieces to fit their mouths They get the paw seal of approval!"
Wag's chicken and waffle bites provide an all-natural delicious snack for your pup that you can feel good about giving them. Quality ingredients make this product a must-have for all pet owners who crave tasty pet treats on a budget.
Wag Expedition Organic Oat & Apple Granola Dog Treats: $5.83 (was $8.27)
The Wag organic granola bites are a unique and attractive treat for dogs! These all-natural, gluten-free, and Non-GMO treats are made with real ingredients, such as apples, turmeric, and ginger which provide an excellent source of Omega-3 and Omega-6 fatty acids, helping to support your dog's immune system and joints. It's no surprise that pet parents are calling them their "new favorite treats to give out" to their dogs!
Wag Green Dental Brush Chews for Dogs: $18.74 (was $24.99)
Need a tasty treat for your pup under $20? The Wag dental chews are currently 25% off, which is why customers are calling them "excellent value (for money) when compared to other brands."
These treats are an incredibly effective and safe way to reduce plaque and tartar build-up. Each treat is textured to help the abrasive action of the dog's chewing, providing excellent dental care without expensive trips to the veterinarian (bear in mind that wellness plans do provide pet insurance coverage for dental cleanings).
Wonder Bound Fresh Mint Flavor Dental Treats: $8.14 (was $12.94)
Looking for a great treat on a budget? You can't go wrong with this $8 bag of dental treats that dog owners can't stop raving about. One shopper says, "My dog only eats fresh fridge dog food, and since there is nothing really helping him to clean up, we brush his teeth at least 2 times a week. These treats are perfect, made of great ingredients, help clean my dog's teeth, and left a nice and fresh mint breath. I love it and my puppy loves it too."
The special shape and nubbed texture of these treats help reduce plaque and tartar build-up through abrasive chewing action, and the real mint flavor freshens their breath. Plus, you can rest easy knowing that there are no artificial flavors, synthetic colors, or added poultry by-products in this product.
Wag Split Elk Antler, Naturally Shed: $14.39 (was $18.12)
Just a whiff of these treats will drive your pet wild! Don't believe us? Read this review and decide for yourself: "This was the first time trying an antler for my 8 year old 70lb dog. She LOVED it. She was anxious as she has just had life saving surgery and this gave her something to focus on and calmed her down. Soothed her craving for chewing and kept her mind busy."
If you're looking for a long-lasting chew toy that is healthy and natural, then Wag split elk antlers are an excellent choice!