10 Valentine's Day Gifts for the Foodie in Your Life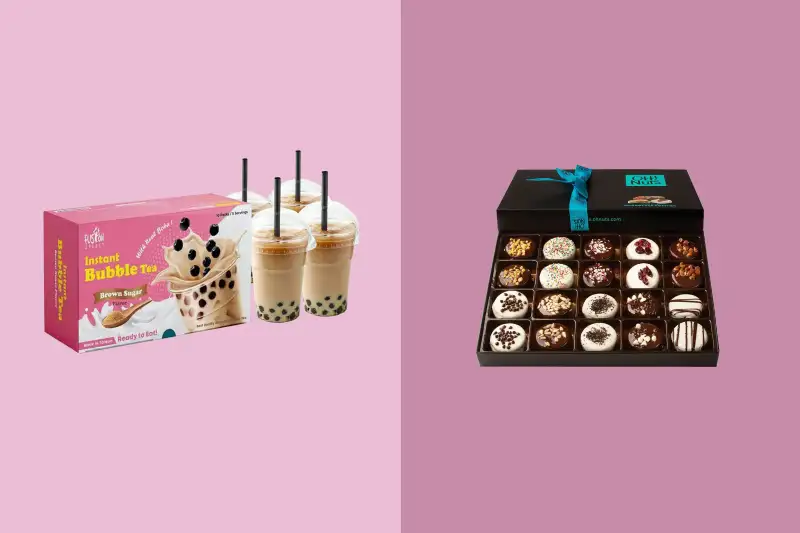 Valentine's Day is the time of year to show your loved one how much you care. If your significant other is a foodie, why not show your appreciation with a gift that celebrates their passion for food? There are a variety of unique and thoughtful gifts for the foodie in your life that will show your love and appreciation. From sushi-making kits to gourmet snack items, there are plenty of options to explore.
Whether you're shopping for a gourmand, home cook, or foodie on the go, this list has something perfect for every food lover. These gifts are sure to make your foodie's day special and show them how much you care. Give the gift of deliciousness this Valentine's Day and you'll be sure to make your loved one smile!
Dash Mini Waffle Maker Machine: $9.99
This Dash waffle maker is the perfect Valentine's Day gift for the special someone in your life. It is compact, lightweight, and easy to store, making it ideal for a small kitchen or dorm room. With 4-inch non-stick cooking plates, you can make delicious mini waffles in minutes — perfect for a romantic breakfast in bed. Give the gift of delicious breakfast treats that will make your special someone smile every morning.
Oh! Nuts Chocolate Covered Cookie Gift Basket: $38.99
The Oh! Nuts cookie assortment is the perfect gift for any occasion. Each morsel of this collection of chocolate-dipped sandwich cookies is handmade, coated with chocolate, and topped with candies or nuts. The ingredients are carefully selected and certified Kosher, and the freshly-made cookies are carefully packaged for a beautiful presentation. Perfect for any holiday or occasion you want to show someone you care.
Barnett's Chocolate Covered Biscotti Gift Basket: $39.99
Make Valentine's Day extra special with Barnett's chocolate gift baskets. Filled with 24 delicious biscotti cookie chocolates, this carefully wrapped gourmet basket is sure to please any special someone. Perfect for family, friends, or coworkers, this biscotti collection is sure to make you the hit of the holiday and provide a lasting memory of your thoughtfulness.
Tea Forte Winter Chalet Tea Sampler Gift Set: $30.40 (was $32.00)
Show your special someone how much you care with this exquisite tea gift set. This unique tea set comes with an elegant wooden presentation box, filled with 12 handcrafted blends that are sure to please. From sweet orange spice to chocolate fondue, each blend has been carefully crafted to ensure the highest quality.
The perfect Valentine's Day gift, this tea set is sure to bring joy and warmth to your special someone. With its beautiful presentation box, a variety of handcrafted teas, and thoughtful accessories, this tea set will surely be remembered for years to come.
FreshJax Grilling Spice Gift Set: $29.99
Give the gift of flavor with this FreshJax grilling spice gift set. This collection includes five of the most popular grilling spices, giving your special someone the tools they need to add flavor to any meal. Whether they're grilling in the backyard or cooking in the kitchen, this set is sure to help them whip up a unique flavor profile.
Medley Hills Farm Cereal Marshmallows: $12.98
This one-pound bag of Medley Hills Farm cereal marshmallows is perfect for baking, snacking, or adding to your favorite breakfast cereal. These make a great gift that will bring a smile to your special someone's face. A delicious treat for any time of day!
Fusion Select Brown Sugar Boba Tea Kit: $19.99
This Fusion Select boba tea kit is the perfect gift for the boba tea lover in your life! If they'd appreciate an easy way to make their own bubble tea drinks at home, then this kit is definitely worth a try. It's quick and easy to use, produces delicious milk tea drinks every time, and allows you to customize your own recipes as desired.
Global Grub DIY Sushi Making Kit: $35.99
This kit includes everything needed to make delicious sushi at home. Perfect for a romantic home-cooked dinner, this kit includes sushi rice, nori sushi seaweed, rice vinegar powder, sesame seeds, wasabi powder, a bamboo sushi rolling mat, and instructions. Impress a special someone with your sushi-making skills and enjoy a Japanese-style date night to make this Valentine's Day memorable.
The Ultimate Big Cheese Making Kit: $39.00 (was $44.00)
This cheese-making kit is the perfect companion for the cheese lover! With this kit, you can make 10 delicious and easy vegetarian and gluten-free cheeses for all occasions. Enjoy the satisfaction of making your own cheese, with the convenience of fast and fresh results.
This kit includes all the necessary ingredients and tools to make your cheese-making experience a breeze. Whether you're a beginner or an expert, the included recipe book will guide you through each step of the cheese-making process.
Zen Kitchen Ceramic Fondue Pot Set: $29.99 (was $36.95)
Enjoy a romantic night with a loved one with the Zen Kitchen fondue set. This set includes a ceramic fondue pot with a tea light candle, six fondue forks, and a ceramic bowl for dipping. The fondue pot is great for melting chocolate and cheese, and the included forks make it easy to share with your partner for a romantic Valentine's Day date night.