10 Unique Valentine's Gifts For Partners That Have Everything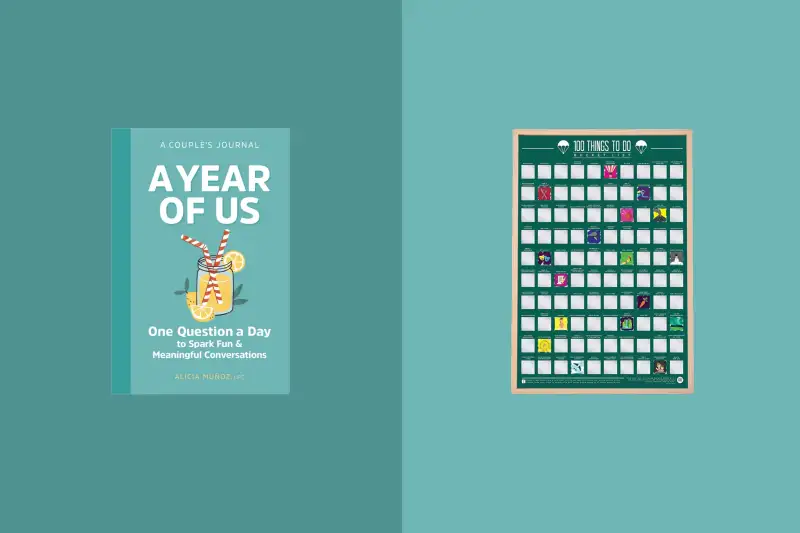 Valentine's Day is quickly approaching, and you may be looking for a special gift for your partner. But what do you buy when they already have everything? The struggle is real. Don't worry, we have the answer to your dilemma. This post will provide you with some information if you're feeling stuck and can't find that perfect gift for your partner who already seems to have it all.
We've included gifts that range from comforting massagers to heartfelt journals that can help make your Valentine's Day extra special. Whether you want to show your partner how much you love them or just want to help them stay cozy and relaxed, we have the most memorable gift ideas that should make the cut this year.
Lightly Sweetened bagless Loose Leaf Tea Gift Box: $15.99
The Tea Drops loose-leaf tea gift box is an innovative and exciting way to enjoy your favorite tea varieties. The set comes with eight drops of four different varieties and is a great Valentine's Day gift idea for any tea lover looking for convenience and quality without sacrificing flavor or nutrition.
Make Your Own Homemade Gin Kit: $39.00 (was $50.00)
The W&P homemade gin kit is a great way to make delicious gin right in your own kitchen. It comes with all the essentials, including two 375ml glass bottles, a stainless steel strainer, a stainless steel funnel, one tin of juniper berries, and one tin of W&P's botanical spice blend.
Scratch The World ® Scratch-Off Travel Map: $26.99 (was $34.99)
The Scratch The World travel map is an extra-large poster allowing for a more detailed view of the world's political map. The gold coating provides a unique way to scratch off and uncover the vibrant-colored country and state borders underneath.
100 Things To Do Bucket List Scratch-Off Poster: $20.48
The Gift Republic bucket list scratch poster is a great choice for those who are adventurous and looking for something new to experience. It features 100 fun activities that can be scratched off as they're completed. The poster comes in a triangular gift box, making it a perfect present to give to someone special this Valentine's Day.
What I Love About Us Fill-in-the-Blank Gift Journal: $11.99
The Knock Knock fill-in-the-blank journal is an ideal gift to give your significant other. This unique journal has 112 pages of fill-in-the-blank lines, allowing you to express your affection and appreciation for your partner, making it the perfect Valentine's Day present!
A Year of Us: One Question a Day Couple's Journal: $10.03 (was $14.99)
This unique journal makes the cutest Valentine's Day gift to reignite the spirit in your relationship. Deepen your bond with your loved one by using the prompts in the diary to ask your partner questions and other communication-strengthening activities.
Shiatsu Neck and Back Massager with Soothing Heat: $47.49 (was $69.99)
The modern lifestyle of many individuals leaves much to be desired, particularly when it comes to muscle soreness and tension build-up. The Nekteck heated neck and back massager is the perfect remedy for those daily strains and pains. Featuring eight powerful deep-shiatsu kneading massage nodes, this massager works to alleviate muscle soreness, ease neck stiffness, eliminate cervical fatigue, and relax the user after a long day of work.
Deep Kneading Shiatsu Foot Massager with Heat: $119.99 (was $159.99)
The Renpho foot massaging machine is an excellent choice for anyone looking for a relaxing, comprehensive massage for their feet. It has several features, including a rotation ball, rolling stick, and heating options, all of which give the user a deep kneading shiatsu foot massage. The ergonomic design provides a comfortable massage experience and a touch panel to control it with your feet.
Bucket Style Luxury Towel Warmer with LED Display: $99.99
The Live Fine towel warmer is the perfect accessory for people looking to make every shower feel like a spa day. With its spacious heating compartment that can easily accommodate oversized towels, you will never have to suffer through a cold towel again.
Alternative Down Dual Zone Duvet Insert: $97.49 (was $129.99)
If you're looking for a great sleeping solution for couples, then this comforter is an ideal choice. This unique microfiber duvet insert has two temperature zones—one side is specifically designed to keep you warm throughout the night, while the other side keeps your partner cool. This means you can both enjoy a restful night's sleep without compromising on comfort.