Does Your Home Need a Refresh? Save up to 60% on Amazon's Top Furniture and Home Decor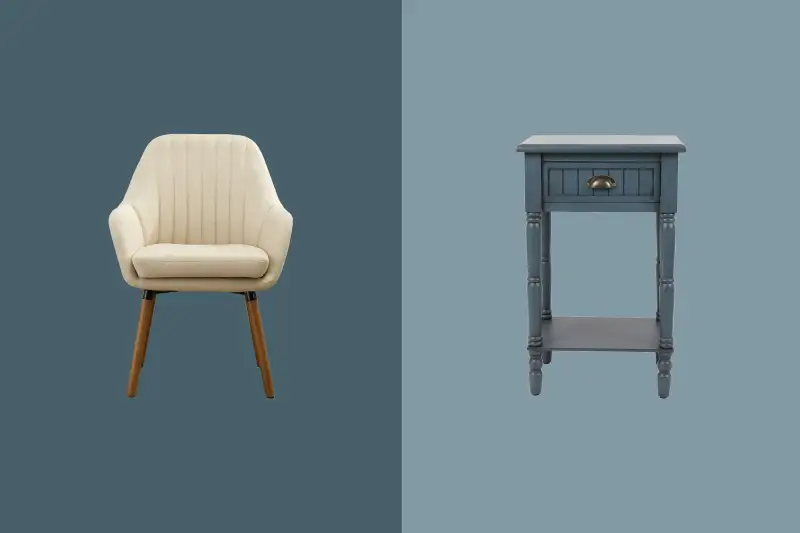 Spring's a little over a month away — and when seasons change, it's natural to want to update our home decor. But with rising costs, it can be difficult to afford the newest trends and furnishings. Fortunately, Amazon is here to help you reimagine your space for less! They're currently offering up to 60% off their top furniture and decor, which makes it easier than ever to give your home a well-deserved refresh.
Whether you're looking for new chairs, storage solutions, or accent pieces, Amazon has it all. From modern styles to classic designs, you're sure to find something that complements your home's aesthetic. With their low prices, you can invest in multiple pieces without breaking the bank.
For those who are completely redecorating their homes, Amazon has all the essentials. From compact dining sets to ottomans with secret storage compartments, these are the best furniture pieces that will suit any home regardless of its size. Plus, with the 60% discount, you can save big on all your favorite pieces.
Christopher Knight Home Storage Bench: $132.05 (was $155.35)
The Christopher Knight Home contemporary rolled arm storage bench is the perfect addition to any living space that will provide you with added storage and versatility without compromising on style or comfort. Not only does this ottoman bench look amazing, but it also has some incredibly functional features. The pressure hinges allow for the lid to stay open on its own, making it easier for you to access whatever you have stored inside.
Christopher Knight Home Ogden Barstools: $182.19 (was $217.77)
The Christopher Knight Home barstool set is a must-have for any home bar or kitchen island. Crafted from a strong wood frame and covered with a stylish beige finish, these barstools not only boast a sophisticated look but also provide superior comfort. So for those looking for a classic barstool that offers timeless style, comfort, and convenience all in one package, this set is just what you need.
Roundhill Furniture Fabric Accent Chair: $107.83 (was $179.90)
This accent chair provides an attractive and supportive seating option with its combination of sturdy frame construction and comfortable cushioning. The light brown finish adds an elegant touch to any home décor style and it easily blends into any room while still helping to make it look fashionable and inviting. With its lightweight design, it makes moving it around in your home incredibly easy — great for shifting around between different rooms or rearranging as needed.
Vecelo Dining Table Set With Four Chairs: $135.99 (was $159.99)
This dinette can make any dining room complete. It includes a wooden table top and four chairs that can be stowed under when not in use. This set is not only durable but also comfortable, with the cushioned chairs featuring nice high backs that fit the body perfectly. The steel tube frames and composite wood tabletop provide plenty of stability and durability while making it easy to wipe clean in no time.
Décor Therapy One-Drawer Accent Table: $54.45 (was $139.99)
This accent table is built to last and is sure to become a timeless classic. The one drawer and one shelf make for ample storage, perfect for smaller living areas where space is at a premium. The smooth surface makes the table easy to clean and maintain, so you can be sure it's always looking its best. And with the perfect height for setting down a laptop or cup of coffee, this table can be both functional and stylish in your home.
Convenience Concepts Oxford Console Table: $93.99 (was $202.30)
This compact console table offers a substantial storage option without taking up much space. The hinged flip tabletop provides accessible hidden storage and a quick and easy setup. Its versatile design makes it the perfect fit for any home, regardless of the décor, since it is available in different finishes.
Vasagle Baker's Rack with Basket, Hooks, and Shelves: $77.54 (was $105.99)
This baker's rack is an ideal kitchen solution for those looking to maximize their space in style. The spacious tabletop provides ample room to place kitchen appliances, including coffee machines, toasters, microwaves, and ovens. A basket is included for organizing tableware or other items, and the lower shelves are great for placing heavier items like kettles and blenders. All in all, this baker's rack makes it easier than ever to store kitchen utensils while its sleek design adds an elegant look to the room.
Trvone Arched Full Length Hanging/ Leaning Mirror: $346.04 (was $399.99)
The large size of this arched mirror is an attractive and durable addition to any home décor. The arch shape makes it suitable for both classic and contemporary aesthetics, while the wooden frame brings in a warm look. This mirror is made with burst-proof glass and high-definition mirroring capabilities. The beautiful wooden frame and high-quality glass make this mirror both attractive and long-lasting — a great addition to any room.
Décor Therapy Traditional Floor Lamp with Bell Shade:$38.34 (was $59.99)
Constructed of resin in a metallic bronze finish, this timeless floor lamp features a pedestal-shaped square bottom and a golden bronze-centered font in a decorative style. In addition to its charming aesthetic, the lamp also features a 3-way light switch, allowing you to adjust the lighting to suit your needs. Whether you need soft illumination for a night in or a bright light to read by, this lamp has got you covered.
Dexi Soft and Absorbent Non-Slip Bathroom Mat: $18.99 (was $24.99)
This bathroom mat offers a plush and super soft microfiber blend, making sure each step is cushioned and comfortable. This softness also serves a practical purpose, as the ultra-absorbent material quickly absorbs water and helps to protect the floor from dripping water. It also has a non-slip rubber backing to keep the mat firmly in place.