Save up to 40% on Useful Kitchen Essentials From KitchenAid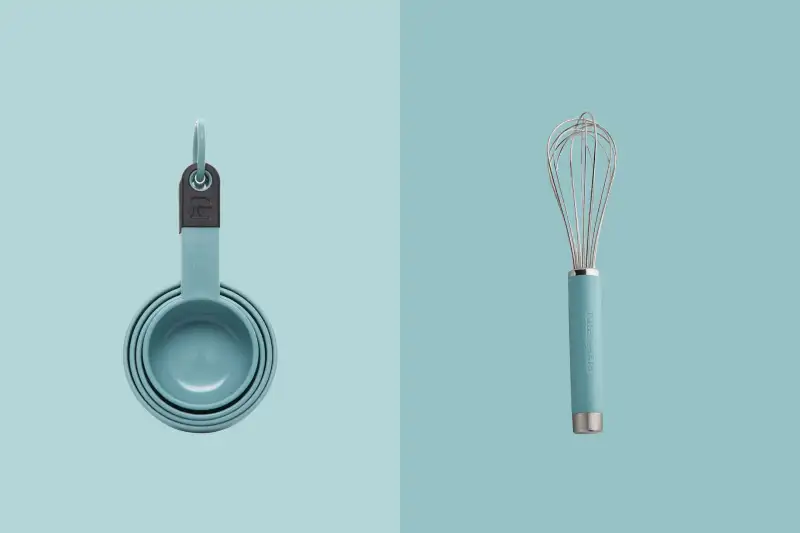 It's time to take your culinary skills to the next level! Whether you're an experienced chef or a beginner in the kitchen, upgrading your cooking gadgets is the perfect way to spice up your meals and save time on prep. From whisks and mashers to classic measuring cups, there are plenty of ways to upgrade your kitchen and make cooking more fun on a budget.
KitchenAid is currently having a flash sale on Amazon where you can save up to 40% on useful cooking essentials. Whether you're a professional chef or just someone who loves experimenting with food, KitchenAid has something for everyone. So grab your apron, roll up your sleeves, and get ready to upgrade your cooking space with the best deals on kitchen essentials.
KitchenAid All Purpose Shears: $8.09 (was $11.99)
Make meal preparation a breeze with this pair of all-purpose shears, featuring stainless steel blades, micro serrations for enhanced cutting performance, and a comfortable grip handle. They come with a protective plastic sheath and dishwasher-safe convenience.
KitchenAid Multifunction Can Opener: $14.23 (was $19.99)
Open cans and bottles easily with this classic multi-functional can opener. It features an easy-to-turn knob and an ergonomic handle for a secure grip, ensuring a simple, comfortable, and efficient use every time.
KitchenAid Gourmet Wire Masher: $11.04 (was $17.99)
Forget mashing potatoes the old-fashioned way — this stainless steel gourmet wire masher provides ergonomic comfort, rust resistance, and dishwasher-safe convenience for all your vegetable mashing needs. You'll be able to get mashed potatoes in a jiffy with this handy tool.
KitchenAid Gourmet Utility Whisk: $9.02 (was $12.99)
Beat, blend, and whisk with ease using this gourmet whisk that features a strong and durable stainless steel head, ergonomic design, and dishwasher-safe design for easy cleanup.
KitchenAid Citrus Juice Press Squeezer: $21.24 (was $24.99)
Make juice prep a breeze with this citrus juice press, designed with a unique hopper, built-in strainer, and extra leverage for a mess and stress-free squeezing.
KitchenAid Classic Measuring Spoons: $5.56 (was $7.99)
This classic measuring spoon set is the perfect addition to any kitchen, offering a durable design with easy-to-read measurements in both standard and metric units, plus organized storage and dishwasher-safe components for quick and easy cleanup.
KitchenAid Classic Measuring Cups:$6.76 (was $9.59)
This set of classic measuring cups comes with durable, BPA-free plastic construction and easy-to-read labels for stress-free cooking. The cups nest for simple, space-saving storage and are held together with the included ring.
KitchenAid Prep Bowls with Lids: $10.66 (was $11.99)
Create your favorite meal with ease using this set of bowls that are perfect for prepping ingredients or storing pre-cooked meals. Their stackable design makes them great for a small kitchen, while the lids and varied sizing provide extra convenience.
KitchenAid Compact Dish Rack: $42.70 (was $50.92)
This space-saving stainless steel dish rack features a smart design with a rust-resistant coated wire frame, a removable flatware caddy, and an angled drainboard. Its sleek modern look makes it a stylish and efficient addition to any countertop.
Misto Frosted Glass Oil Sprayer: $10.80 (was $15.99)
Experience the convenience and health benefits of the Misto oil sprayer. Easily spritz your favorite oil, vinegar, or fruit juice, and get an even mist with the easy-to-use pump-style cap. It's a healthy, cost-effective option compared to typical aerosol sprayers.