50 Excellent Colleges That Are Still Taking Applications for Fall 2017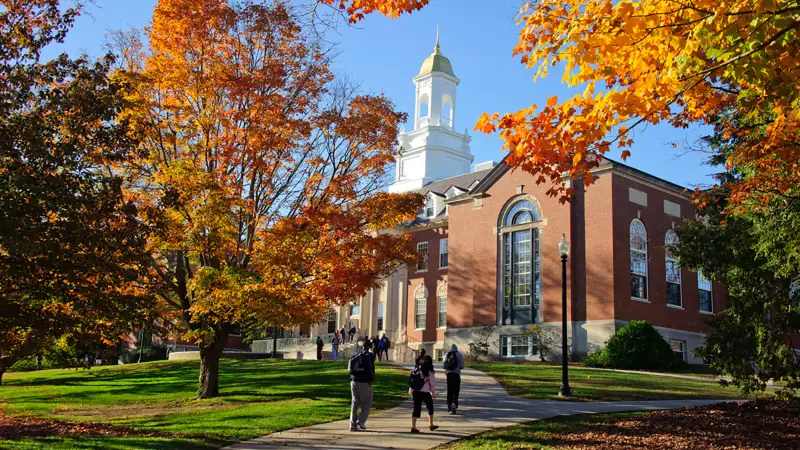 Don't worry, late bloomers and procrastinators: There are still plenty of great colleges that are still accepting applications.
True, the fall 2017 application deadlines have passed for many highly popular schools -- including the Ivy League, the University of California campuses, and elite liberal arts colleges such as Amherst. But there are hundreds more dream colleges with later deadlines, notes MorraLee Keller, director of technical assistance for the National College Access Network.
In fact, there are more than 500 colleges whose application deadlines for the fall 2017 academic year fall between Jan. 15 and Aug. 15. And more than 200 colleges take applications on a "rolling" or "space available" basis -- which means they take applications until they find enough students to fill their class. (In many cases, they'll still be accepting applications through the summer.)
So high school seniors who can buckle down and file their applications in January "still have a set of good choices," says Keller.
Money has compiled a list of 50 colleges that rank highly for value and have application deadlines of Jan. 10 or later. See the full list below, organized by due date.
Don't delay too long, though. Keller and other admissions experts say students who delay their applications give themselves three major disadvantages:
Lower admission odds: Many schools, such as Michigan State and Indiana University, accept late applications on a "space available" basis. So late applicants are competing for whatever slots may be left after all of the qualified earlier applicants have been accepted. In practice, marginally qualified students are more likely to be rejected if they apply late.
Less aid: Federal financial aid is guaranteed as long as you file a Free Application for Federal Student Aid (FAFSA) before the end of your academic year. But many states and colleges give out aid on a first-come, first-served basis. Purdue, for example, is still accepting applications for admissions on a "space available" basis, but limits its merit aid to those who applied by Nov. 1. So some late applicants are likely to pay higher net prices.
Fewer major choices: Many rolling admissions and space-available schools say their most popular majors -- such as nursing, engineering and computer science -- tend to fill up early. At Purdue, for example, engineering spots for fall 2016 filled up by February last year, says Pamela T. Horne, the school's vice provost for enrollment management. Qualified students who apply after that may be offered admission to less popular programs, such as liberal arts, she says.
The risks for late applicants are so serious that Melanie Hall, an AVID teacher and counselor at Texas's Grand Prairie High School, says she is hounding her students every day now, asking "What the heck are you waiting for?" She motivates procrastinators by asking: "What will you be doing this time next year? Is that going to support the life you want to live?"
| Name | Money Rank | Location | Deadline | Acceptance rate (2014) |
| --- | --- | --- | --- | --- |
| Wheaton College | 75 | Wheaton, IL | Jan. 10 | 69% |
| Georgetown University | 84 | Washington | Jan. 10 | 17% |
| University of North Carolina School of the Arts | 60 | Winston-Salem, NC | Jan. 13 | 43% |
| Virginia Tech | 18 | Blacksburg, VA | Jan. 15 | 73% |
| Wellesley College | 34 | Wellesley, MA | Jan. 15 | 30% |
| University of Connecticut | 38 | Storrs, CT | Jan. 15 | 50% |
| University of North Carolina | 45 | Chapel Hill, NC | Jan. 15 | 28% |
| University of Delaware | 54 | Newark, DE | Jan. 15 | 68% |
| University of Georgia | 56 | Athens, GA | Jan. 15 | 56% |
| Colgate University | 59 | Hamilton, NY | Jan. 15 | 26% |
| College of the Holy Cross | 65 | Worcester, MA | Jan. 15 | 43% |
| Lafayette College | 69 | Easton, PA | Jan. 15 | 30% |
| University of Vermont | 79 | Burlington, VT | Jan. 15 | 73% |
| Washington University in St Louis | 87 | Saint Louis | Jan. 15 | 17% |
| Union College | 98 | Schenectady, NY | Jan. 15 | 41% |
| University of Illinois at Chicago | 56 | Chicago | Jan. 16 | 74% |
| University of Maryland | 19 | College Park, MD | Jan. 20 | 48% |
| Washington State University | 37 | Pullman, WA | Jan. 31 | 82% |
| University of Michigan | 2 | Ann Arbor, MI | Feb. 1 | 32% |
| Brigham Young University | 5 | Provo, UT | Feb. 1 | 47% |
| Virginia Military Institute | 42 | Lexington, VA | Feb. 1 | 44% |
| University of Wisconsin | 63 | Madison, WI | Feb. 1 | 57% |
| DePauw University | 67 | Greencastle, IN | Feb. 1 | 57% |
| Indiana University | 77 | Bloomington, IN | Feb. 1 | 76% |
| The College of New Jersey | 94 | Ewing, NJ | Feb. 1 | 49% |
| St. Lawrence University | 95 | Canton, NY | Feb. 1 | 48% |
| McDaniel College | 100 | Westminster, MD | Feb. 1 | 76% |
| University of Wisconsin-Eau Claire | 100 | Eau Claire, WI | Feb. 1 | 84% |
| Stevens Institute of Technology | 108 | Hoboken, NJ | Feb. 1 | 44% |
| Earlham College | 28 | Richmond, IN | Feb. 15 | 65% |
| Muhlenberg College | 87 | Allentown, PA | Feb. 15 | 53% |
| Maine Maritime Academy | 62 | Castine, ME | March 1 | 79% |
| Siena College | 72 | Loudonville, NY | March 15 | 66% |
| Clemson University | 21 | Clemson, SC | May 1 | 52% |
| The University of Texas at Dallas | 91 | Richardson, TX | May 1 | 62% |
| Saint Johns University | 25 | Collegeville, MN | Rolling | 79% |
| Massachusetts Maritime Academy | 43 | Buzzards Bay, MA | Rolling | 62% |
| College of Saint Benedict | 47 | Saint Joseph, MN | Rolling | 82% |
| Purdue University | 51 | West Lafayette, IN | Rolling | 59% |
| St. Mary's University | 52 | San Antonio, TX | Rolling | 59% |
| Michigan State University | 54 | East Lansing, MI | Rolling | 66% |
| University of Minnesota | 58 | Minneapolis | Rolling | 45% |
| Gustavus Adolphus College | 74 | Saint Peter, MN | Rolling | 61% |
| Saint Vincent College | 78 | Latrobe, PA | Rolling | 72% |
| Bethel University | 82 | Saint Paul, MN | Rolling | 95% |
| Molloy College | 84 | Rockville Centre, NY | Rolling | 75% |
| Citadel Military College | 86 | Charleston, SC | Rolling | 76% |
| Michigan Technological University | 90 | Houghton, MI | Rolling | 76% |
| Martin Luther College | 95 | New Ulm, MN | Rolling | 97% |
| University of Utah | 106 | Salt Lake City | Rolling | 81% |