Shop Amazon Storage Solutions for Every Room of the House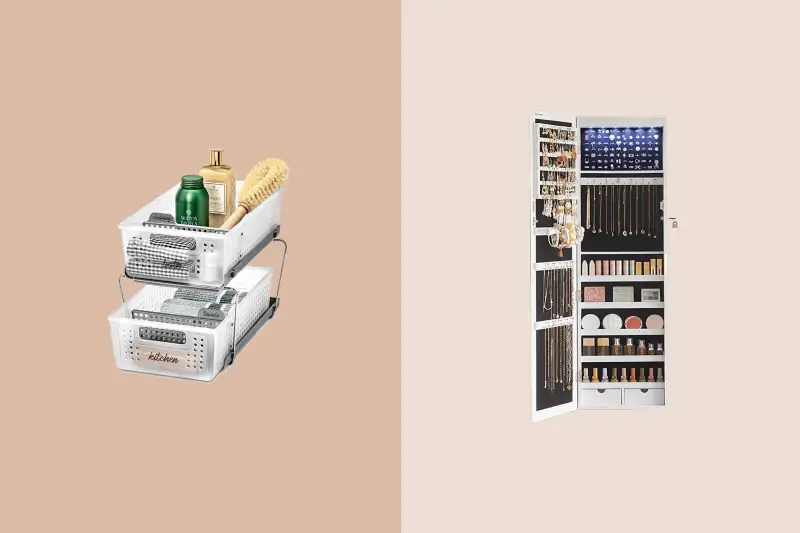 Finding storage solutions that fit your lifestyle and home is a challenge. Don't worry — Amazon has quick-fix products for every room of the house, whether it's the kitchen, bedroom, or bathroom. Storage solutions come in all shapes and sizes. From small containers to larger units, you can find any item you need to make your home more organized.
No matter what part of the house you're looking to get in order, Amazon has a storage solution for all your needs. From secret storage baskets to shower curtains with pockets that can store all your toiletries, we've found some clever tools that make use of every inch of the space you have.
Bedroom
If your bedroom is becoming too small for your stuff, there are plenty of creative ways to make the most of what you have. Consider turning the space under your bed into makeshift storage or adding a door-mounted jewelry rack inside your closet to organize all of your accessories. Check out our top storage solutions that will transform your bedroom into a clutter-free haven!
6 Pack Clothes Storage Bins: $22.99 (was $44.99)
Simple Houseware Closet Organizing Drawer Divider: $12.63 (was $14.87)
Songmics Mounted Jewelry Armoire Organizer: $124.99 (was $159.99)
Bathroom
Having a small bathroom can be frustrating, but you don't need to remodel it to increase storage or efficiency. Invest in some space and time-saving products to maximize the limited space you have without breaking the bank. We've found creative solutions for all of your bathroom problems — including an automatic toothpaste dispenser that will even make the tiniest of bathrooms feel luxurious and organized.
Madesmart Slide-Out Storage Baskets: $22.97
Maytex Mesh Shower Curtain Organizer: $19.99 (was $26.25)
Wekity Wall-Mounted Toothbrush Holder: $17.79
Kitchen
For many of us, the reality of our kitchens does not match our grand dreams of large pantries, well-stocked larders, and endless storage. But this doesn't mean that you can't have the kitchen of your dreams. With the right planning and execution, you can make the most of a small kitchen, no matter how limited your space is. Utilize every inch with these top storage solutions that make your kitchen feel spacious without shelling out a lot of money. With a little creativity and some clever products, you can create the cooking space of your dreams on a budget!
Joseph Joseph Compact Cutlery Organizer: $11.99
Simple Trending Can Rack Organizer: $22.97
Simple Houseware Pot and Pan Organizer: $16.87
Bonus deal for outdoor storage
The YardStash Outdoor Storage is an excellent choice for storing outdoor items in harsh weather conditions. It's made of heavy-duty vinyl tarpaulin for maximum strength, offers plenty of space with its generously sized package, and comes with adjustable straps and easy-open buckles for extra convenience.
YardStash Outdoor Storage Tarpaulin: $104.41