Save Over 40% on This Highly-Rated Water Flosser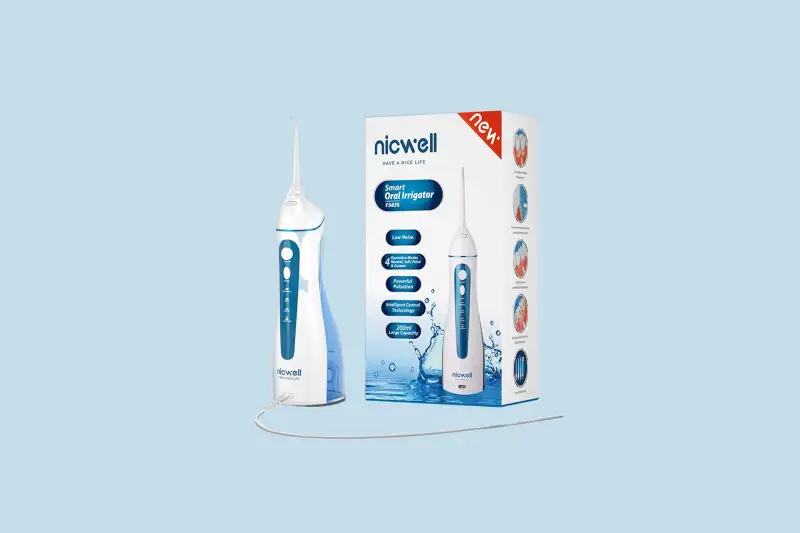 Good dental hygiene is essential for healthy teeth and gums. It's important to brush every day as part of your oral care regimen — but brushing alone might not be enough to prevent sore gums. If you're looking for a way to make your teeth healthier and have a sparkling white smile, a water flosser might be worth the investment.
A water flosser is a powerful and cost-effective way to get rid of plaque, bacteria, and food particles that can cause cavities and gum disease. This device is perfect for people of all ages and tooth concerns. And now, with the amazing offer we've found, you can get Amazon's top-rated water flosser for over 40% off.
A powerful flosser for the whole family
This dental flosser is the perfect choice for anyone looking to maintain optimum oral health. It features a unique pulsation technique that generates a high-pressure water pulse that removes 99.99% of food particles stuck between your teeth while massaging the gums to reduce inflammation.
The Nicwell flosser has four different flossing modes designed to suit various conditions of teeth and gums. It comes with five interchangeable jet tips that make it perfect for the whole family. Additionally, its 360° rotatable nozzle ensures that even hard-to-reach areas can be accessed easily, helping to prevent tooth decay, dental plaque, and other oral problems.
The flosser is lightweight and cordless, making it great for travel. It features a powerful lithium battery that takes 4 hours to fully charge for up to 21 days of continuous use. The double-sealing rings make it IPX7 waterproof, which means it can even be used while showering. It's easy to see why one happy shopper said they were "overly satisfied with this product." They went on to say:
"I've had it for just over a week and I'm borderline addicted to how good my teeth feel after using this along with normal brushing and mouthwash. It's a legit "just left the dentist feeling" I can say for the price it is a good value and works great."
This smart irrigator is an incredibly useful device that can help anyone achieve great oral health and hygiene without any hassle. With its multiple features and functions, it's a great value product and would make an excellent gift for any occasion.