Find the Perfect Wireless Keyboard for Your Unique Style and Save up to 35%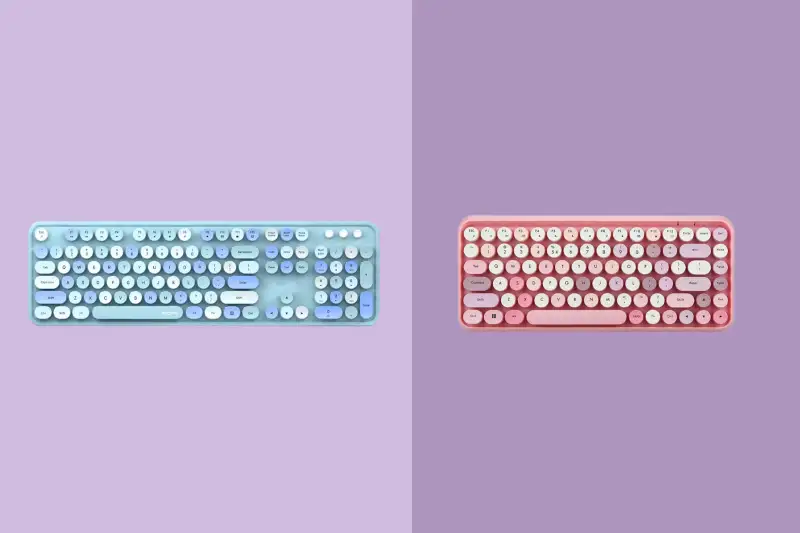 The right keyboard and mouse set can make a huge difference in how efficient and comfortable you feel while working or gaming on your computer. But with so many options on the market, it can be overwhelming to pick the right one — especially if you're on a tight budget and can't afford the latest gadgets. We get it! The good news is, you don't have to break the bank to get a top-of-the-line mouse and keyboard set.
We've found the best wireless keyboard and mouse sets that offer both style and functionality at great prices. With deals up to 35% off, you can find the perfect combination for your unique preferences. From ergonomic designs to sleek, modern styles, we've got you covered. Plus, our top picks provide superior performance that will make your workday more efficient.
Sleek Design Wireless Keyboard and Mouse Combo: $34.99 (was $39.99)
This set is an excellent choice for those who prefer sleek and portable devices. The keyboard's slim and thin design makes it ideal for use in a variety of settings, such as conferences, board presentations, and coffee shops. The mouse is equipped with noise-free switches, which take productivity to another level without any disturbance.
Wireless Keyboard and Mouse Combo with Phone Holder: $22.59 (was $28.99)
This keyboard and mouse combo provides reliable connectivity and saves time from having to connect different devices. The mouse has 6 buttons and functions silently, so it won't distract you from your work. This set a great combination of convenience and performance, without sacrificing style or portability.
Black Backlit Wireless Keyboard and Mouse Combo: $39.99 (was $42.99)
With a unique rainbow backlight and custom comfort layout, this wireless keyboard is sure to meet all of your typing needs. The battery is rechargeable and has a long-lasting standby time of up to 365 days for the keyboard and 270 days for the wireless mouse, making it perfect for even the busiest workday. To help conserve battery life, the keyboard and mouse both have an on/off switch, as well as a smart sleep mode. And when you're ready to use them again, just press any key or move the mouse to wake them back up.
White Backlit Wireless Keyboard and Mouse Combo: $49.99 (was $79.99)
This gaming keyboard and mouse combo is as efficient as it is attractive. The keyboard's LED backlighting adds an extra layer of style and ambiance to any gaming setup. Beyond its stylish looks, the build quality is also top-notch. This set is an impressive piece of hardware that offers gamers exceptional performance and durability— all at an excellent value.
Blue Retro Wireless Keyboard and Mouse Combo: $31.50 (was $43.99)
Fashion meets functionality with this wireless keyboard and mouse set. Its retro-style typewriter full-size keyboard and cool-shaped precision mouse will give any desk a modern edge — making it an ideal choice for both home and office use.
Pink Retro Wireless Keyboard and Mouse Combo: $32.99
This mini wireless keyboard and mouse combo offers style, convenience, and reliability all in one attractive package. The keyboard is compact and has a vintage appeal, complete with typewriter-inspired keys and pastel pink, purple, and white color range. This stylish desktop set offers a convenient solution for modern computing needs that looks as good as it functions.
Cute Cat Wireless Keyboard and Mouse Combo: $33.29 (was $36.99)
This wireless keyboard and mouse set is ideal for kids, with its fun design featuring three-dimensional cat ears and whiskers, and a spacebar with a pattern of cat footprints. The vibrant colors make it a great gift, while the advanced features make it an excellent choice for any user looking for a stylish alternative to traditional keyboards and mice.
Ultra-Slim Multi-Device Bluetooth Keyboard: $25.49 (was $29.99)
The performance and range of features of this wireless keyboard make it a steal at such an affordable price point. It's perfect for gamers who want a reliable keyboard that won't break the bank. It features three groups of rainbow backlight effects, two breathing modes, three static modes, and four brightness levels that make it a great choice for anyone looking for a multi-functional LED wireless keyboard.