The Best Apartment Vacuums for Your Money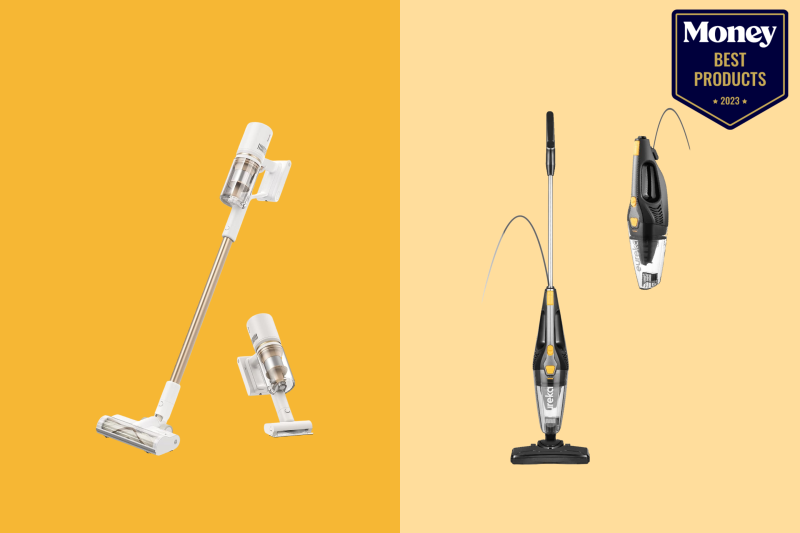 Vacuuming regularly is an essential part of keeping your space clean and dust-free. But if you live in a small home or apartment, maneuvering a standard bulky upright vacuum can be difficult. Fortunately, there's an easy solution: an apartment vacuum. These handy cleaning appliances pack plenty of suction and power into a lightweight design for easy movement in dorms, apartments and other small spaces.
In this guide, we'll take a look at the finest apartment vacuums of 2023. We'll examine each product's features and break down its pros and cons so you can weigh your options. We'll also provide you with some buying tips to help you find the right vacuum for your space and cleaning needs. So, if you're in the market for a lightweight vac that's easy to store and use but doesn't sacrifice power and durability, keep reading to learn more about how an apartment vacuum can help you maintain your space.
Best Overall: Dreamtech P10 Pro Lightweight Cordless Vacuum
Most Powerful: Bissell 3508 Compact Apartment Vacuum
Most Versatile: EUREKA Lightweight Stick Vacuum Cleaner
Most Lightweight: Dirt Devil SD20020 Corded Stick Vacuum
Best Dustbin Capacity: EUREKA NEU182A PowerSpeed Vacuum
Comparing the Top Vacuums for Apartments of 2023
List Price: $199.99
The BRITECH Apartment Vacuum is your ultimate cleaning companion, offering powerful suction and ultra-quiet operation. With its 300W brushless motor, this stick vacuum provides an impressive 23,000Pa of suction power on MAX mode, effortlessly capturing debris, dust, crumbs, pet hair, and other messes with ease. You'll appreciate how it transforms cleaning into a breeze.
One of its standout features is the advanced 4-stage HEPA filtration system. It's designed to capture even the smallest particles on flat surfaces with high-density meshing, boasting up to 99.97% efficiency. This means your home will not only look cleaner but also be healthier as it effectively removes allergens and dust, contributing to a cleaner indoor environment.
What sets the BRITECH vacuum apart is its powerful 4-in-1 versatility. It easily switches to a handheld vacuum with various attachments, allowing you to reach those challenging, hard-to-reach areas. Whether it's cleaning corners, upholstery, or high shelves, this best overall vacuum has you covered.
Pros
Captures even the smallest particles

Effortlessly sucks up debris, dust, and pet hair

Very versatile design
Cons
List Price: $289.99
The Dreamtech P10 Pro Lightweight Cordless Vacuum climbed to the second spot on our list thanks to its versatile design and efficient filtration system. Featuring a convertible construction, this product can be turned into a handheld unit. Plus, it's suitable for use on all types of hard flooring and low-pile carpeting. It comes complete with accessories including various brushes and a crevice attachment for cleaning all the nooks and crannies of your apartment. The five-layered filtration system consists of HEPA (high-efficiency particulate air), metal mesh, cyclone, sponge and mesh filters, which work together to remove 99.89% of particulate matter.
At less than 4 pounds, this lightweight product offers plenty of vacuuming power as well as three suction modes to accommodate a variety of cleaning needs. It has a washable, reusable filter and a generous maximum runtime of one hour on a single charge, which is more than enough for a small space. The dustbin is easy to empty, and the LED display makes it easy to monitor the appliance's battery level. The wall-mounted docking station offers convenient, space-efficient storage when the product isn't in use.
Pros
Low-noise (75-decibel) operation
Convertible design for optimal versatility
One-year warranty coverage
Cons
Limited color choices
Not suitable for high-pile carpets
List Price: $59.99
The Bissell 3508 Compact Apartment Vacuum offers all the suction power of an upright model with the lightweight construction and convenience of a stick vac. Ideal for cleaning up pet messes, this product features an extendable wand for cleaning stairs, furniture, curtains and difficult-to-reach areas. It weighs less than 8 pounds, making it easy to maneuver and carry. For added convenience, the long 23-foot power cord allows you to cover an entire room without having to switch outlets.
The large 1-liter dustbin can be quickly emptied with the touch of a single button, and thanks to its large capacity, you won't need to empty it often. Plus, the dustbin's transparent design makes it easy to tell when it's time to dump out the debris. The vacuum is suitable for use on hard floors and carpets, and it's available in three style choices.
Pros
Removable extension wand
Long power cord for convenient cleaning
Suitable for vacuuming carpets
Cons
Hose could be longer
Less energy efficient than comparable products
List Price: $33.99
The EUREKA Lightweight Stick Vacuum Cleaner features a versatile, three-in-one design, allowing it to function as a stick vac, stair vac and handheld vac to cover all of your cleaning needs. In its stick form, this model is great for cleaning hard-surface flooring and low-pile rugs and carpets. When converted to stair or handheld form, it can be used to clean dust and debris from stairs, curtains, pet beds, upholstery and other hard and porous surfaces.
The reasonably sized 0.6-liter dust holder limits how often it needs to be emptied, while the 18-foot-long power cord allows for wall-to-wall cleaning without swapping outlets. The swiveling head offers excellent maneuverability, making it easy to clean under low-lying furniture and other hard-to-reach spaces. Speaking of hard-to-reach spaces, this model comes with a crevice attachment so you can easily clean between your couch cushions, corners and other tight spots. Plus, if you're shopping on a budget, this apartment vac is the only option on our list available for under $50.
Pros
Suitable for hard floors and low-pile carpets
Convertible, three-in-one design
Very affordably priced for great quality
Cons
Brush needs to be cleaned bi-weekly
Somewhat noisy operation (84 decibels)
List Price: $54.99
With an ultra-low weight of 3.4 pounds, the Dirt Devil SD20020 Corded Stick Vacuum is incredibly lightweight and easy to transport and maneuver. Switch from hard-surface flooring to carpets quickly with just the push of a button. The dustbin has a 0.4-liter capacity and features a transparent construction, allowing you to see when it's time to empty the container. The head measures 10 inches wide, providing a large cleaning path for faster, more efficient vacuuming.
This product converts into a handheld vacuum to easily clean upholstery, curtains, furniture, pet beds and other such areas and surfaces. It also features innovative scatter-prevention technology to keep debris from spreading across your hard floors. This pick has a 15-foot cord and comes with a crevice attachment for convenient cleaning of difficult-to-access areas.
Pros
Very lightweight and easy to carry
Anti-scatter technology to efficiently vacuum hard floors
Extra-wide cleaning path
Cons
Shorter cord than comparable models
Only one color is available
List Price: $87.99
While slightly bulkier than other options, the EUREKA NEU182A PowerSpeed Vacuum boasts a generous, larger-than-average, 2.6-liter dustbin capacity, which means you won't have to empty it as often as other apartment vacs. It comes with a wide range of useful accessories, including a dusting brush, a crevice tool and an upholstery attachment, making it well-suited to meet your apartment-cleaning needs. The smooth-gliding wheels prevent floor damage, and the unit is powerful enough for use on all floor types.
With five different height settings to choose from, it's easy to find one that's comfortable for your preferences. The extendable hose makes quick work of cleaning curtains, ceiling fan blades and other high areas. Assembly is fast and straightforward, and the 12.6-inch cleaning path allows you to cover more space in less time. The power cord measures an impressive 25 feet so you needn't worry about outlet hopping while cleaning.
Pros
Extra-long 25-foot power cord
Five height options for all floor types
Several cleaning accessories included
Cons
Heavier than our other picks
Harder to maneuver than comparable products
Choosing the Ideal Apartment Vacuum: A Buyer's Guide
Finding the right apartment vacuum can be overwhelming, as there are so many models to choose from. To make sure you select the right vacuum for your budget and needs, you should consider the following product features before making a purchase:
Price
Vacuums for apartments are available at a wide range of prices, from $30 to over $250, so it's essential to consider your budget when comparing models. Aim for a product that aligns with how much you want to spend but still has all the features that are important to you and doesn't skimp on quality and durability.
Cord length
Cord length is an important factor to consider when shopping for an apartment vacuum because it affects how easily you'll be able to reach all areas of your residence. Longer cords give you more freedom to move around without having to repeatedly switch to a different outlet.
Weight
Vacuums can range from very light to moderately heavy, depending on their features. If your residence has a lot of stairs or areas that are difficult to reach with heavier vacuums, then you should look for one that's light enough to maneuver easily.
Noise level
When looking for a suitable vacuum for your apartment, it's good to be mindful of noise levels. Vacuums with higher noise levels can be disruptive and annoying if used for extended periods of time. Look for an appliance with a low noise level of around 70 decibels so it won't disturb others in your apartment or your neighbors. If you prefer to opt for a more powerful vacuum that operates somewhat loudly, you can always try to be selective of the time of day you use it.
Suction power
Suction power is essential to evaluate when purchasing an apartment vacuum. Vacuums with higher suction power will help you clean efficiently and lift more dirt from carpets and rugs. Height adjustment features can also impact suction power on various surfaces.
Battery life
If you opt for a cordless model, it's key to check its battery life. Ideally, look for a product with a long enough runtime to clean your whole home before needing a recharge. Checking reviews and product specifications can give you a good idea of how long a vacuum will run on a single charge.
Accessories and attachments
Depending on what types of surfaces or furniture you'll be cleaning with your vacuum, you may need additional accessories or attachments such as upholstery brushes or crevice tools for tight spaces. Make sure the model you're considering comes with all the attachments you need to effectively clean your space.
Portability and maneuverability
Portability and maneuverability are essential factors to evaluate when selecting an apartment vacuum. To ensure the product is easy to use in small spaces like closets or hallways, look for a lightweight model that's designed with an ergonomic handle and swiveling head for easier cleaning in tight places and around furniture.
Energy efficiency
Some vacuums use more energy than others. To keep your energy use and bill at a minimum, look for a vacuum that's Energy Star-certified or has lower wattage ratings.
Versatility
Some vacuums are designed specifically for certain surfaces, such as hardwood floors or low-pile carpets, whereas others are suited for different types of surfaces such as upholstery and rugs. To get the most out of your purchase, opt for a versatile product that can be used on various surfaces and is suitable for a range of cleaning tasks such as removing pet hair and dust. Some of the most versatile options feature a convertible design and can be transformed into stick or handheld units.
Durability
Opt for an apartment vac that's made from high-quality materials and is designed to last. Reading customer reviews can give you excellent insight into how long different models last.
Ease of use
Most people don't enjoy vacuuming, but a product with a user-friendly design can make the task go by quickly and without hassle. For convenience, look for a model with intuitive controls and a comfortable handle. Some of the best options feature foot pedals and buttons, so you can change settings or turn the appliance on and off without having to bend down repeatedly.
Brand reputation
Whenever possible, purchase from reputable brands with long track records for producing durable products and providing excellent customer service. Do some research and read customer reviews to gain insight into brand reputations.
People Also Ask
Are apartment vacuums loud?
Generally, apartment vacuums tend to be quieter than large upright vacuums due to their smaller size. However, sound levels can vary among different models and brands. For low-noise operation, look for a product that produces 70 decibels or less.
How do I store my apartment vacuum?
Apartment vacuums are typically easy to store thanks to their smaller size and lightweight design. Most have collapsible handles or can be hung on an included wall mount or tucked away in a closet or under a bed.
How do I maintain my apartment vacuum and keep it running properly?
To get the most out of your apartment vacuum, keep its filters clean to maximize suction power. Regularly empty the dust cup to ensure optimal efficiency and check that the vacuum's intake valve isn't clogged.
Does an apartment vacuum come with a warranty?
Warranty inclusion, coverage and duration often vary depending on the manufacturer and model. Some vacuums come with warranties while others don't, so it's important to check the product's description before purchasing to ensure it's backed by a warranty and to determine what the warranty covers and how long it'll remain in effect.
How much do apartment vacuums cost?
Price can vary depending on the product's features, design and quality. Generally, apartment vacuums can range anywhere from $30 to $500 for high-end models.
Why Trust Us
Our commitment to customers begins with a carefully curated product selection process, ensuring we provide high-quality and reliable options. We meticulously vet each apartment vacuum, analyzing quantitative aspects, such as star ratings and review count, and qualitative factors, including review content and product features. Our dedicated team of bargain hunters consistently prioritizes your budget by meticulously scouring the market and identifying the best apartment vacuums available without ever compromising on quality or performance. Our panel focuses on presenting the pros and cons of each apartment vacuum and converting technical specs into understandable insights. We aim to ensure efficient and hassle-free cleaning with top-rated electric household appliances.