The Best Blender-Food Processors for Your Money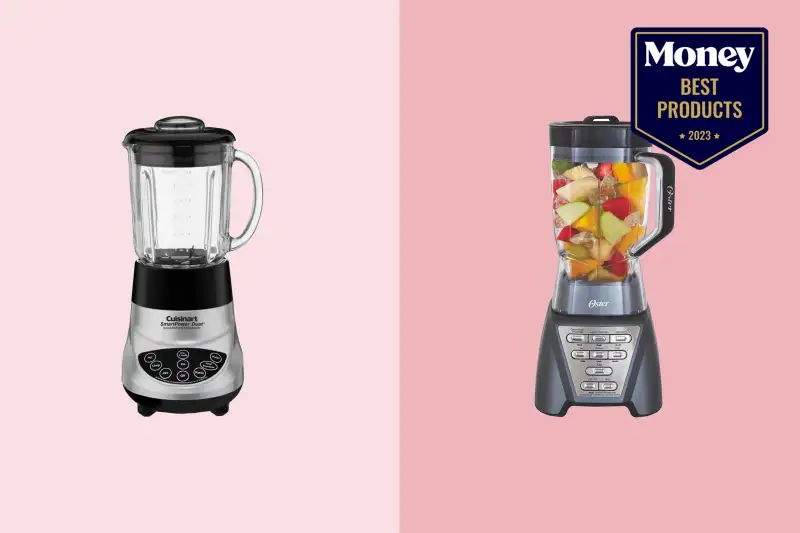 If you're looking for a powerful kitchen appliance to help you simplify meal prep and cooking, a blender-food processor combo may be exactly what you need. Not only do these appliances offer you the convenience of having both a blender and a food processor in one handy device, but they also have a number of features that can make food preparation faster and easier. These all-in-one machines are perfect for those who might not have the space (or the budget) for an individual blender and food processor.
But choosing the right kitchen appliance from a wide variety of options can be a tough task. To simplify your search, we've curated a list of the top-rated blender-food processor combos of 2023. Whether you want something simple and affordable or are on the hunt for a professional-level culinary tool, we've got you covered. So, let's check them out.
Best overall: Cuisinart Blender-Food Processor Combo
Most versatile: Hamilton Beach Blender-Food Processor Combo
Most reliable: Oster Blender-Food Processor Combo
Best quality: Ninja Blender-Food Processor Combo
Most budget-friendly: Sangcon Blender-Food Processor Combo
Comparing the Top Blender-Food Processor Combos of 2023
List Price: $72.99
Check on Amazon | Check on Walmart
The Cuisinart Blender Food Processor Combo can be an invaluable tool for any small-sized and busy kitchen. Striking a perfect balance between power and control, this appliance features a seven-speed touchpad, allowing you to adjust its power level according to your needs. These settings are quick and easy to use. From the stir function and pureeing to chopping and processing, it allows you to perform a range of functions in a snap — it can even handle crushing ice.
Additionally, this blender-food processor combo is equipped with a powerful 500-watt motor that can tackle tasks both tough and delicate. It comes with multiple attachments and accessories, allowing you to slice, shred and chop fruits and veggies in the blink of an eye, This robust kitchen appliance can easily churn through tough ingredients in its 3-cup food processor container, making it perfect for doing batches of meal prep.
This blender-food processor combo's large 48-ounce glass blender jar and clear 2-ounce measuring lid make blending and crushing large quantities of ingredients easy. Even better, though, is the fact that all of these removable parts are dishwasher-safe, so you won't have to scrub them by hand after every use. With its safe, easy-to-use design, you can forget about accidentally cutting your hands or making a mess when using this appliance. All of these amazing features have earned this blender-food processor combo the top spot on our list.
Pros
Long-lasting die-cast metal build
Simple one-touch controls for convenient use
Overload protection for increased safety
Cons
No case for storing the slicer
Prone to overheating
List Price: $74.99
Check on Amazon | Check on Walmart
Are you looking for an innovative appliance that can add some convenience to your busy lifestyle? If so, then you can't go wrong with the Hamilton Beach Blender-Food Processor Combo. This multifunctional appliance lets you blend, crush, mix, chop and slice both hard and soft ingredients, all in one device. It features a powerful 700-watt motor and a wave action system that pulls your ingredients down into the blades as they're mixing for a smoother consistency and better results. Plus, it boasts unmatchable versatility for all kinds of tasks; whether you want to use it to slice, shred and chop or blend batches large or small, this appliance can get the job done.
This blender-food processor combo comes with a 20-ounce BPA-free travel container that features a leakproof lid, which can be perfect for on-the-go smoothies and shakes. And when it comes to the food processing kit, you'll receive a 3-cup bowl, an S-blade for chopping and a disc for slicing and shredding things like veggies and cheese.
Additionally, this powerful appliance's blender functionality is easy to use and gives you all the tools you need to create delicious meals and drinks in no time. Its pulse mode delivers quick bursts of power, allowing you to whizz up ingredients to various textures without overworking the motor, and its non-slip feet ensure that it stays in place while blending or processing. A nice bonus is its sleek gray and black finish that's versatile enough to complement pretty much any kitchen decor, so you can add it to your countertop without having to worry about it clashing with your overall aesthetic.
Pros
Wave action system for better blending
Easy-pour spout prevents spills and messes
Durable 40-ounce glass pitcher for hot/cold ingredients
Cons
Not ideal for crushing ice
Blender lid can be difficult to unseal
List Price: $99.00
Check on Amazon | Check on Bed Bath & Beyond
If you're looking for a product that offers all-in-one kitchen performance in an attractive appliance, make sure you check out the Oster Blender-Food Processor Combo. It's designed to bring your blending and chopping tasks one step closer to perfection. Its seven adjustable speeds and three pre-programmed settings are perfect for making various delicious treats, like smoothies and shakes. It even has a pulse setting to give you more control over the texture and consistency of whatever it is you're preparing. This advanced model comes with a durable BPA-free plastic Tritan jar, which is extra-wide so that ingredients can reach the blades easily and blend better.
In addition to its blender attachment, this blender-food processor combo set comes with a 5-cup food processor container complete with slicing and shredding blades. The dual-direction blade technology provides extra power to handle stubborn ingredients, offering you consistent results no matter what it is you're making. With its powerful 1,200-watt motor, you won't have to worry about any lumps in your drinks, purees or sauces, as it pulverizes ingredients into a smooth consistency.
Able to handle almost any task in your kitchen, from blending or chopping ingredients soft to hard, this blender-food processor combo can make the perfect culinary companion. Its versatility and power work together for a unique combination that can quickly become indispensable to your household.
Pros
Pre-programmed food settings for added convenience
Simple one-touch controls
Safe, BPA-free design
Cons
Pour spout could be designed better
Fairly loud operation
List Price: $159.99
Check on Amazon | Check on Walmart
The Ninja Blender-Food Processor Combo is a powerful, three-in-one solution for making smoothies, dough and frozen drinks. It features a 1,200-watt motor base and comes with an impressive lineup of accessories you can use to make a variety of recipes in a flash. It boasts a 72-ounce Total Crushing pitcher with a lid, allowing you to pulverize large quantities of veggies, fruits and even frozen ingredients in a matter of seconds. You'll also receive a 5-cup food processor bowl with chopping and dough blade assemblies for more options when it comes to how you use your new appliance.
The system's Auto-IQ technology utilizes timed patterns to do all the hard work for you, allowing you to simply select a preset and let the machine take care of the rest. If you're a novice chef and want to do a little experimenting in the kitchen, you can use this powerful blender-food processor combo to make delicious smoothies, frozen drinks and more with the help of the recipe guide that comes with it.
This compact kitchen appliance also includes an 18-ounce single-serve cup that allows you to take your creations on the go by screwing on its spout lid attachment. With its powerful pro extractor blade assembly and stacked blade assembly that can be used for both single-serve cups as well as the processor, this incredible blender-food processor combo can power through frozen ingredients and ice with ease.
Pros
Durable construction for long-lasting use
Three one-touch smart settings
Parts are dishwasher-safe and BPA-free
Cons
To-go cup lid can be annoying to drink from
Not suitable for hot ingredients
List Price: $59.99
Check on Amazon | Check on Bonanza
The Sangcon Blender-Food Processor Combo is a kitchen workhorse that can make everything from smoothies, milkshakes and juices to pesto, sauces, minced meat and peanut butter. With its different-sized containers, stainless steel design and multiple blade types, this device is ideal for anyone looking for a reliable blender and food processor in one handy appliance.
Another great thing about this blender-food processor combo is its easy-to-use control knob; all you need to do is turn the knob to select from two speeds and a pulse mode to quickly whizz up ingredients to your desired texture and consistency. The motor is designed to automatically turn off to prevent it from overheating and suffering damage, while the appliance's base features a suction cup for increased stability during use.
This blender and food processor combo is also extremely easy to clean, as all you have to do is rinse the bowl and blade after you're done using it. Or, because it's dishwasher-safe, you can toss its parts in the top rack to get them ready for next time while you take care of other chores. With its BPA-free materials and durable stainless steel blade, this appliance can be a great way to make culinary tasks a breeze.
Pros
Comprehensive blending and food processing set
Good value for your money
Cleaning brush included
Cons
May overheat while blending
Can be difficult to tighten
Finding Your Next Blender-Food Processor Combo: A Buyer's Guide
Just like with any other kitchen appliance, choosing the right blender-food processor combo can be a challenge, as the market is filled with all kinds of brands and models that offer various functions and features. To make things a little easier, we've put together this detailed buying guide with all the information you'll need to select the right blender-food processor combo for your needs.
Motor power
When shopping around, it's essential to consider the wattage or motor power of a blender-food processor combo. Wattage has a direct correlation with how powerful the motor is and its ability to blend or process ingredients quickly and efficiently. Generally speaking, appliances with higher wattages are more expensive, but they often justify their cost with their increased efficiency and performance.
Blade quality
A blender-food processor combo comes with different blade types, with each one being tailored to a particular task. With this in mind, make sure you select an option that comes with the appropriate accessories for your needs. For example, if you plan to chop or dice foods, look for models that feature stainless steel blades with sharp edges that are easy to clean and won't dull quickly. Also, take into account the appliance's other components (such as jars and lids), which should be made from safe-to-use, BPA-free materials that won't leak chemicals into your food or warp when exposed to high heat.
Convenience
A quality blender-food processor combo should be easy to use and easy to clean when all's said and done. You should look for models that feature intuitive controls and pre-programmed settings for particular tasks, such as crushing ice or preparing smoothies.
You should also consider how easy it is to put together and take apart, especially if you plan on switching parts out to tackle various blending and food processing tasks on a regular basis. It's also a good idea to select an appliance that features dishwasher-safe parts for easy cleanup.
Blending jug capacity
The capacity of the blending jug refers to its volume, which is important as it determines how much you can blend at once without having to divide your ingredients into smaller batches and blend them separately. Depending on what you plan on making, it can be beneficial to purchase a blender-food processor combo with a larger jug so that you can make bigger batches quickly and efficiently.
Food processor bowl capacity
Similarly, the capacity of the food processor bowl determines how much food can be processed at once. Once again, it's essential to take into account what you plan on using your blender-food processor combo for. If you plan on making large batches of puréed vegetables or processed doughs, then it might be a good idea to buy a model with a larger bowl so you can complete tasks quickly and efficiently without dividing your batches into smaller sizes and processing them separately.
Materials
Before purchasing a blender-food processor combo, it's important to take into account the materials used for its interior components. These include things like jars, bowls and blades, as they play an important role in determining durability and performance. You should always look for BPA-free plastic designs and high-grade stainless steel parts, as these will often last longer than other options available.
Cleaning and maintenance
Many people often overlook the importance of cleaning and maintaining their blender-food processor combo, which is a big mistake. You'll have to take care of the appliance if you want to increase its lifespan and prevent damage from occurring over time due to things like food residue buildup or corrosion from spills inside the appliance itself. Be on the lookout for models with detachable parts, as these are generally easier to maintain than those requiring full disassembly before they can be properly cleaned.
Safety features
Safety is a top priority when purchasing any kitchen appliance, and there are several features buyers should take into consideration before purchasing a blender-food processor combo. These include non-slip feet (which help keep the device stable during use), an auto shut-off mode (which automatically shuts off the power, either to prevent overheating or after a certain period of inactivity), as well as a secure build that prevents users from coming into contact with sharp blades while blending or processing ingredients.
Warranty
Many blenders/food processors come with manufacturer warranties that cover them against preexisting defects or any damages that might occur. Before investing in a product, you should consider if it has a warranty and how long its coverage is. Many blender-food processor combos come with a warranty ranging from one to two years, which can give customers peace of mind knowing that their appliance will be replaced or repaired if any issues arise during use. Additionally, some manufacturers offer extended warranties at an additional cost, which can allow customers to protect their investments for even longer.
Brand reputation
It's also a good idea to prioritize established brands when shopping for appliances. This will ensure the quality of your purchase, as popular companies generally go through rigorous testing procedures before releasing their products on the market. Additionally, popular brands usually offer better customer service than unestablished ones, making it easier for buyers to get help should any issues arise after their purchase. Check out some customer reviews to see what people are saying about a certain brand and its products.
Storage
If you live in an apartment or have a small kitchen, you'll probably want to avoid big, bulky appliances. If you have limited space, consider picking up a smaller model, which is designed specifically to save space. These options come with built-in storage compartments or attachments to make the most of available space while still being able to store all necessary components when they're not being used.
People Also Ask
How much should I spend on a good blender-food processor combo?
A good blender-food processor combo can cost anywhere from $100 to $300 or more, depending on things like features, brand, and the overall size of the unit. Higher-end models may include additional features, such as an LCD screen, programmable settings and multiple attachments for various recipes and usages.
What features should I look for when buying a blender-food processor combo?
When looking for a blender-food processor combo, it's important to consider its capacity, both in terms of the amount of food it can process at one time and the type of food it can accommodate. Other than that, you should also consider power level (measured in watts), the presence of any special functions or settings and whether any additional accessories might be included with the unit. It's also important to consider noise level, as some units have very loud motors that can make using the machine more of a hassle than a help.
Are there any special functions or settings on a blender-food processor combo?
Yes, there are. Many blender-food processor combos feature preset functions that allow you to quickly complete specific tasks, such as chopping vegetables, blending smoothies, crushing ice or grinding nuts. Some models even come with additional settings designed for specific ingredients or recipes, such as dips or salsas.
What is the difference between a regular blender and a blender-food processor combo?
A regular blender is usually designed to blend liquid ingredients into smooth mixtures, such as shakes, smoothies and sauces. A blender-food processor combo, on the other hand, allows you to do much more than simply blend liquids. It also allows you to chop fruits and vegetables, grind nuts and other dry ingredients, mix and knead doughs and batters and so much more. The cherry on top? They can do all this quickly and efficiently by using the different blades and preset functions that come with the machine.
Should I consider any safety precautions when using a blender-food processor combo?
Yes! Like any other kitchen appliance with sharp blades or hot surfaces, you should exercise caution when using a blender-food processor combo to avoid injuries and accidents. For example, you should always use the appropriate blades for the task (don't try to chop vegetables with a blade that's meant for grinding), unplug the machine before adding ingredients (to avoid accidental activation) and ensure that the blades are properly secured before use (to prevent them from coming loose). Additionally, you should always be mindful of hot surfaces when handling cooked items to avoid burns from built-up steam inside the machine's container or nozzle attachments.
Do I need to buy any additional attachments or accessories for a blender-food processor combo?
It all depends on your personal preferences and how you're going to use the machine. Many blender-food processor combos come with additional attachments like slicing discs, graters and shredders, which allow users to do more with a single appliance. These additional attachments and accessories can make certain recipes a lot easier to prepare, so they can definitely be worth investing in.
Why Trust Us
Our commitment to the consumer begins with product selection and ends with the last word we write in each article. Each blender-food processor combo is carefully vetted quantitatively through star ratings and number of reviews qualitatively through careful examination of reviews and the features each one has to offer. Leveraging our team of bargain hunters, we're also always sure to keep your budget in mind while we find the best blender-food processors on the market. Our team of experts is dedicated to accurately depicting the pros and cons of each blender-food processor combo, translating technical product specifications into information you can understand. Our mission is to make sure you get the most bang for your buck…or in this case the best blending and processing for your bucks and pennies.
More From Money:
The Best Blenders for Smoothies for Your Money