The Best Masticating Juicers for Your Money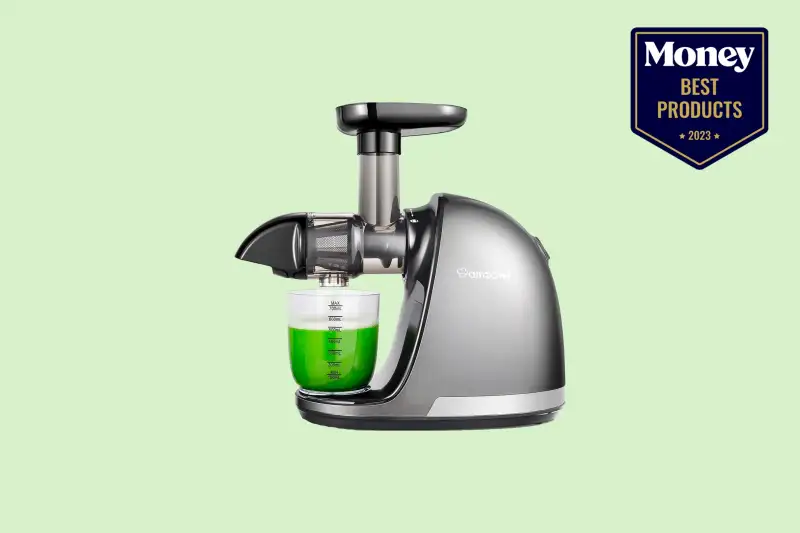 Juicing is an ideal way to start each morning — a glass of fresh, nutrient-packed juice will give you a healthy boost of energy to tackle the day ahead. If you're looking for a juicer to make the freshest homemade juice possible, a masticating juicer is the way to go. This type of juicer gently grinds and presses fruits and vegetables rather than shredding and spinning them. This means that the juice contains more of the important vitamins, minerals, and other nutrients.
But, with so many different masticating juicers on the market, it can be tough to find one that's ideal for you. In this post, we'll take a close look at the leading masticating juicers of 2023 and what makes each model stand out. We'll also discuss the key features you should look for when shopping for a high-quality masticating juicer.
Best Overall: AMZCHEF Masticating Juicer
Best Warranty: Jocuu Slow Masticating Juicer
Quietest Operation: Aeitto Masticating Juicer
Most Premium: Omega Medical Medium Masticating Juicer
Most Affordable: Dash Deluxe Compact Masticating Juicer
Reviewing the Highest-Rated Masticating Juicers of 2023
List Price: $199.99
The AMZCHEF Masticating Juicer is the best overall choice for juicing fruits and vegetables thanks to its efficient yet stylish design and premium features. Available in 11 colors, it features an upgraded spiral auger with seven stages that make it easy to extract maximum juice yield from fruits and vegetables while preserving most of their nutritious value. The ultra-fine mesh filter ensures that fruit seeds are removed before juicing, preventing them from causing a bitter taste. This model also boasts intelligent protection chips to automatically stop the machine every 20 minutes to prevent overheating and extend the life of the 150-watt motor. If you're concerned about the noise level, it's designed for quiet operation, only producing 60 dB of noise.
Not only is this appliance ideal for juicing, but it can also be used as a meat grinder or slicer shredder with the proper attachments. Cleanup is also easy with a brush and all parts are made of high-quality food-grade anti-oxidation materials. This product also comes with a two-year warranty on the motor and accessories, so you won't have to worry about any malfunctions. This slow masticating juicer is our top pick because it has all the features you need to easily make delicious, healthy juice every time.
Pros
Produces very dry pulp
Makes juice very quickly
Yields a high amount of juice
Doesn't produce excessive noise
Cons
Only constructed out of plastic
Not suitable for large batches
List Price: $149.99
Looking for a masticating juicer that comes with a great warranty? Our next pick is an ideal choice for anyone who wants an appliance that's built to last and includes lifelong technical support and customer service. With detachable parts made of BPA-free, high-quality antioxidizing material, the Jocuu Slow Masticating Juicer is covered by a four-year warranty for its motor as well as a three-year warranty for accessories. Thanks to its two speed settings, it can quickly and easily extract nutrient-rich juice from fruits and vegetables like oranges, celery, apples, beets, and carrots. This juicer is equipped with intelligent motor protection chips that automatically shut off the appliance after 20 minutes of operation to increase its service life.
The slow masticating system operates quietly at 60 dB for an optimal noise level. Plus, the small feeder chute helps removes seeds for better-tasting juice. In case of clogging, this model features a reverse function to conveniently unclog it. Cleaning the juicer is also quite easy as it can be disassembled in seconds with its one-touch dissemble button. A cleaning brush is provided to make the process quicker and the parts are also dishwasher safe.
Pros
Simple and easy to assemble
Dual-speed operation for varied ingredients
Good price point
Separate pulp-catching container for pulp-free juice
Cons
Filter can be difficult to attach
Some produce may not fully emulsify
List Price: $189.99
Producing less than 60 dB of noise, the Aeitto Masticating Juicer is an excellent choice for anyone looking to make fresh and nutritious juice at home without making excessive noise. It has two speed settings, soft mode (85-100 RPM) and hard mode (95-110 RPM), so you can extract juice efficiently from a variety of different ingredients. The soft mode is ideal for juicing softer produce such as oranges, watermelons, grapes, berries, and leafy greens. The hard mode is best for harder, denser produce like apples, pears, carrots, beets, celery, and ginger. The upgraded spiral auger of this model is designed to maximize the amount of juice extracted from each ingredient.
The one-button disassembly feature makes this masticating juicer easy to clean; plus, all of its parts are dishwasher-safe. The reverse function can help you safely remove stuck ingredients while the upgraded filter help separate juice and pulp for optimal flavor and texture. Finally, Aeitto provides a 12-month warranty in case any issues arise with this product. With all these features combined, this appliance is a high-quality, quiet model that allows you to efficiently make delicious and nutritious juice.
Pros
Easy to operate and clean
Ideal for small countertops
Quiet noise level
Capable of juicing most fruits and vegetables
Cons
Pre-cut produce is needed for optimal results
Slower than other juicers
List Price: $359.95
While it has a high price tag, the Omega Medical Medium Masticating Juicer is the perfect choice for those looking to make the most of their juicing experience. Endorsed by the founder of the celery juice movement and chronic illness expert Anthony William, this cold press slow juicer is designed with three-stage masticating technology and includes useful attachments to preserve the maximum amount of vitamins and flavor from every batch. It operates at a slow 80 RPM to limit heat buildup and oxidation, making it ideal for efficiently extracting juice from fruits and vegetables.
This juicer comes with two adjustable end caps: one specifically made for juicing celery and another for juicing all other fruits and vegetables. Plus, it also features a large feed chute that cuts down on prep time and an extra-large feed tray for added convenience. This model offers automatic pulp ejection while most of its removable parts are top-rack dishwasher safe to make cleanup a breeze.
Pros
Yields more juice from less produce
Comes with a cleaning brush
Doesn't produce excessive noise
Features non-slip feet for stability
Cons
End cap for celery is difficult to clean
Auger chamber can easily clog
List Price: $99.99
Looking for a budget-friendly option? This final product is the perfect appliance for anyone who wants to make delicious juices at home without breaking the bank. The Dash Deluxe Compact Masticating Juicer features a 130-watt motor that's powerful enough to extract juice from fruits, vegetables, leafy greens, nuts, and wheatgrass, making it ideal for green juices as well as almond or cashew milk. Plus, its compact design makes it a great space-saving alternative to other options on this list.
This masticating juicer also comes with a frozen attachment so you can make delicious homemade sorbet and other frozen treats. This unit also includes a pulp measuring cup, cleaning brush, and recipe guide to get you started on your personal juicing journey. Additionally, the 35-inch cord gives you ample flexibility when using this appliance.
Pros
Boasts a small, compact design
Efficiently separates pulp from juice
Makes nut milk and frozen desserts
Costs less than other products
Cons
Pulp spout gets clogged easily
Not suitable for large quantities of juice
Finding the Ideal Masticating Juicer for Your Needs: A Buyer's Guide
When shopping for a masticating juicer, there are some important product features that you should consider. We discuss these below to help you make an informed decision and select the right masticating juicer for your needs.
Power
Power is one of the most important factors to evaluate when purchasing a masticating juicer. The more powerful the juicer, the more easily it can cut through tough ingredients and produce a higher yield of juice.
Look for a juicer with at least 150 watts of power, as this is the minimum level necessary for quick and effective juicing. Additionally, look for models that feature variable speed settings so you can adjust the processing based on your type of ingredients and desired texture.
Feed tube size
The next thing that you should consider in a masticating juicer is the size of the feed tube. A larger feed tube size allows you to quickly insert larger pieces of food without having to cut them into smaller pieces. A smaller feed tube, on the other hand, can be safer to use and more easily remove seeds.
If you want to limit prep time, look for a model with a feed tube large enough to process whole fruits or vegetables — typically 3-4 inches in diameter. If you plan to make juice with your kids or want to achieve a delicious, sweet taste every time, consider a masticating juicer with a small feed tube with approximately a 2-inch diameter.
Ease of cleaning
Cleaning your juicer should not be an arduous task, so look for models with removable parts that are easy to disassemble and reassemble after each use. Some products also include dishwasher-safe parts for even more convenient cleaning.
Many masticating juicers come with cleaning tools such as brushes and spatulas which make cleaning all the nooks and crannies or fine mesh parts easier. Plus, choosing a model with durable stainless steel or silicone rubber parts can help reduce the amount of maintenance you will need over time.
Juice extraction capacity
The efficiency of your juicer largely depends on its ability to extract fruit and vegetable juices from their pulp without leaving behind too much wet residual material. Depending on their design, the different types of masticating juicers extract different amounts of juice. Make sure you check reviews from verified buyers to determine the juice extraction capacity of a particular machine, as well as the type of flavors it produces.
Noise level
The sound produced when operating your juicer should not be a nuisance that disturbs the other people in your household. We recommend selecting a model with a relatively low noise output. Most masticating juicers have noise levels between 40-60 dB, which is comparable to normal conversation volume and shouldn't be distracting or bothersome for you or others.
Quality of juices produced
When choosing a masticating juicer, it's essential to consider how well it can extract juice from various types of fruits and vegetables while preserving their nutrients and flavors as much as possible. Some models feature specially designed components like multi-tiered augers to maximize the vitamins and minerals remaining in the final product.
Look through customer reviews or check for recommendations from nutritionists and health professionals. They'll tell you whether each model successfully preserves nutrients in its juices, as well as what types may be lost during extraction processes.
Durability
Masticating juicers are generally more durable than centrifugal models due to the higher quality materials used in their construction. Since you are investing in an appliance that should last for several years, make sure that the model you choose is well-constructed and features technology to extend the motor's lifespan.
Select one with good quality parts made from stainless steel or plastic that don't feel flimsy or cheap. Additionally, check out customer reviews for any complaints about wear and tear over time before making your purchase.
Price
Compare prices between different brands and models to find the best value for your budget. Do this while still taking into consideration all the necessary product features needed for successful juicing. Many high-quality masticating juicers offer competitive prices so keep an eye out for sale items or bundles including useful accessories that could save you money in the long run.
Safety features
Some masticating juicers come equipped with additional safety features such as an overload protection system, a non-slip base or built-in automatic shutoff that can help prevent accidents or injury during operation. Be sure to thoroughly check reviews and product descriptions before making a purchase to ensure that safety considerations are well accounted for in the juicer's design.
Warranty
It's always important to know what the manufacturer's warranty covers when buying an appliance like a masticating juicer. In case any issues down the line need addressing or replacing parts altogether, it's ideal to be able to contact the manufacturer to look into the matter and resolve potential defects or damage.
Different brands offer different levels of coverage ranging from one-year to five-year limited warranties on motors and accessories. Verify what kind of warranty is available prior to purchasing an appliance to protect your investment and get the most out of it over time.
People Also Ask
How do I use a masticating juicer?
First, assemble the juicer according to the instructions included. Make sure all parts are securely connected and tightened before operating. Next, prepare the produce that you would like to juice; it's recommended that you cut fruits and vegetables into smaller pieces to help with juice extraction. Place a container or glass under the spout of the juicer to collect the juice. Add your pre-cut produce to the feed chute of the juicer and press down to start the juicing process. Once the juice has been extracted, turn off the juicer and unplug it before disassembling it for cleaning.
What kind of ingredients can I juice with a masticating juicer?
It can be used to juice fruits such as apples, oranges, grapes, strawberries, and even some types of melons, as well as vegetables such as carrots, celery, cucumbers, spinach, kale, and beets.
What advantages do masticating juicers have over other juicer types?
Masticating juicers are advantageous over other types of juicers because they extract more juice from produce compared to centrifugal or citrus juicers. Additionally, they produce less foaming than centrifugal juicers and preserve more vitamins and enzymes due to their slower extraction process, offering better quality juice. They also tend to generate less heat for more nutritional benefits and to extend the lifespan of components.
Is a masticating juicer easy to clean?
Yes, a masticating juicer is easy to clean. Most models are easy to disassemble and feature dishwasher-safe parts or can be easily cleaned with warm soapy water. Some products also come with special cleaning accessories. Note that the mesh filter should be thoroughly cleaned after every use to ensure maximum efficiency for future juices.
How long does it take to make juice with a masticating juicer?
The amount of time it takes to make juice using a masticating juicer depends on how much produce you're juicing and how powerful your specific model is. Typically, it can take anywhere from about one minute for smaller batches to up to five minutes for larger batches consisting of tougher produce like beets and carrots.
Are there any downsides to using a masticating juicer over another type?
One downside to using a masticating juicer over another type is that they typically require more prep time since fruits and vegetables usually need to be cut down into smaller pieces for them to better fit into the feed chute. This type of appliance also usually costs more than other models. Since you're able to get more out of each piece of produce with a masticating model than you would with other types, however, this cost may be worth it in the long run depending on how often you use it. Masticating juicers can also take longer to make juice than other types of juicers due to their slower speeds but they typically produce higher-quality, nutrient-rich juice.
Are masticating juicers more expensive than other types?
Generally speaking, yes — masticating juicers tend to cost more than other types because they are quieter and offer better extraction quality, preserving more vitamins and minerals from produce. Comparatively, centrifugal or citrus models tend to have less expensive upfront costs but may not extract as much pulp or deliver comparable nutritional value because of their higher extraction speeds.
Will I get the same amount of juice from a masticating juicer as I would from other types?
You should get more juice from a masticating juicer compared to other types because they are designed specifically for extracting every last drop of juice out of fruits and vegetables by slowly grinding them down. On the other hand, citrus or centrifugal models will generally extract larger amounts of wet pulp, failing to squeeze every last drop out and resulting in poorer extraction quality overall.
Are there any safety precautions I should take when using a masticating juicer?
Yes, when using any type of electric appliance, such as a masticating juicer, it's important to read through all safety precautions included in the user manual before use. Additionally, make sure that all parts are securely connected; this includes tightening screws if necessary.
Why trust us
Our commitment to the consumer begins with product selection and ends with the last word we write in each article. Each masticating juicer is carefully vetted quantitatively through star ratings and a number of reviews qualitatively through careful examination of reviews and the features each one has to offer. Leveraging our team of bargain hunters, we're also always sure to keep your budget in mind while we find the best masticating juicers on the market. Our team of experts is dedicated to accurately depicting the pros and cons of each masticating juicer, translating technical product specifications into information you can understand. Our goal is to ensure you get the most out of your investment…or in this case the best juice that money can buy.