The Best Outdoor Rugs for Your Money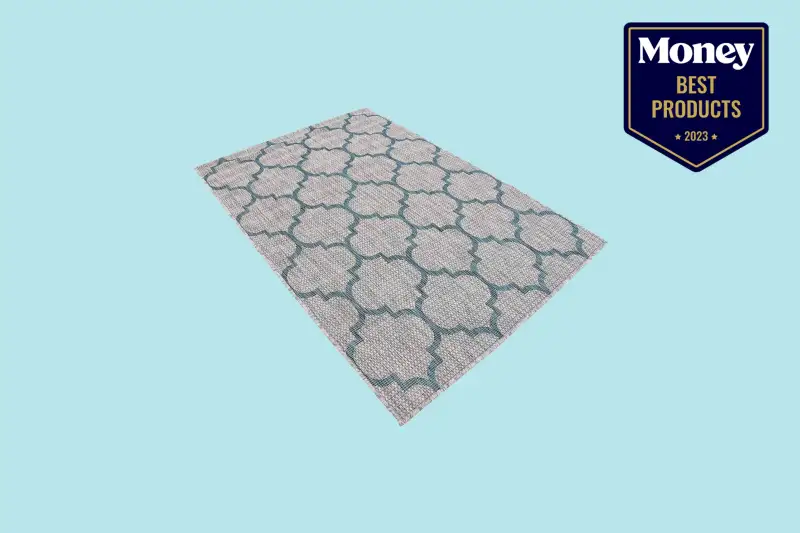 If you're looking to add a bit of style and comfort to your outdoor area, then you'll want to invest in a quality outdoor rug. Outdoor rugs are designed to be both stylish and durable, and they look great on decks, patios, and other outdoor spaces. They can also be used indoors if you prefer, providing an extra layer of comfort, style, and protection to any room.
In this post, we'll be sharing a list of the most popular outdoor rugs for 2023. With careful research and consideration, we've curated this selection to make sure you have a variety of quality outdoor rugs to choose from. Whether you're looking for something practical yet inexpensive or something that adds a pop of bright color to your outdoor area, you're sure to find the perfect option for your home. Let's dive in and take a look at our top picks.
Reviewing the Top Outdoor Rugs of 2023 in Detail
List Price: $27.99
Elevate the entrance of your home with the SlipToGrip Outdoor Rug; a meticulously designed, copyright-protected door mat that effortlessly combines aesthetic appeal and practical utility. Featuring the exclusive Dura loop plaid design, this mat not only enhances the visual charm of any house but also offers a range of benefits for maintaining cleanliness and safety.
Designed with versatility in mind, the SlipToGrip Outdoor Rug's universal appeal makes it an ideal addition to various spaces, including patios, garages, laundry rooms, entryways, and any location with heavy foot traffic from outside. This mat's registered brand status underscores its commitment to innovation and excellence.
Say goodbye to slips and discomfort. The generously sized extra large mat, measuring 42" by 35", is designed with the innovative Dura loop pattern, which not only effectively captures dirt and debris but also provides a comfortable and slip-resistant surface for your convenience and safety. Whether it's placed inside your door or outdoors, you can trust this best overall outdoor rug to maintain its integrity, rain or shine.
Pros:
Dura loop plaid design adds elegance to any home
Weatherproof surface suitable for indoor and outdoor use
Easy cleaning through water spraying
Cons:
List Price: $91.00
The Nourison Aloha Multicolor Indoor/Outdoor Rug is our second pick for its durable construction, versatility, and vibrant colors. With a vibrant blend of navy, blue, orange, and green with solid and outlined lotus patterns, this option is an attractive addition to any room, patio, deck, or backyard. Its 8 x 11-foot size offers ample coverage for versatile use inside or outside the home. The flat weave surface provides this rug with a unique combination of cut pile patterns and a hand-carved design which makes it look and feel great to walk on. This product is also highly durable, featuring a stain-resistant, UV-protected, fade-resistant, and water-repellent construction.
Maintenance is quite easy as all you need to do is vacuum the rug regularly and clean any spills immediately by blotting them with a clean damp sponge or cloth. When used outdoors, simply rinse it with a hose when needed. Regardless of where you choose to place it, the rug's backing is latex which provides extra cushioning and softness underfoot. This outdoor rug is the best design option thanks to its exceptional durability, beautiful design, and low-maintenance appeal.
Pros
Durable materials with latex backing
Weather-resistant for long-lasting outdoor use
Easy to clean and maintain
Detailed care instructions included
Cons
Temporary creases due to packaging
Rug pad is sold separately
List Price: $42.99
If you're searching for an eco-friendly and ethically made outdoor rug, consider the Fab Habitat Outdoor Rug, which adds a cozy and stylish touch to outdoor and indoor spaces. Made from recycled and recyclable plastic, this pick contributes to a greener planet. It's also GoodWeave-certified to ensure no child labor was involved in its production. The rug is expertly crafted from 100% premium material and tightly woven to create a durable, waterproof surface, making it perfect for decks, patios, camping trips, and RVs. It comes in multiple sizes and features an eco-friendly carrying case for convenient transport and protection during storage.
This outdoor rug comes rolled without folds or creases, giving you an elegant look out of the box. This style is reversible, offering a subtle variation in the flipped pattern so you can enjoy two equally stunning rugs in one. It's also 100% waterproof and stain-resistant, meaning you don't have to worry about spills or water damage. This environmentally friendly option is an excellent choice for eco-conscious consumers looking to enhance their outdoor space with sustainable materials, ethical production, and stylish design.
Pros
Eco-friendly with sustainable practices certification
Reversible, offering two stylish rugs in one
Available in a wide variety of sizes
Stain-resistant, waterproof, and easy to clean
Cons
Color may gradually fade in direct sunlight
Color variations possible due to recycled materials
List Price: $124.49
The Unique Loom Trellis Collection Area Rug is a perfect option for pet-friendly homes with high foot traffic thanks to its easy-to-clean materials and durability for everyday wear and tear. The low pile height and densely woven fabric design not only enhance its aesthetic appeal but also make it easy to clean spills and remove stains. Made from easy-to-clean, durable polypropylene fibers, this rug can be efficiently spot cleaned and vacuumed, whether you're dealing with dirt, dust, or pet messes. It also has a shed-free design to maintain its condition and vibrant colors over time.
Skillfully crafted using a power-loomed machine, this outdoor rug features a beautiful Moroccan-inspired lattice pattern of blues and grays to add a touch of elegance to any outdoor space. The design is also reversible, with stylish, elegant patterns on both sides. This rug is also certified according to OEKO-TEX sustainability standards and comes in a range of sizes to suit any space. With its stain-resistant construction, high-quality craftsmanship, and durable materials, this rug is designed to offer years of comfort and style.
Pros
Power-loomed machine made with durable materials
Stain-resistant and shed-resistant to maintain quality
Reversible design with stylish patterns
Available in a range of sizes
Cons
May have a chemical odor at first
May fade if placed in direct sunlight
List Price: $114.99
The Nicole Miller New York Indoor/Outdoor Area Rug is an ideal way to add style and color to your outdoor spaces while making your home more comfortable. Constructed from high-quality polypropylene yarns, this option provides a textured and comfortable sensation beneath your feet. With its low-pile texture, this material strikes an ideal balance between coziness and simple maintenance. Expertly crafted for lasting durability, the machine-made rug has fade-resistant and stain-resistant properties, ensuring it withstands wear and tear to maintain its visual appeal over time.
This outdoor rug has a modern Bohemian-inspired geometric design that enhances the style and sophistication of your porch, patio, or other outdoor living space. Featuring vibrant colors and striking patterns, it's available in a range of sizes and nine colors to suit your decor. Whether placed indoors or outdoors, this area rug serves as the perfect accent piece, creating a comfortable, stylish, and inviting ambiance in your home while adding extra comfort.
Pros
High-quality textured material is comfortable underfoot
Modern, stylish Bohemian-inspired geometric design
Available in a variety of sizes and colors
Non-shedding and UV-resistant construction
Cons
May need additional weight to lay flat
May need to purchase non-slip backing
List Price: $69.99
Looking for an outdoor rug that is easy to clean? Look no further than the EARTHALL Outdoor Rug, which is an ideal addition to your outdoor space, combining style with simple upkeep. This low-maintenance pick can be vacuumed, hand-washed, or machine-washed, providing several easy cleaning options for your convenience. Its high-quality cotton material is soft and durable, making it comfortable underfoot yet able to withstand the elements. The material has excellent water absorption and is also anti-static, ensuring resistance to dust and dirt accumulation for easy cleaning and maintenance.
This versatile rug is not only practical but also stylish. Available in a range of styles, its trendy striped design complements various spaces, such as porches, entryways, patios, bathrooms, kitchens, and laundry rooms. Measuring 3 x 5 feet, it blends seamlessly with a standard doormat, enhancing the visual appeal of any entrance. And thanks to its adjustable and reversible design, you can easily switch it up when you want a fresh look.
Pros
Durable fiber construction made to last
Resilient to dirt and dust accumulation
Stylish design complements various interior spaces
Adjustable and reversible for style
Cons
Smaller compared to other outdoor rugs
Limited color options are available
Buying Guide: Outdoor Rugs
Outdoor rugs can enhance your home's exterior design by adding warmth, color, and texture. Apart from boosting the aesthetic appeal of your outdoor space, they also prevent dirt and debris from entering your house. With so many options on the market, however, it can be hard to determine which outdoor rug is the best fit for your home.
That's why we created this buying guide. We've done the research to highlight essential features to help you select a product that's right for your outdoor living area. Our list considers sizes, designs, price points, and more. So, whether you're looking for something colorful to liven up your space or something durable to protect your deck from the elements, this information can help you find something that meets your needs.
Durability
When selecting an outdoor rug, durability is a key consideration. Opt for materials such as polypropylene, polyester, and acrylic, as they withstand harsh weather, maintain shape, and retain color. Additionally, choose rugs with tightly woven or latex backings for enhanced strength and stability.
Stain resistance
Another factor to consider when buying an outdoor rug is its stain resistance. Look for rugs made from materials that are specially treated to resist stains, such as polypropylene or nylon. You should also look for rugs with a low-pile and tight weave which can help to reduce the amount of dirt and dust that can get trapped in between the fibers of the rug.
Weather resistance
Outdoor rugs must be able to withstand weather-related issues like sun fading and moisture damage. Choose a fabric that's fade-resistant and can repel mold and mildew. If you plan to use your outdoor rug in an area where it will be exposed to the elements, opt for synthetic materials like polypropylene or polyester that don't absorb water or retain dirt or mud stains. Additionally, look for rugs with UV-stabilized dyes and sealants which can help the rug resist fading from sunlight over time.
Design
Outdoor rugs come in a variety of different styles and designs, so it's important to think about how the style of your new rug will fit into your existing decor. For example, if you have a more traditional style of decorating you may want to opt for an outdoor rug with more muted colors and a traditional pattern; if you have more modern decor you may want something with a bolder color and pattern. Also, keep in mind considerations such as your landscape, furniture type, and existing colors or patterns in your outdoor space while making your selection.
Maintenance
It's important to consider how much time and effort you will put into maintaining your outdoor rug. Many outdoor rugs require regular vacuuming and spot cleaning to maintain their appearance. Some outdoor rugs need harsher cleaning methods such as power washing to keep them looking their best. In rare cases, select outdoor rugs can be machine-washed. Be sure to check the cleaning instructions before purchase.
Texture
The texture of an outdoor rug can play a huge role in its comfort level, whether you're walking on it barefoot or even just sitting on it during warmer months. Look for rugs with tight pile weaves which will be softer underfoot than those with loose pile weaves.
Color
Selecting an ideal outdoor rug includes choosing the right color and pattern. Consider your preferred color schemes and look for styles that complement your existing outdoor furniture and decor. Numerous options are available, so explore various designs to discover the perfect outdoor rug that matches your personal taste.
Size
Choosing the right outdoor rug size depends on its placement location. For patios or decks, square or rectangular area rugs are ideal, while circular or oval rugs work best in smaller spaces like walkways or seating areas near flowerbeds. Before shopping, measure the area to determine the optimal size, considering the placement of furniture legs. Browse rugs within these dimensions to avoid excess fabric bunching to adequately enhance your outdoor space.
Cost
Finally, cost is always an important consideration. Outdoor rugs come in various price ranges, depending on size and materials. To find the best deal, consider the essential factors discussed in this buying guide to ensure you get the best value for your money.
People Also Ask
What are the benefits of buying an outdoor rug?
The main benefit of buying an outdoor rug is that it can help define an outdoor space, making it feel inviting, comfortable, and more homey. Outdoor rugs can also protect decks and patios in inclement weather against dirt, stains, and fading from the sun. Outdoor rugs are also low maintenance and easy to clean.
What is the difference between indoor and outdoor rugs?
Outdoor rugs are generally made from materials that are more durable than indoor rugs and often have been treated with a water-resistant coating to help keep them dry in wet conditions. Indoor rugs are typically not treated with any water-resistant finish and are not as durable as outdoor rugs when used outside.
How do I choose the right size for my outdoor rug?
To select the ideal outdoor rug size for your intended area, measure the space's dimensions and add a few inches in each direction for a precise fit. When purchasing a round rug for outdoor use, consider an additional 6 inches in diameter beyond the desired area. This extra coverage protects nearby furniture or objects from exposure to the elements.
Are outdoor rugs weatherproof?
Yes, many outdoor rugs are designed with UV protection, making them resistant to sun fading and damage caused by exposure to the elements. Most are waterproof or water-resistant, meaning they can be exposed to moisture without damage or mold growth.
How should I care for my outdoor rug?
To care for your outdoor rug, it's important to regularly sweep it free of debris and vacuum it at least once a month if needed. Even if your rug is weatherproof, it's still best to avoid leaving it exposed to direct sunlight or extreme temperatures for a long time as this could cause fading or damage over extended periods. If spills occur, quickly blot away excess liquid with a clean cloth before attempting further cleaning methods.
Why Trust Us
Our commitment to the consumer begins with product selection and ends with the last word we write in each article. Each outdoor rug is carefully vetted quantitatively through star ratings and the number of reviews qualitatively through careful examination of reviews and the features each one has to offer. Leveraging our team of bargain hunters, we're also always sure to keep your budget in mind while we find the best outdoor rugs on the market. Our team of experts is dedicated to accurately depicting the pros and cons of each outdoor rug, translating technical product specifications into information you can understand. Our mission is to make sure you get the most bang for your buck…or, in this case, the best outdoor experience for your buck.