The Best Soft Serve Ice Cream Makers for Your Money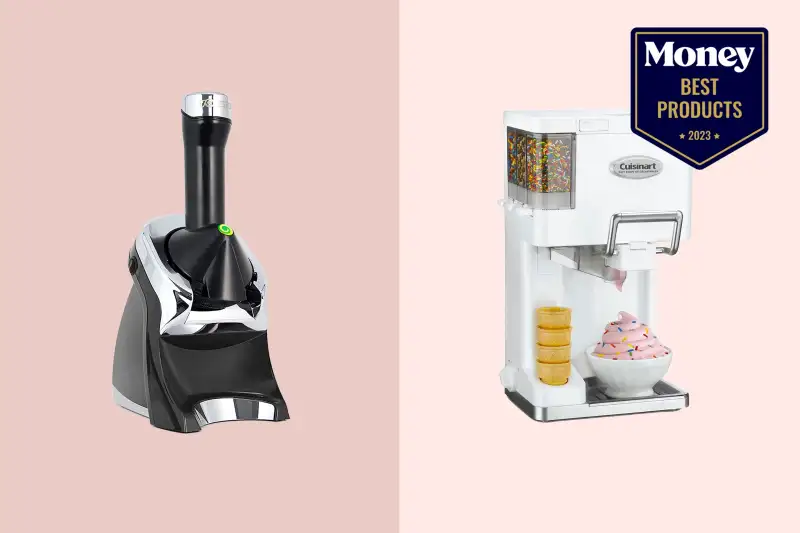 When it comes to desserts, nothing beats homemade soft serve ice cream. Whether you're a fan of classic flavors like chocolate and vanilla or want to get creative with new flavors and toppings, you can't go wrong by investing in a soft serve ice cream maker. This kitchen appliance allows you to create unique flavor combinations with unexpected ingredients suitable for any occasion. Plus, these machines are a great way to get friends and family together to make delicious treats for everyone to share!
With so many models of soft serve ice cream makers available, it can be overwhelming trying to find the right one. That's why we compiled a list of our favorite soft ice cream makers for 2023 to help you choose the ideal product for your needs. Also, check our our guide to all of this year's best ice cream makers.
Best Overall: Cuisinart Soft Serve Ice Cream Maker
Ideal for Fruit-Based Recipes: Yonanas Soft Serve Ice Cream Maker
Most Compact: NutriChef Soft Serve Ice Cream Maker
Most Convenient To Use: Haimmy Soft Serve Ice Cream Maker
Most Affordable: La Reveuse Soft Serve Ice Cream Maker
Comparing the Top Soft Serve Ice Cream Makers of 2023
List Price: $185.00
The Cuisinart Soft Serve Ice Cream Maker is the ideal appliance for making quality soft serve ice cream, sorbet, frozen yogurt, and sherbet right at home thanks to its all-in-one design — which is why it's at the top of our list. It has the capacity to produce 1.5 quarts of ice cream in just 20 minutes without any chemicals, salt, or ice, making it super simple to use and capable of producing consistent results every time. This pick boasts a BPA-free construction and comes with a convenient double-insulated freezer bowl. Even better, it includes an on-and-off power dial, a cone holder that stores a stack of either flat or pointed-bottom cones, a removable drip tray for easy cleaning and a mix-in gauge that makes it simple to determine the size of the mix-in so you won't clog the machine.
In addition, this model has three condiment containers so that you can add toppings to the soft serve ice cream as it's being dispensed. The curved edge of the front condiment container makes it convenient to dispense small mix-ins like sprinkles, while two rectangular condiment containers are great for larger mix-ins like chocolate chips or nuts. This product comes in white or pink to match your kitchen décor. It's also sold with a limited three-year warranty to ensure your investment is safe. With its easy-to-use features, convenient double-insulated freezer bowl and easy-to-clean components, this soft serve ice cream maker is the best option on our list.
Pros
Deep freeze bowl for optimal soft serve texture
Easy to clean with minimal mess
Doesn't need much freezer space
Cons
Requires pre-freezing the bowl for 16-24 hours
Takes up a lot of counter space
List Price: $76.99
Designed especially for turning frozen fruit into delicious vegan soft serve, the Yonanas Soft Serve Ice Cream Maker is a versatile and efficient kitchen appliance. It comes with a detailed recipe book that features 75 unique, delicious and healthy recipes that don't require any additional fats, sugars or preservatives. This BPA-free model also features a top-rack dishwasher-safe chute assembly, plunger and blade, making cleanup hassle-free.
Better still, it's ideal for crafting single servings or making enough to feed the entire family — the only limit to how much you can make is how many frozen ingredients you have cut up and ready to press into mouthwatering creamy treats. The included user manual makes it easy to understand the machine's functions and achieve optimal results with each use. Even more, it comes in five vibrant colors that give you plenty of options to choose from that can complement the aesthetics of your kitchen.
Pros
Included detailed recipe book
Ideal for dairy-free diets
Durable and easy to use
Cons
May be loud when operating
Most recipes require a banana base
List Price: $44.83
The NutriChef Soft Serve Ice Cream Maker is a compact appliance designed to make healthy soft serve ice cream with one simple push of a button. Its small size and lightweight construction allow you to easily place it on your kitchen table or countertop without taking up too much space; plus, it's convenient to store when not in use. It comes with a 150W motor that can quickly transform frozen fruit and yogurt into a delicious dessert, offering more creative opportunities than traditional ice cream makers. In fact, with this appliance, you can create sorbets, sherbets, smoothies, slushies and more.
This soft serve ice cream maker operates with a single touch so it's super easy to use, making it a great way for kids to get involved in the kitchen. Just insert the frozen fruits into the chute and push down the plunger to get started. It's also simple to clean thanks to its detachable attachments and stain-resistant housing. The included recipe book offers more ideas on how to mix different flavors for tasty nutrient-packed treats. This model features a 3-foot-long cord to make it easy to reach different outlets in your kitchen.
Pros
Compact and portable design
Safe and straightforward to operate
Easy to clean and assemble
Cons
Requires pre-cutting of ingredients
Frozen fruit needs to thaw slightly
List Price: $129.99
Looking for a product that doesn't require much prep time, even for complicated recipes? The Haimmy Soft Serve Ice Cream Maker is a great choice for anyone who wants to make homemade frozen treats but doesn't want to wait for their ingredients to freeze. It features an advanced self-freezing electric system with built-in semiconductor refrigeration chips to help you make a delicious dessert in just 90 minutes. Besides soft serve ice cream and sorbet, it can perfectly produce a smooth and soft gelato, as the ingredients are churned much more slowly than in other appliances and incorporate very little air.
This model offers two modes of operation, soft and hard, so you can customize the texture of your desserts based on your preferences. Additionally, it comes with a four-hour cooling function to ensure that any soft serve or gelato remains stays cold until it's finished or ready to be put in the freezer. The one-button operation and auto shut-off feature make it incredibly easy to use, while its 1.5-pint capacity is enough to make two servings of ice cream, three cups of frozen yogurt or six gelato balls at a time.
Pros
Doesn't require pre-freezing
Comes with accessories and a recipe booklet
Makes delicious soft serve and other treats
Cons
Non-removable power cord makes storage inconvenient
Inner bowl is not removable for cleaning
List Price: $36.99
If you're searching for a budget-friendly model, consider the La Reveuse Soft Serve Ice Cream Maker. While this is the only product on the list available for under $40, its low cost doesn't mean that it compromises on quality or results. This option is a great way to make healthy soft serve out of frozen fruit in just a few simple steps. For best results, let your frozen ingredients thaw for about 10 minutes before using the included tool to push them through the machine, which is powered by a 120W motor. After only three minutes, you'll have a creamy, homemade treat packed with fiber and nutrients. You can also add peanut butter, chocolate and small chunks of frozen yogurt to this appliance without issue.
The compact and lightweight design of this soft serve ice cream maker means that it's user-friendly and easy to carry and store. This model's components can also be disassembled for quick cleaning with warm water and soap, while the main base should be wiped down with a wet cloth after use. Additionally, it features overheating protection to ensure your safety while it's in use.
Pros
Easy to use to create healthy desserts
Ideal for ingle servings as needed
Great budget-friendly option
Cons
Fruit must be defrosted before use
May be loud while operating
Finding a Quality Soft Serve Ice Cream Maker: A Buyer's Guide
Nothing beats sitting back and enjoying a cold treat on a hot summer day, and the best way to ensure you always have a delicious serving of ice cream is to make it yourself. And with a soft serve ice cream maker, you can quickly and easily whip up a batch of your favorite flavors anytime you like. Yet, choosing the ideal soft serve ice cream maker for making tasty homemade ice cream might be challenging since there are many factors to consider. But don't worry; we've got you covered. Let's take a look at what you need to know to choose a model that suits your requirements in terms of construction quality, storage space, ease of use and more.
How To Pick the Right Soft Serve Ice Cream Maker
Ease of use
Before buying a soft serve ice cream maker, be sure to look for one that is easy to use and has clear instructions that make operating the machine straightforward. Consider the time it takes to prepare ingredients for your ice cream and how easily you can adjust and monitor the temperature. Remember, many models come with preset controls for particular desserts or flavors. Features like auto-shutoff can also add extra convenience to your ice cream-making process so you don't have to monitor the mixture too closely to know when it's done.
Durability
Quality construction is essential when selecting a soft serve ice cream maker. Check to see what type of material is used in its construction and how durable it is. As part of evaluating durability, it's important to check the quality of the materials used in constructing your soft serve ice cream maker. Plastic components are generally more affordable than their metal counterparts but may not be as long-lasting. Stainless steel components are strong and durable and tend to be more resistant to corrosion, rust and damage over time. Aluminum is another reliable material to consider.
Capacity
It's essential to consider the capacity of soft serve ice cream makers before purchasing. Consider whether you want to make large batches of ice cream for many people or to store leftovers in the freezer or just small quantities to enjoy single servings in one sitting. Different models offer different capacities, from small countertop ones to larger machines suitable for commercial use. Make sure you choose one that is capable of producing enough ice cream for your particular needs.
Versatility
If you plan on making different types of frozen desserts, look for an ice cream maker with multiple settings to cater to your requirements. Many models also include a book of dessert recipes for ideas and measurements specific to their products as well as customizable settings, allowing you to select specific temperatures and modes for each frozen treat you make.
Space requirements
Don't forget to think about the space requirements of your soft serve ice cream maker when deciding which model is right for your needs. Measure the space in your kitchen accurately so you can be sure that the soft serve ice cream maker fits where it needs to go without any issues. If you plan to store your appliance when not in use, make sure it can easily fit in your cabinet or pantry. Also, consider refrigeration or freezer space, if necessary, as some models' components may require additional cooling to function properly.
Noise level
If the noise level of your soft serve ice cream machine is a concern due to living arrangements, then take a close look at what sound levels each model produces while in operation before making a purchase. Some noisier options may require additional soundproofing depending on where they are placed, so make sure this is considered when shopping around.
Quality of frozen product
The quality of frozen products is also an important consideration when buying a soft serve ice cream maker. Always read customer reviews before deciding on a soft serve ice cream maker to determine if it produces consistent results each time or if there are any common problems with texture consistency or flavor intensity from batch to batch.
Type of freezing mechanism
Different models use different freezing mechanisms, such as metal bowls that need to be frozen many hours ahead of time or built-in freezing elements powered by motors. So, before buying a soft serve ice cream maker, it's important to consider the desired freezing mechanism of the product. This will help you make sure that you invest in the type that will best suit your needs.
Compatible ice cream flavors
Always read up on what ingredients can be added to a specific soft serve ice cream maker before making your choice, as some may not be suitable for certain recipes or flavors while others may have been designed especially for them. Some devices may only be suitable for fruit-based soft serve while others are compatible with frozen fruit, yogurt and add-ins like cookies.
Cleaning and maintenance
Make sure to check how easy it is to maintain each model and what the cleaning process is like, particularly if you plan to use it frequently or for large batches. Some soft serve ice cream makers may have parts that are dishwasher-safe while others may require hand washing. Also, remember, plastic components may require more frequent maintenance than their metal counterparts as plastic can wear out more quickly when constantly exposed to extreme temperatures.
Number of attachments and features
Before buying a soft serve ice cream maker, research what accessories will come with each model, as some may include special mixing tools, ingredient loaders or even recipe books. In contrast, others may only come with scoops or basic attachments applicable only to making a simple flavor of ice cream. If you prefer versatility, then look for soft serve ice cream makers that include additional features like timers, digital displays and pre-programmed settings or modes for other types of frozen desserts.
Price
The price range for soft serve ice cream makers can vary greatly depending on the brand and model. Before deciding on one, consider how much you can spend and whether or not the soft serve ice cream maker you're interested in meets your needs and includes any essential accessories or tools. We recommend closely comparing the prices of similar models before settling on one. Additionally, compare any potential added costs such as cleaning supplies or serving tools.
Benefits of Using a Soft Serve Ice Cream Maker
Easy to use
Soft serve ice cream makers are easy to use, with most machines having simple, straightforward controls that allow you to conveniently adjust the temperature and texture of your creations. In general, these appliances make it much easier to prepare delicious homemade ice cream than other methods.
Adding unique and creative toppings
Once you have mastered making your soft serve ice cream base, you can add all sorts of unique toppings for even more texture and flavor to take your ice cream to the next level. These machines allow you to easily incorporate ingredients such as fruits, nuts, honey, agave nectar or nut butter to experiment with new flavors and textures. You can also add other fun toppings, such as sprinkles or gummy bears, for an exciting pop of color.
Different flavors
With a soft serve ice cream maker, there are endless possibilities when it comes to crafting new flavors with interesting combinations of ingredients. From the comfort of your own home, you can try out sweet flavors ranging from classic vanilla and strawberry to more creative options like peanut butter cup swirls or raspberry chocolate chip crunch. If you prefer savory creations or are curious about trying some, you can easily whip up interesting blends such as rosemary olive oil or bacon blueberry swirls!
Cost-effective
Compared to large commercial ice cream machines, soft serve ice cream makers are relatively inexpensive and accessible for most budgets. Buying your own ingredients and toppings in bulk is often cheaper than buying ice cream at the store or a dessert shop. They are great appliances for any home kitchen, especially if you have a sweet tooth, allowing you to easily make delicious soft serve ice cream in just minutes to satisfy cravings without breaking the bank.
Convenience
With a soft serve ice cream maker, you won't have to go to the grocery store or wait in line at an ice cream shop anymore, as you can make fresh ice cream right in your own kitchen. That means less time spent commuting and more time spent enjoying frozen desserts by yourself or with loved ones.
Tips to Properly Use and Care for a Soft Serve Ice Cream Maker
Before beginning, carefully read the ice cream maker's instructions and the list of ingredients.
Use only refrigerated ingredients when creating ice cream. This expedites the freezing process and assures that the ice cream will always be creamy and smooth.
Don't overfill the ice cream maker's bowl; keep some space between the ice cream mixture and the top of the bowl to allow air circulation during churning.
Once your soft serve ice cream has been churned, either serve it immediately or place it in an airtight container and store it in the freezer until ready to enjoy.
Clean your ice cream maker after each use to avoid odors and bacteria from accumulating over time. Be sure all components are completely dry before storing them away. Never put a wet appliance back together because it can cause rusting and damage internal components.
Store your ice cream maker properly after use — avoid leaving it outside overnight or storing it in a damp area like a basement or garage, as this could cause rusting or corrosion. Also, keep it away from direct sunlight as this can increase ambient temperatures, which can cause complications with output and consistency. Note that prolonged high temperatures can also shorten the life expectancy of the unit or parts within it, such as motor strength or interior linings
People Also Ask
What kind of ice cream flavors can I make with a soft serve ice cream maker?
You can make all sorts of ice cream flavors with a soft serve ice cream maker, including vanilla, chocolate, strawberry, mango, mint chocolate chip, cookies and cream and more. The only limit is your imagination!
How easy is it to use a soft serve ice cream maker?
A soft serve ice cream maker is very easy to use because it has straightforward controls, levers, or tools that allow you to quickly make delicious soft serve ice cream. Each model should also come with a user manual and instructions to help you get started and achieve optimal results.
Will my soft serve ice cream maker have any safety features?
Yes, soft serve ice cream makers generally come equipped with a safety stand that prevents accidental spillage while in use, an insulated bowl to prevent over-frothing of your mixture during freezing, and an auto-shutoff feature that stops operation when the ice cream is done and ready to serve.
Is a soft serve ice cream maker easy to clean and maintain?
Yes, a soft serve ice cream maker is generally easy to clean and maintain. Most products come with removable parts for quick cleaning, all of which can be washed in warm soapy water or sometimes placed in the dishwasher for added convenience. The main bases of these appliances should simply be wiped down with a wet cloth.
Do I need to follow any special maintenance or cleaning instructions for a soft serve ice cream maker?
Yes, there are some special maintenance and cleaning instructions that you should follow for each individual model of a soft serve ice cream maker. It's important to follow these instructions so that your appliance's performance remains optimal over time and its lifespan is extended as much as possible. Generally, a soft serve ice cream maker requires frequent cleaning after each use to remove all traces of melted ingredients to protect it from damage due to corrosion or bacterial growth over time. Regular sanitization is recommended to ensure a hygienic environment for safely preparing food items. By taking these precautions, you'll also better protect yourself and your loved ones from potential foodborne illnesses.
Why trust us
Our commitment to the consumer begins with product selection and ends with the last word we write in each article. Each soft serve ice cream maker is carefully vetted quantitatively through star ratings and a number of reviews qualitatively through careful examination of reviews and the features each one has to offer. Leveraging our team of bargain hunters, we're also always sure to keep your budget in mind while we find the best soft serve ice cream makers on the market. Our team of experts is dedicated to accurately depicting the pros and cons of each soft serve ice cream maker, translating technical product specifications into information you can understand. Our mission is to help you get the most bang for your buck…or in this case the best soft serve ice cream for your hard-earned money.