The Best Women's Golf Shoes for Your Money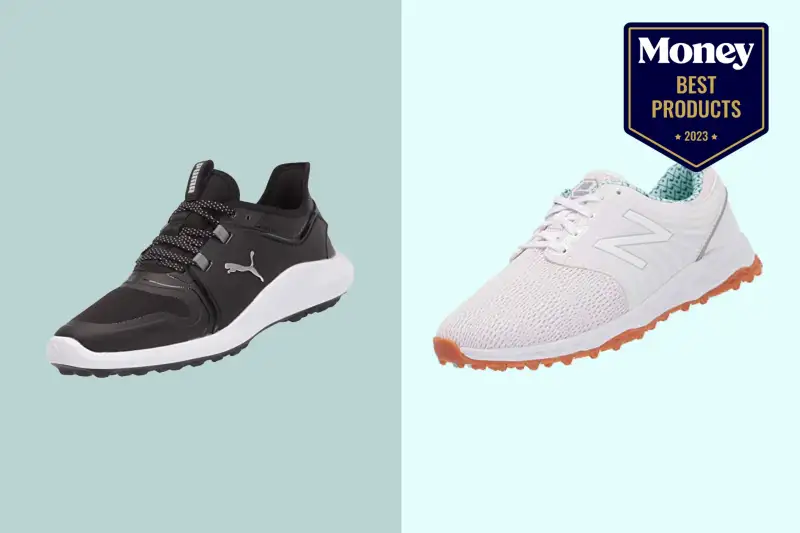 Imagine traipsing effortlessly from one hole to the next, with every swing propelled by the perfect blend of style, comfort and performance. In the realm of women's golf, one essential accessory reigns supreme: the golf shoe. Beyond simply footwear, this golf equipment fuses elegance with innovation, empowering you to conquer the course with confidence and grace. From sleek designs that turn heads to cutting-edge options that enhance your game, women's golf shoes are the gateway to unlocking your full potential on the links.
But with numerous options available on the market, picking the right one for your needs can be challenging. To assist you in making the right decision, we've thoroughly reviewed the finest women's golf shoes of 2023, ensuring that every step you take on the green is rooted in confidence and every swing is executed with finesse.
Best overall: Adidas Womens W Tech Response 2.0 Golf Shoes
Most breathable: New Balance Womens Fresh Foam Breathe Golf Shoes
Most comfortable: PUMA Ladies Ignite FASTEN8 Spikeless Golf Shoes
Most stylish: FootJoy Womens Traditions Golf Shoes
Most durable: ECCO Womens Tray Hybrid Hydromax Golf Shoes
Comparing the Top Women's Golf Shoes of 2023
List Price: $49.97 - $59.99
Check on Amazon | Check on DICK's Sporting Goods
Taking the top spot on our list, the Adidas Women's W Tech Response 2.0 Golf Shoes provide an exceptional combination of style and performance in one package. They feature a lace closure and regular fit, making them ideal for securing the foot for maximum stability. The upper material is light and breathable, keeping your feet cool even in the hottest temperatures. Additionally, the six-cleat design delivers a significantly improved grip on the green to ensure you stay stable throughout your rounds of golf.
For extra comfort, these women's golf shoes have a die-cut EVA sock liner and a tech-response EVA midsole that provides optimal cushioning during each stride. This pick comes in three color combinations so you can look as great as you play on the course. With a seamless fusion of style and functionality, these shoes are the best overall option on our list, making them ideal for any golfer who wants to be at the top of their game.
Pros
Attractive design comes in three colors
Waterproof and durable construction
Light and breathable feel
Cons
Some find the toe box too tight
Size may be smaller than expected
List Price: $64.99 - $75.11
Check on Amazon | Check on DICK's Sporting Goods
The New Balance Women's Fresh Foam Breathe Golf Shoes are a great choice for female golfers looking for breathable and supportive shoes to stay cool and comfortable on the course. The performance mesh upper is lightweight and breathable, allowing feet to remain dry during long rounds of golf. They also feature supportive synthetic overlays that add extra stability. The smart rubber spikeless outsole features a unique pressure-mapping colored design highlighting key performance zones when swinging.
The innovative midsole provides superior cushioning for long-lasting comfort. Additionally, the molded cush+ insole supports the foot with every step. Available in nine styles, ranging from classic white to black and animal print, these women's golf shoes are a great pick if you're looking for stylish yet breathable footwear to improve your comfort on the course.
Pros
Soft upper material doesn't press bunions
Waterproof coating helps keep feet dry
Cushioned midsole for foot stability and comfort
Cons
Exterior stains somewhat easily
Material could be softer
List Price: $46.62 - $74.99
Check on Amazon | Check on Walmart
The PUMA Ladies Ignite FASTEN8 Spikeless Golf Shoes are top-of-the-line shoes for optimal performance and comfort. Equipped with advanced nylon straps, they provide a secure, personalized fit that cradles the foot for a luxurious feel. The revolutionary ignite foam midsole provides superior step-in comfort as well as responsive cushioning and energy return.
The PWRCAGE thermoplastic polyurethane (TPU) saddle provides excellent support and stability throughout any golf swing, making this a great choice for golfers of all levels. These shoes are also equipped with a non-stretch mesh, premium TPU PWRCAGE and PWRFRAME for enhanced breathability and waterproof coverage. They are meticulously crafted with traction that mimics the organic stride, ensuring a dependable grip and enhancing power while you play. With their lightweight construction and superior performance features, these comfortable shoes are perfect for any female golfer who wants to maximize her game.
Pros
Water-resistant and easy to clean
Arch support for long walks
Excellent traction and breathability
Cons
Narrow construction isn't ideal for wide feet
Quality may feel cheap
List Price: $119.95 - $119.99
Check on Amazon | Check on FootJoy
The FootJoy Women's Traditions Golf Shoes are fashionable full-grain leather shoes that deliver premium comfort, breathability and durability. Available in six classy styles, they feature a lightweight molded fit-bed insole for extreme underfoot cushioning and support, providing you with lasting comfort throughout your entire round. The leather upper is also waterproof, keeping your feet dry in wet conditions. The laser street fit provides a full rounded toe with a standard fit across the forefoot and instep. They come with a slightly narrower heel and a refined toe shape that creates a classic profile while still ensuring an excellent fit.
Additionally, the Pulsar cleats on the shoes are specifically designed for optimal turf grip and enhanced walking comfort. The combination of quality features, including waterproof leather, cushioned insole and turf gripping advantage, makes these shoes suitable for any level of golfer. With their stylish design and durable materials, they'll provide you with years of performance on the course.
Pros
Classic look and comfortable to wear
Waterproof for added protection and durability
Nice feel while walking long distances
Cons
Too tight on the ankles for some individuals
Size may be larger than expected
List Price: $155.16 - $158.66
Check on Amazon | Check on Walmart
The ECCO Women's Golf Shoes are the perfect combination of performance and durability for long-lasting wear. They're crafted from sturdy leather designed to withstand the elements and made using ECCO DriTan technology, which reduces the water and chemicals used during tanning. Plus, they boast water-repellent properties due to hydromax technology to keep your feet dry. With the E-DTS twist outsole, the shoes' unique design offers multi-directional traction.
Additionally, the slightly larger cleats in high-abrasion areas ensure enhanced durability and grip on the course. Using innovative ECCO fluid form direct comfort technology, the lightweight sole provides cushioning and flexibility. Plus, the removable open-cell OrthoLite insole offers extra cushioning and enhanced breathability for added comfort; it's also washable for easy maintenance. Not only do these stylish women's golf shoes provide essential features for outdoor use, but their heavy-duty construction means they'll last for many rounds of golf.
Pros
Great grip on the ground
Top-notch leather construction increases its longevity
Stylish and goes with everything
Cons
Some find shoes large and heavy
More costly than other options
Buying Guide: Women's Golf Shoes
Women's golf shoes are more than just fashionable footwear; they are the secret weapon every female golfer needs to conquer the greens. As you prepare to tee off and showcase your skills, your choice of footwear becomes a crucial element in your game. Investing in shoes designed for golfing is not merely a choice but a necessity. With their purposeful design to boost performance and provide optimal comfort, women's golf shoes are the ultimate tool to propel your game to new heights.
With the market overflowing with options, finding the ideal pair can feel overwhelming. The good news is our comprehensive buying guide has you covered. We'll take a close look at some of the most important factors to consider to find the ultimate pair of women's golf shoes that will leave your competitors in awe.
Comfort
When it comes to comfort, look for features like cushioning and breathability to ensure a pleasant fit while you're on the course. Look for shoes with ample cushioning around the ankle and ones made of lightweight, breathable materials that will keep your feet cool and dry throughout your round of golf. The more comfortable the shoe, the better your performance will be.
Construction
It's important to choose a pair of women's golf shoes made of quality materials that won't wear down too quickly. Look for brands that use high-quality materials like leather or synthetic materials, as these types of materials are more durable and will provide better protection for your feet.
Traction
The traction of your golf shoes is essential when it comes to achieving optimal balance and grip on the field when taking each swing. Opt for golf shoes with enough traction to provide adequate grip on the course, so it won't be too slippery or cause you to lose your footing.
Waterproofing
Investing in waterproof shoes can be beneficial when playing in wet conditions or during sudden weather changes. Consider shoes with waterproofing technology or special coatings to keep your feet dry from any dewy grass and unexpected rain showers.
Weight
Lightweight golf shoes can make a huge difference in comfort when playing 18 holes or more daily. Find shoes that are light enough so you won't feel like you're dragging extra weight around with each step but sturdy enough to provide good support while still being flexible for your natural foot movement while playing golf.
Durability
You want to ensure that your golf shoes are durable enough to withstand multiple rounds of play without needing to be replaced every few months. Look for brands known for their longevity and quality, as these shoes will typically last longer than lesser-known brands that don't have a well-established reputation.
Arch support
When choosing the ideal women's golf shoes, arch support is also an important factor. Make sure the shoes provide adequate arch support by testing them out when trying them on in-store or by checking online reviews to see if others have found them comfortable enough for long days on the course.
Fit
The fit of your golf shoes is another important factor when selecting the right pair. Before making a purchase, ensure the shoes fit snugly and aren't too tight or loose anywhere on your foot or ankle while standing up straight or walking around. If you can't try them on, measure your foot and compare it to each shoe model's sizing chart.
Breathability
Look for a pair of women's golf shoes made from mesh or other breathable material to keep your feet cool and sweat-free during long days on the course. Combinations of mesh fabric and foam or sponge provide great ventilation and long-lasting comfort and stability throughout your game.
Style
Finally, finding women's golf shoes that fit your personal style is an important part of selecting the right pair. Choose a style that will make you look and feel confident out on the course. Look for designs with bold colors and unique details that will make you stand out from the crowd.
People Also Ask
What are the differences between men's and women's golf shoe designs?
Women's golf shoes typically feature more lightweight materials with thinner soles for increased flexibility, while men's golf shoes generally have thicker soles that provide more cushioning and arch support. Women's shoes also tend to have sleeker designs with brighter colors than men's shoes.
Should I buy waterproof women's golf shoes?
You should consider buying waterproof women's golf shoes if you play in wet weather conditions or terrain where there may be standing water or mud on the course. Waterproof materials can help keep your feet dry while providing the same comfort you expect from regular women's golf shoes. Additionally, waterproof material is more durable than regular material, helping to extend the lifespan of your shoes.
How much should I spend on women's golf shoes?
The amount you spend on women's golf shoes will depend on your budget and how often you wear them. Generally, budget-friendly options can cost around $50 to $75, while mid-range picks range from $75 to $125. High-end shoes can cost anywhere from $125 to $200 or more depending on features like waterproofing or extra cushioning or support.
What type of golf shoe should I get if I'm looking for something stylish and supportive?
If you're looking for a golf shoe that is both stylish and supportive, you should look for a pair that has a cushioned insole and arch support. This will help provide comfort while also helping to keep your feet supported throughout your swing. Look for shoes with a good grip to help improve stability during your swing. Choose a pair that comes in a range of colors so you can select the one that best suits your style.
How do I clean and maintain my golf shoes?
Golf shoes require regular cleaning and maintenance to look their greatest and perform properly on the course. After each round of golf, remove dirt using a soft brush or cloth. For stains or stubborn dirt, clean them with a damp cloth and gentle soap, then allow them to dry thoroughly before storing them away in a cool, dry place — avoid direct sunlight or heat sources that may damage the material of your shoes over time.
Why Trust Us
Our commitment to the consumer begins with product selection and ends with the last word we write in each article. Each pair of women's golf shoes is carefully vetted quantitatively through star ratings and the number of reviews qualitatively through careful examination of reviews and the features each one has to offer. Leveraging our team of bargain hunters, we're also always sure to keep your budget in mind while we find the best women's golf shoes on the market. Our team of experts is dedicated to accurately depicting the pros and cons of each pair of women's golf shoes, translating technical product specifications into information you can understand. We aim to offer unbeatable value on golf equipment purchases by providing high-quality products, ensuring a remarkable experience to improve your performance on the course.