Pet Owners Are Raving About The Bissell Portable Carpet Cleaner — and It's on Sale Right Now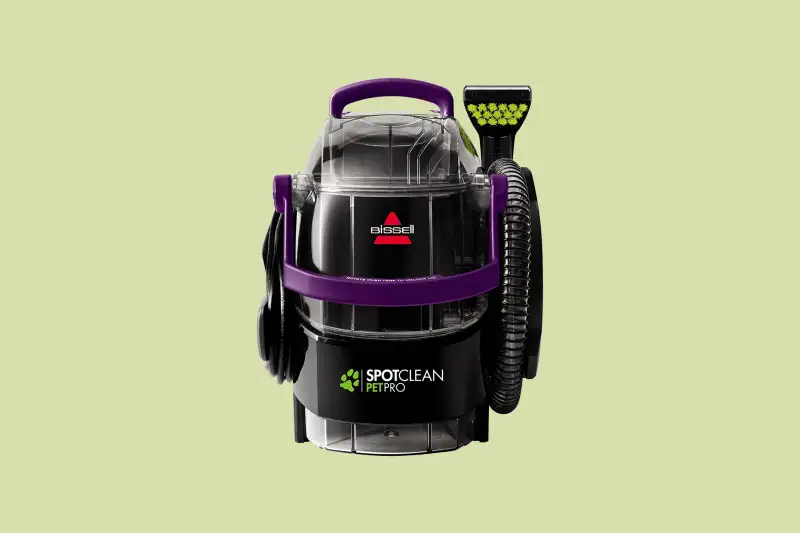 If you have a pet, you know all too well the messes they can create — mud, dirt, and fur everywhere! But there is one thing pet owners don't have to worry about anymore: cleaning up their messes. Introducing the Bissell SpotClean Pet Pro, the incredibly powerful yet portable carpet cleaner that is sure to change the way you clean up the chaos left by your furry friends.
The Bissell SpotClean Pet Pro Portable Carpet Cleaner: $155.09 (was $175.09)
This product takes powerful cleaning and makes it totally portable. You don't have to lug around a heavy, bulky machine with all kinds of cords and hoses, as it's been designed to make it easy to store when not in use. The Bissell SpotClean is perfect for keeping carpets, upholstery, and pet beds clean and free of hair, dander, and dirt — it even comes with a special Pet Pro attachment for deep cleaning. And right now, it's on sale — so if you're on the hunt for great deals on home cleaning products related to pets, you won't want to miss out on this opportunity.
This efficient cleaner is the most powerful portable spot and stain remover for carpets, stairs, upholstery, auto interiors, and more. It combines superior suction, scrubbing action, and professional cleaning solution to remove stubborn pet stains and embedded dirt. This product provides a deep clean that leaves you with professional-style results. It utilizes OXY technology to permanently remove tough pet stains and comes with a stain trapper tool to catch the dirtiest of messes. With an impressive power rating of 5.7 Amps, this device is an ideal choice for those who need efficient cleaning with less effort.
The Bissell SpotClean Pet Pro portable carpet cleaner is ideal for giving all the surfaces in your home a professional deep cleaning. The powerful suction, scrubbing capabilities, and special cleaning solution make this machine a must-have for those in need of an efficient and powerful carpet cleaner. Grab it now and take advantage of the 11% discount for a limited time!