Save Hundreds in Amazon's Seasonal Sale on Inflatable Hot Tubs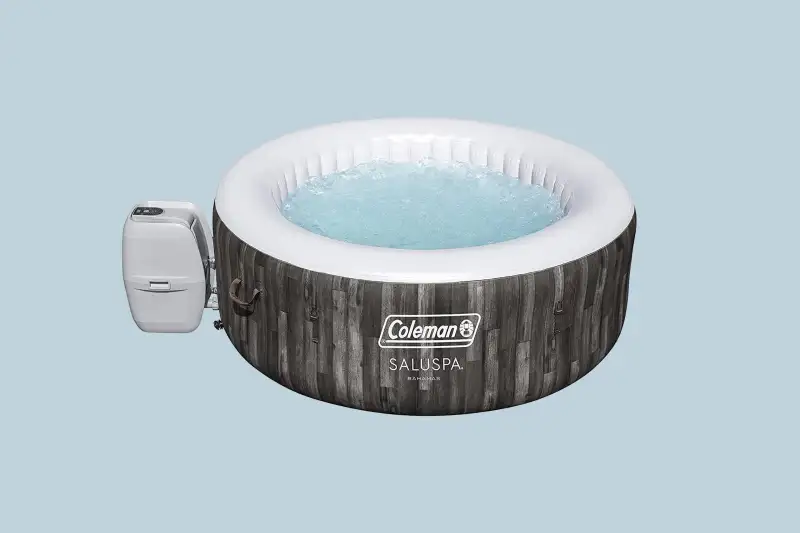 It's cold outside, and unless you have time to go to the spa, the only thing that can make it feel better is a nice, hot bath. If you've been dreaming of bringing the spa home and having a hot tub in your own backyard, now is your chance to make it happen. Thanks to Amazon's seasonal sale on inflatable hot tubs, you can save hundreds on your purchase and stay warm and pampered all winter long.
We've searched for some of the top inflatable hot tubs you can snag while the sale is still on. We've included options in a range of sizes, so you're sure to find the one that's perfect for your backyard — and with hundreds of five-star reviews, you really can't go wrong with any selection. Whether you're looking for a luxurious spa-like experience or a basic model for a night or two of fun, we've got you covered.
Intex PureSpa Plus Hot Tub: $749.79 (was $868.00)
The PureSpa Plus from Intex is a portable, outdoor, inflatable round hot tub that's perfect for up to six people. With 170 bubble jets, a tilt-adjustable control panel, and a built-in hard water treatment system, it promises an incredible spa experience with ultimate relaxation.
Intex Greywood Deluxe Hot Tub: $719.99 (was $1,139.99)
The Intex Greywood Deluxe hot tub is the ideal choice for those looking for a luxurious and enjoyable spa experience. It features a wireless touch button control panel with up to 48 hours of operation per full charge that attaches to the top of the tub for maximum convenience. The multi-colored LED lights create the perfect mood and ambiance for a spa-like experience on a budget.
Coleman Atlantis SaluSpa Hot Tub: $465.99 (was $899.99)
The Coleman SaluSpa is an innovative new hot tub that provides a comfortable and soothing massage experience for up to six people. This hot tub features 140 surrounding air jets, rapid heating, and integrated water filtration, providing a soft and relaxing massage at the touch of a button. Thanks to its TriTech 3-ply inflated walls and reinforced cover with safety lock clips, this hot tub is extremely durable and can retain heat for long periods of time.
Coleman Bahamas SaluSpa Hot Tub: $465.00 (was $585.00)
Bring the spa to your home without destroying the backyard. This inflatable hot tub from Coleman is super sturdy and heats up overnight. With the capacity to comfortably seat up to four people, this is a great option for smaller spaces. It has 120 air jets to provide a soothing massage experience and features freeze-shield protection so you can enjoy your new hot tub all year long.
Bestway SaluSpa Milan Hot Tub: $544.23 (was $869.99)
This inflatable hot tub is a convenient and reliable way to relax with its 140 jets and digital control panel that allow users to customize the experience. With the power-saving heating system, you can program your hot tub's desired time and temperature up to 40 days in advance for complete convenience. Additionally, its DuraPlus material provides superior strength and durability for long-lasting use — making it a quality option for those looking for an inflatable hot tub.