Calling All Home Cooks! Amazon Kitchen Essentials Are up to 50% off Today!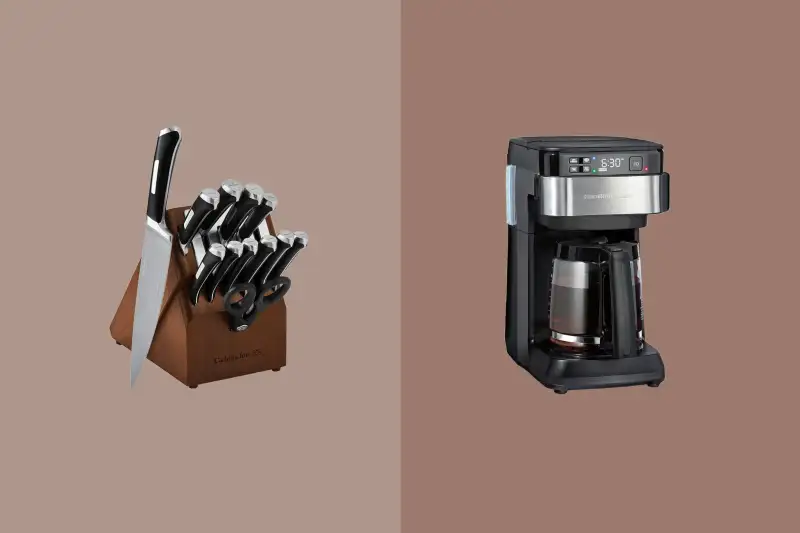 When preparing food, home cooks know that having the right cookware, gadgets, and appliances can make all the difference. Whether you're a novice in the kitchen or a seasoned pro, Amazon has some amazing essentials that are on sale for up to 50% off today! From a self-sharpening cutlery set and stainless steel cookware collections to chocolate fountains, egg poachers, and vegetable processors, you'll find the perfect kitchen accessories to help you create your next masterpiece.
Whether you're an experienced home cook or just starting out, these Amazon kitchen essentials are sure to help you create the most delicious meals. So what are you waiting for? Get cooking with these unbeatable deals!
Calphalon Self-Sharpening Kitchen Knife Set: $179.99 (was $349.99)
This Calphalon 13-piece set of kitchen knives with self-sharpening slots provides consistently sharp blades for easy meal prep. The knives feature a nonstick coating for easy slicing and are made from high-carbon stainless steel for long-lasting durability.
Calphalon 10-Piece Stainless Steel Cookware Set: $158.99 (was $239.99)
A must-have for any kitchen, this 10-piece set of cookware from Calphalon features stainless steel construction for lasting performance. The set includes a variety of pots and pans, plus lids, to help you prepare all your favorite meals.
Calphalon Premier Space-Saving Sauce Pan: $59.99 (was $67.99)
This saucepan with lid from Calphalon is perfect for the home chef. Its hard-anodized construction provides even heat distribution and its nonstick coating ensures effortless food release. Plus, the unique space-saving design allows you to stack multiple pans for storage.
Hamilton Beach Electric Fondue Pot Set: $34.27 (was $42.99)
Make delicious chocolate treats with this temperature control chocolate melter from Hamilton Beach. It features an adjustable temperature control and a nonstick coating for easy clean-up. It has a keep-warm function to ensure your chocolate stays melted, and can even be used to heat up cheese, broth, or oil.
Hamilton Beach Food Processor & Vegetable Chopper: $69.99 (was $79.99)
Get creative in the kitchen with this food processor from Hamilton Beach. It features a vegetable shredding attachment for added versatility, plus a powerful motor for fast, consistent results. It can slice, shred, mince, and puree, or help you whip up a healthy vegetable zoodle.
Sensarte 10-Piece Nonstick Induction Cookware Set: $129.99 (was $179.99)
This 10-piece cookware set from Sensarte is made of durable aluminum and features a nonstick coating for easy food release. It's also induction-compatible, so you can use it on any cooktop.
Crownful Air Fryer with Digital LCD Touch Screen: $79.99 (was $109.99)
This 11-in-1 air fryer toaster oven from Crownful is the perfect addition to any kitchen. It combines a convection oven, rotisserie oven, and dehydrator capabilities with an air fryer for healthier frying. Plus, it comes with a variety of accessories for added convenience.