The Best Back Massagers for Your Money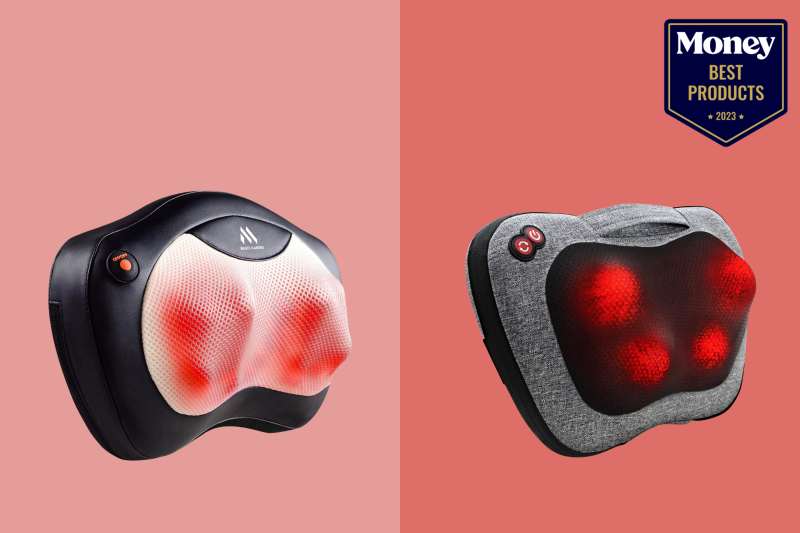 In a fast-paced, tension-filled world, achieving genuine relaxation isn't always easy. The good news is there's a solution that might just be a click away. A back massager can help relieve the discomfort of muscular tension and put you at ease at the end of a long day. Popular in homes and offices worldwide, these electronic massage therapists can offer surprising versatility at a low cost. They can target knots, ease chronic pain, or simply guide you into a serene world of relaxation.
In this article, we'll examine the highest-rated back massagers in 2023. Offering a range of settings, each model is uniquely designed to cater to diverse needs, whether you're seeking deep tissue kneading or a gentle massage at your desk. These picks stand out not just for their state-of-the-art features but also for their commitment to user experience. We'll also share helpful shopping tips to make it easier to choose the right back massager for you. So, let's get started on your journey to relaxation.
Best Overall: Comfier Back Massager Bundle
Most User-Friendly Controls: Snailax Shiatsu Neck & Back Massager
Best Value: VIKTOR JURGEN Back Massager
Best for Travel: Homedics Portable Shiatsu Neck and Back Massager
Best Compact Massager: Shiatsu Back Massage Pillow
Comparing the Best Back Massagers of 2023
List Price: $129.74
If you want to achieve full-body relaxation, the Comfier Back Massager Bundle is the best overall option on the market thanks to its large size, versatile settings, and bonus head massager. Ideal for home and office use, this electric body massager is designed to be placed and secured onto virtually any chair or even the couch thanks to its integrated strapping system, so you can sit back and relax while it works through stubborn knots and kneads tense muscles. It's equipped with Shiatsu rollers featuring four rotating nodes that mimic the pressure and kneading of a professional massage to eliminate fatigue, stress, and body aches. This pick also features customizable massage zones to deliver targeted relief. Choose to focus the kneading pressure on your full back, upper back, or lower back. You can also utilize the spot massage feature to target a specific area.
This back massager offers several other features to take your relaxation to the next level. It has a built-in heat therapy option which envelopes your back in a comforting warmth. The seat of this massager also has three intensity levels of vibration to provide a gentle massage for the hips and thighs, which can be especially relaxing if you sit for long hours at a time. As a bonus, this product comes with a waterproof head massager made from eco-friendly soft silicone, ensuring it's gentle on your scalp and won't pull your hair. This portable scalp massager is rechargeable and boasts 21 rotating nodes and four massage modes to deliver extra relief and relaxation. Between all its features, portable design, and large coverage area, this back massager bundle is the top choice on our list.
Pros
Customizable massage modes for personalized relief
Long battery life for extended use
Bonus scalp massager helps ease headaches
Cons
No built-in neck massager
Too bulky for some travel
List Price: $179.99
The Snailax Shiatsu Neck & Back Massager is intuitive and easy to use, preventing potential new stresses from fiddling with the controls. For your convenience, this product's features, modes, and intensity levels can all be easily changed with the built-in remote. It has user-friendly controls for controlling the neck, back, and seat portion of this massager, which can be turned on individually or simultaneously. With the remote, you can set a timer, enable heat for added relaxation, select targeted massage zones, switch from a Shiatsu-style massage to a rolling one, and more. This back massager also has a vibrating seat with two intensity levels.
Unlike some models with a fixed neck massager, this option has an adjustable neck massager suitable for individuals between 5'2" and 6'2" tall, making it more versatile. This portion of the massager uses four kneading nodes featuring flexible silica gel to feel more like a massage therapist's hands. The back massager uses four Shiatsu rotation balls and has three selectable massage zones to suit your needs. To further customize your massage experience, you can adjust the ball width to target different parts of your back. This product also has a built-in heating pad compared to traditional heated nodes, ensuring even and enveloping warmth for better relaxation and pain relief. The cover of this back massager can be removed and washed for easy maintenance, keeping it clean and fresh and extending its longevity.
Pros
Provides kneading and rolling massages
Includes a distributed heat function for relaxation
Features an adjustable neck and seat massager
Cons
Not suitable for very short or tall individuals
Fairly pricy compared to other options
List Price: $42.99
If you're looking for an affordable option that offers invigorating deep tissue massages without requiring a trip to the spa, consider the VIKTOR JURGEN Back Massager. For under $50, this portable massage pillow can provide pain and stress relief to your neck and back while at home, at the office, or while on the go, allowing you to adjust it to target areas that need it most. This model features four nodes that engage in deep-kneading Shiatsu massage with bi-directional movement that mimics a real massage. It has two adjustable speed settings to achieve the optimal intensity for kneading sore and achy muscles, targeting knots, and enjoying full-body comfort.
Whether you're looking for relief on your neck, shoulders, legs, or back, it's up for the challenge. It also has an optional heat function for enhanced relaxation. Thanks to its compact and portable size at 10 x 8.7 x 14.2 inches, you can bring it in the car for those long commutes and use it at your desk or on the couch. Plus, it's equipped with both AC and DC adapters. While it's already available at a budget-friendly price, you can invest in this back massager with complete peace of mind as well; it comes with a 30-day money-back guarantee and a one-year warranty in case you aren't completely satisfied or experience any issues.
Pros
Lightweight and portable
Easy to position for full-body massage
Adjustable speeds and heating mode
Cons
Pressure may be too intense for some users
Heat feature takes a while to warm up
List Price: $65.98
Want to enjoy a neck, shoulder, or back massage while traveling? Check out the Homedics Neck and Back Massager. Specifically designed to provide a relaxing Shiatsu massage away from home, this compact massager only weighs 4.2 pounds, has a 6-foot-long cord, and comes with an AC adapter. It features 3D Shiatsu technology, meaning that the massage nodes not only move in a circular pattern but also move inward and outward for a deeper, more authentic massage. This model also has heat and vibration features to loosen and soothe tight muscles, relax and ease tension, and reduce pain.
This back massager is easy to use thanks to its integrated control system, which allows you to turn it on and off and adjust settings on the side of the device. The soft, comfortable pillow design fits well in most chairs and makes it comfortable to use while sitting or lying down. Besides your upper body, it can also massage your hamstrings and calves. This product is sold with a two-year limited warranty to protect your purchase and ensure you can enjoy years of massages for a low, one-time price under $70.
Pros
Heat and vibration settings for better relief
Compact and highly portable
Strong motor for intensive massage
Cons
Mesh material is somewhat thin
Buttons can be accidentally pressed
List Price: $49.99
When some people see a compact massager, they think it can't offer the same benefits as a full-size one — but the MagicMakers Shiatsu Back Massage Pillow absolutely can thanks to its premium design. While it's built with portability in mind, this back massager can still easily reduce stress and alleviate muscle tightness in various areas with its eight deep-kneading Shiatsu massage nodes. Compared to most other compact models which only have four nodes, this product is equipped to deliver intense, deep-tissue massages from the comfort of home that can rival expensive spa treatments. It also comes with heat and no-heat settings, which offer extra versatility for a relaxing, soothing experience.
This back massager has built-in bi-directional movement control and 15-minute auto-shut-off protection for convenience and safety. This pick uses an ergonomic and compact pillow design, making it comfortable and easy to use while traveling. It also includes AC and DC adapters for use at home or in the car, as well as a high-elastic strap with velcro to secure it in place, ensuring an uninterrupted massage. This back massager can be used with or without its cover to adjust the intensity of the kneading. Finally, it comes with a 30-day money-back guarantee and a one-year replacement warranty if any issues arise.
Pros
Effectively reduces muscle tension and stress
Has a compact and easy-to-use design
Provides strong, high-pressure massage
Cons
May feel too hot if used directly on skin
May be too intense for some individuals
Buying Guide: Finding the Perfect Back Massager
Massage devices are a fantastic addition to your relaxation and wellness routine. They offer a plethora of benefits, such as improving blood circulation, reducing muscle tension, enhancing recovery, and relieving pain and soreness. However, selecting the right back massager can be an overwhelming task, especially considering the range of models available on the market. In this detailed buying guide, we'll take a look at some of the most important factors to consider while shopping to help you make a well-informed purchase that suits your specific needs.
Type of back massager
The first thing you need to consider is the type of back massage device you want. There are several types, including handheld massagers, chair massagers, massage guns, and massage pillows. This choice typically depends on the area of your body you want to focus on or where you want to use your massager. For instance, if you often have neck aches or want to relieve stress and tension while traveling, a compact back massager might be the best fit. If you want to use a massager while sitting at your desk, a back massager for a chair is ideal.
Functionality and features
The functionality and features of a back massager are critical aspects. Some massage tools offer basic functions like kneading and vibration, while others provide advanced features like heat therapy, multiple speed and intensity settings, and different massage modes. A device with customizable settings is ideal as it allows you to adjust the intensity, mode, and location according to your comfort level. Look for back massagers that are fairly versatile.
Portability and design
A portable back massage device is a great choice for people who are always on the go. Look for lightweight and compact products that you can easily carry in your bag or use in the car. Some devices are even designed to be wearable, allowing you to use them while doing other activities. A user-friendly design that's easy to operate is also a plus.
Battery life and power source
The battery life and power source are other factors to consider. Most back massagers have corded designs and plug into the wall, so you should ensure that the cord length is sufficient for your needs. Some portable models are rechargeable, which can save you money in the long run, while others use disposable batteries. Make sure the device has a long battery life so that it doesn't run out of power in the middle of your massage.
Durability and build quality
When investing in a back massager, you'll want to choose a product that will last. Pay attention to the build quality and the materials used. High-quality materials usually signify a longer lifespan. Check the warranty period as well, as this indicates the manufacturer's confidence in their product.
Price and brand reputation
Lastly, consider the price and the brand reputation. Price varies greatly depending on the type, features, and brand of the massage device. More expensive doesn't always mean better, so it's important to find a balance between cost and value. Set your budget and compare options within it to choose a back massager that offers the best value for your money. We also recommend researching the brand's reputation and reading reviews from customers before making a purchase.
People Also Ask
How do I use a back massager?
To use a back massager, first ensure it's properly charged or plugged in. Position it against your back, either by sitting or laying back on it or holding it against your back. Adjust the settings according to your preference and turn the device on. Always refer to the user manual for specific instructions as they might vary with different models.
Can I use a back massager while pregnant?
It's advisable to consult with a healthcare professional before using a back massager while pregnant. While some massagers can provide relief from pregnancy-related back pain, others may not be safe to use during this time due to the intensity or type of massage they provide.
How do I clean and maintain my back massager?
Cleaning and maintenance instructions can vary depending on the type of back massager. Generally, it's recommended to unplug the device first, then wipe it down gently with a damp cloth. Avoid using harsh chemicals. Some massagers have removable covers that can be washed separately. Always refer to the product's user manual for care instructions specific to your model.
Why is my back massager not working?
If your back massager isn't working, it could be due to several reasons. Check if it's properly plugged in or whether the battery is charged. Ensure that the power switch is turned on. If it still doesn't work, the issue might be with the motor or other parts of the device. In this case, contact the manufacturer for help.
Can I use a back massager too much?
Overuse of a back massager can lead to bruising, swelling, or increased sensitivity or pain. It's generally recommended to use the massager for around 15-20 minutes at a time and not more than three times a day. Always listen to your body and stop using the device if you feel discomfort.
Is it safe to use a back massager every day?
While it's generally safe to use a back massager daily, it's important to listen to your body and take breaks if necessary. If you have any pre-existing health conditions, especially related to the spine or nervous system, consult with a healthcare professional before regular use.
Can I use a back massager on other parts of my body?
Many back massagers can be used on other parts of the body such as the neck, shoulders, legs, or arms. However, always check the product's user manual or consult with the manufacturer to determine if it's safe to do so.
Why Trust Us
Our commitment to customers begins with a carefully curated product selection process, ensuring we provide high-quality and reliable options. We meticulously vet all of the suggested back massagers, analyzing quantitative aspects, such as star ratings and review count, and qualitative factors, including review content and product features. Our dedicated team of bargain hunters consistently prioritizes your budget by meticulously scouring the market and identifying the best back massagers available without compromising on quality or performance. Our panel focuses on presenting the pros and cons of each product and converting technical specs into understandable insights. We aim to ensure maximum relief for back pain and muscle soreness by helping you navigate all the back massager options on the market.