The Best Under Desk Ellipticals for Your Money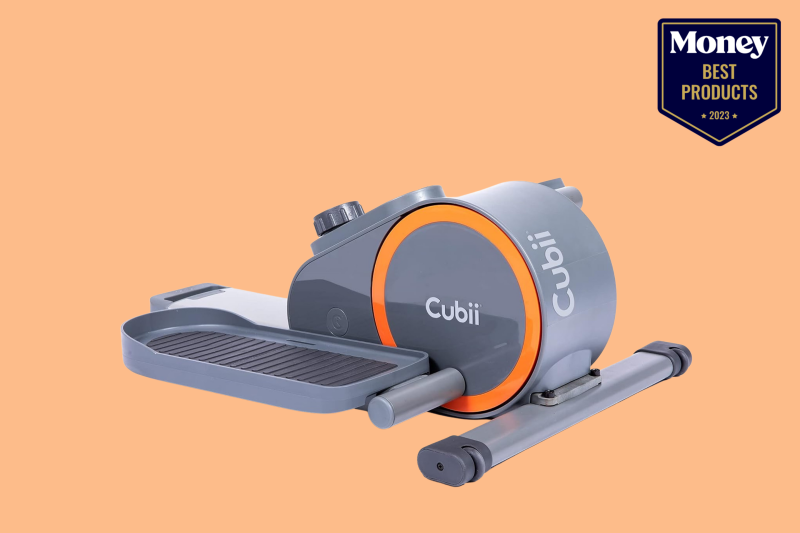 Imagine having the ability to get fit even while seated at your desk, engrossed in your work. If you're not keen on investing in a walking pad or folding treadmill to walk while you work, consider an under desk elliptical. This innovative fitness product not only helps you stay active but integrates seamlessly into your workspace, promoting overall wellness without disrupting your daily routine. To help you find the right one for your needs, we reviewed the best under desk ellipticals of 2023.
Whether you're looking for solutions to combat a sedentary lifestyle or simple ways to integrate more physical activity into your day, these performance-oriented products are worth considering. In this guide, we'll delve deeper into why these ellipticals score high in user-friendliness, functionality, and efficiency. We'll also break down their most important features to help you make a successful purchase.
Best Overall: Cubii GO Under Desk Elliptical
Best Exercise App: DeskCycle Ellipse Under Desk Elliptical Machine
Most Versatile: Sunny Health & Fitness Under Desk Elliptical Peddler
Most User-Friendly: ANCHEER Under Desk Elliptical Machine
Best Value: Niceday Under Desk Elliptical
Comparing the Best Under Desk Ellipticals of 2023
List Price: $289.99
If you find it hard to squeeze in time for exercise between work and other commitments, then the Cubii GO Under Desk Elliptical could be just the solution. As the top option on our list, this model is a convenient and user-friendly way to do smooth, low-impact exercise. This under desk elliptical machine weighs less than 20 pounds and features a retractable handle and built-in wheels for easy portability. It has a sleek, compact design that doesn't take up much space, making it compatible with most desks.
Customizable to your needs, this pick offers adjustable resistance levels to allow you to challenge yourself at your own pace and preference. The built-in illuminated LCD fitness tracker screen helps you keep tabs on your strides, distance, calories, and time spent peddling so you can efficiently tackle your fitness goals. This elliptical is also compatible with the Cubii mobile app to log your activity for long-term tracking. Whether you work remotely from home or are stuck indoors during cold weather, this product is the best overall under desk elliptical for improving your mobility and stamina while sedentary.
Pros
Provides silent operation
Includes an LCD fitness tracker
Boasts a compact and stylish design
Cons
Pedals may need to be tightened upon arrival
Assembly could be complex for some
List Price: $248.99
Burn calories, boost energy, and tone muscles while you work with the DeskCycle Ellipse Under Desk Elliptical Machine and its accompanying exercise app. While fitness trackers might seem like a dime a dozen these days, this app not only logs your daily progress but also provides motivational targets to keep you on track to achieving your goals. With a virtual personal training tool at your side, this compact fitness device encourages a productive yet healthy and active lifestyle — even when you're swamped with stuff to do.
Equipped with a heavy-duty flywheel and sturdy base, this under desk elliptical machine is durable enough for frequent, intensive use. It offers maximum adjustability based on your fitness needs through eight resistance levels, while the ultra-smooth magnetic resistance provides a straightforward experience. This model has extra-long and wide adjustable pedals to suit your foot size as well. To limit disruptions while working, it also boasts a whisper-quiet operation, making it suitable for use in a shared office or while on calls.
Pros
Ensures smooth and secure pedaling
Comes with a goal-setting app
Offers up to 40 pounds of resistance
Cons
Bolts may need to be tightened over time
Calorie tracking may be inaccurate
List Price: $139.98
Jazz up your everyday fitness routine with the Sunny Health & Fitness Under Desk Elliptical Peddler. This versatile machine, which has been reviewed by over 10,000 customers, is your ticket to burning calories, enhancing your cardiovascular health, and toning muscles — all without placing undue strain on your joints or interrupting your workday. Designed for low-impact exercise, it features eight adjustable resistance levels to suit your fitness level. It can also be used alongside resistance bands for a full-body workout.
Offering a quiet operation, this machine comes equipped with a belt drive mechanism, magnetic resistance, and smooth-glide wheels. Its compact design fits under most desks and is lightweight, with an integrated handgrip for convenient portability. This product features a comprehensive digital monitor that displays time, speed, calories, and distance, helping you track your progress and stay motivated. For added stability, this elliptical has a floor stabilizer and non-slip pedals. It also comes fully assembled, so you can begin using it right away.
Pros
No assembly required
Available in three stylish colors
Portable and compact
Cons
No Bluetooth connectivity
Height isn't compatible with all chairs
List Price: $299.00
Have you ever wished you could squeeze in a workout while catching up on your emails? Well, the ANCHEER Under Desk Elliptical Machine is here to make that dream a reality while providing you maximum convenience. Designed for home or office use, this compact machine packs plenty of power for an effective workout, yet it's small enough to slide under any desk. It comes with a handy remote control, so you can adjust your workout level and settings without interrupting your work. From duration and distance to speed and calories burned, this pick also has a built-in display monitor that provides real-time updates on your workout.
This under desk elliptical machine features auto and manual operation modes for versatile use, with or without an outlet. It has a quiet belt drive mechanism with magnetic resistance for low-intensity exercise. The large anti-slip pedals provide a comfortable and reliable surface for a range of users. Overall, this user-friendly product is the perfect way to add more activity to sedentary lifestyles for adults and seniors, providing a low-impact workout that's easy on the joints.
Pros
Easy and comfortable to operate
Sturdy and well-built for long-term use
Two-way motorized movement targets various muscles
Cons
Doesn't have handles for lifting
May not include instructions
List Price: $119.99
The Niceday Under Desk Elliptical is a budget-friendly option that still packs all the essential features of similar models. Available for $120 (and sometimes on sale for under $100), this option will breathe new life into your workday and fitness routine without breaking the bank. With its dual sitting and standing modes, this elliptical allows for a versatile workout that caters to varying fitness levels. It also features auto and manual modes with several adjustable resistance levels. For added convenience, the manual modes don't require an outlet — simply peddle away.
Producing less than 30 dB of noise, this product is so smooth and quiet that you can pedal away during Zoom calls without anyone being the wiser. Since the low-noise operation blends into the background, your focus will stay on your work and not the machine. This compact elliptical machine features a sturdy double-tube construction that supports up to 300 pounds. It comes with a digital LCD screen to monitor your progress and a dial to adjust the resistance to your liking. While it has a space-saving design, the foot pedals are super comfortable and large enough for most users, making this a great exercise option for adults of all ages.
Pros
Quiet operation prevents disruptions
Suitable for extended, versatile use
Very affordably priced for good quality
Cons
May be heavy to move
Must use apps for Bluetooth connectivity
Buying Guide: Under Desk Ellipticals
In the world of fitness tools, the under desk elliptical has claimed its rightful spot as a favorite for individuals seeking to incorporate some physical activity into their mostly sedentary work routines. Choosing the right model can be tricky, though, especially if you're new to this type of exercise equipment. To help, this buying guide covers the most important factors to consider while shopping for an under desk elliptical. By understanding and evaluating the following features, you'll be equipped to make an informed purchase that meets your needs and enhances your fitness journey — whether you work from home or in an office.
Size and design
The size and design of an under desk elliptical greatly influence its usability. Compact and portable designs are ideal for office spaces and home environments, ensuring that your elliptical can be seamlessly integrated into your daily routine. We recommend looking for models with a low yet adjustable pedal height to fit comfortably under different desk heights as well as the length of your legs.
Resistance levels
An essential aspect of the best under desk elliptical is its resistance levels. Opt for a model with adjustable resistance levels to allow you to customize your workouts and ensure progressive fitness improvements as you become stronger. More resistance levels mean more flexibility in your workout intensity, allowing you to start light and gradually increase the difficulty as your endurance improves.
Noise level
If you're planning on using your elliptical during office hours, whether you work in a shared office or at home near other remote workers, noise level is a critical factor. You don't want your fitness routine disrupting your work or disturbing others around you. Models with a quiet, smooth operation are ideal as they allow you to exercise discreetly, even during calls.
Durability and stability
An outstanding under desk elliptical is designed to be durable and stable durability. Durability affects the overall lifespan of the machine, which ideally should be designed to withstand regular use without malfunctioning. Stability is vital for a smooth, uninterrupted exercise experience. Ensure you look for models with non-slip pedals and a robust, sturdy base to avoid unnecessary movement during use.
Smart features
In the current digital era, smart features are a big plus. Look for under desk ellipticals with features like a fitness tracker, which can help monitor your progress regarding calories burned, strides made, and time spent exercising. Some models offer connectivity to fitness apps, allowing you to sync your data and keep track of your progress on your smartphone or computer.
Price
Last but certainly not least, price is a significant factor when choosing the best under desk elliptical. High-end models often come with extra features, but there are also more reasonably priced options that offer excellent performance. Remember, investing in a quality model upfront can save you from frequent replacements and repairs, providing better value in the long run.
People Also Ask
How does an under desk elliptical work?
The under desk elliptical works by pedaling with your feet in a circular motion. This can be done while sitting down at your desk. This low-impact exercise is excellent for burning calories, improving circulation, and building lower body strength.
Can an under desk elliptical be used while standing?
Though primarily designed for sitting, some models of under desk ellipticals can be used while standing. However, it's essential to check the manufacturer's instructions before using it in a standing position to avoid any safety hazards.
How noisy is an under desk elliptical?
The noise level of an under desk elliptical can vary based on the model. However, most under desk ellipticals are designed to be quiet to avoid disturbing you or others around you while working.
How do I maintain my under desk elliptical?
To maintain your under desk elliptical, ensure it's kept clean and free from dust. Regularly check and tighten any loose parts. Lubricate the moving parts if required, according to the manufacturer's instructions.
What should I do if my under desk elliptical is not working properly?
If your under desk elliptical is not working properly, refer to the troubleshooting section of your product manual. If the problem persists, contact the manufacturer's customer service for further assistance.
Is an under desk elliptical effective for weight loss?
While an under desk elliptical is not a comprehensive solution for weight loss, it can help you burn calories and improve your metabolism. Coupled with a balanced diet and regular exercise routine, it can be an effective tool for weight management.
Can I adjust the resistance level on my under desk elliptical?
Most under desk ellipticals come with adjustable resistance levels ranging from easy to challenging. You can adjust the resistance to match your fitness level and preferred workout intensity.
How much space do I need for an under desk elliptical?
Under desk ellipticals are compact and designed to fit under most standard desks. You generally need enough space to comfortably place the machine under your desk and allow your knees to move freely while pedaling. Always check the dimensions of the product before purchasing to ensure it fits your intended space.
Why Trust Us
Our commitment to customers begins with a carefully curated product selection process, ensuring we provide high-quality and reliable options. We meticulously vet all of the suggested under desk ellipticals, analyzing quantitative aspects, such as star ratings and review count, and qualitative factors, including review content and product features. Our dedicated team of bargain hunters consistently prioritizes your budget by meticulously scouring the market and identifying the best under desk ellipticals available without compromising on quality or performance. Our panel focuses on presenting the pros and cons of each product and converting technical specs into understandable insights. We aim to ensure maximum wellness while at work by helping you navigate all the under desk elliptical options on the market.