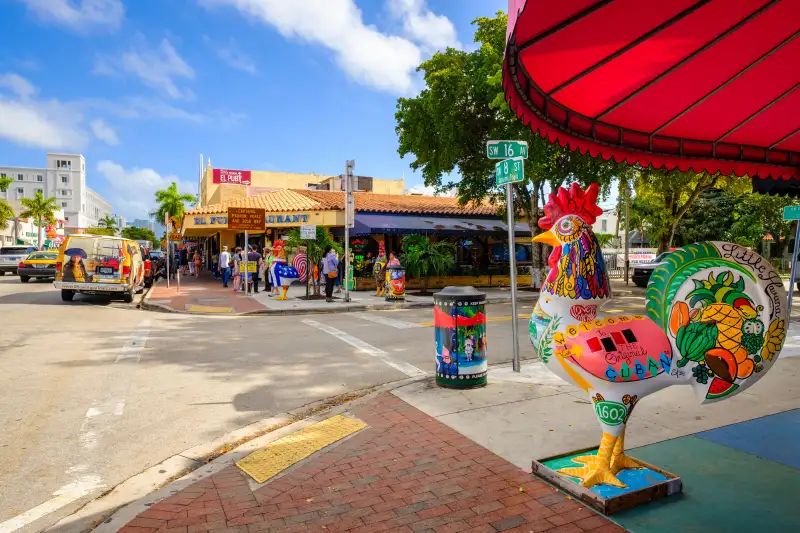 Nearly a million Cubans live in Miami-Dade County, but the highest concentration of Cuban culture is, of course, in Miami's Little Havana neighborhood – officially a national treasure, per the National Trust for Historic Preservation.
The corazón of the district is easily Calle Ocho, a walkable stretch of cuisine, coffee, shopping and entertainment. Grab a steaming colada — the Cuban version of espresso — at one of the multiple ventanitas (street-facing serving windows). Cigar aficionados can kick back in the lounge at the Cigar Boutique, housed in a former cigar factory. For lunch, try Sanguich de Miami, with its menu of staples, like the classic Cubano, pan con bistec and the medianoche.
Grab a coco frío to go from the open-air fruit market Los Pinareños Frutería before heading to Maximo Gómez Park, AKA Domino Park. Domino lovers play from morning to sundown and, at the park entrance, there's a Hollywood Walk of Fame-style grouping of tributes to Cuban-born superstars like Celia Cruz, Sammy Sosa, Julio Iglesias and Gloria Estefan. Across the street is the Azucar Ice Cream Company; try the Abuela María (made with the iconic cookie beloved by Cubans) or sweet plantain, two flavors unique to the shop.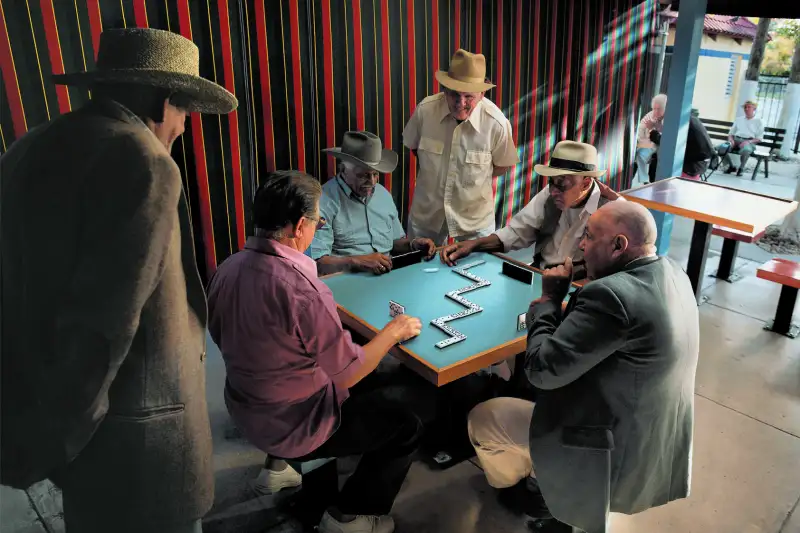 One of the best spots to savor Cuban tradition is at Cubaocho, a hybrid bar-museum where patrons enjoy rum cocktails amid an impressive collection of 19th- and 20th-century Cuban art — plus live bands and Thursday-night salsa lessons.
For an even livelier night out, head to Ball & Chain, an always-bumping music venue with a giant, pineapple-shaped stage.
VISIT: The Futurama Building, Molina Fine Art Gallery, Domino Park,
SEE: Cuban Memorial Plaza, Viernes Culturales on Calle Ocho (every Friday)
EAT: Versailles Restaurant, El Mago de las Fritas, Pastelmania Bakery
DRINK: Cafe La Trova, La Colada Gourmet, Union Beer Store