5 Ways to Make Your Entryway Less Chaotic This Winter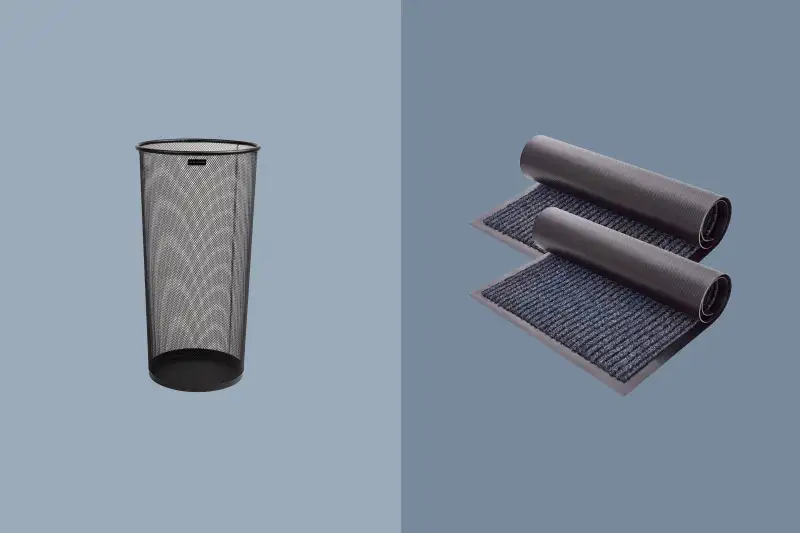 Is your entryway feeling a bit chaotic? We all tend to pile up winter coats, hats, mittens, and other items in our entryway as soon as we step into the house, but that kind of mess can quickly spiral out of control. We've found five simple products on Amazon that will make your entryway feel less chaotic this winter.
From organizational hacks to furniture and storage solutions, these five strategies will help you create an organized and inviting space — that means no more tracking in mud or snow every time you enter your home. Best of all, these tips don't take much time or money to implement. So, let's get started and transform that chaotic entryway into something stylish, organized, and welcoming.
Keep mud and snow outside the house
Front Door Shoe Scraper Welcome Mats: $21.98 (was $39.99)
If you're tired of mud and snow being tracked into your house, you're in good company. This problem plagues many homeowners during the winter months. One of the best remedies to this problem is a weather-resistant door mat. Adding a heavy-duty door mat to your entryway will help collect the any dirty snow or slush before it gets any further into the home.
This option from Amazon is a great choice because its stylish steel gray/black color will accentuate any décor scheme while keeping all the dirt out. It's also 45% off right now so you can score a 2-pack for just over $20.
Keep your boots organized
Multi-Purpose Waterproof Boot Tray Mat: $19.97 (was $34.99)
Are you tired of a mess of dirty wet boots cluttering up your entryway? A waterproof boot mat is a great way to get organized and show off your style at the same time. This multi-purpose boot tray mat makes a great addition to any home by providing an easy way to store shoes and boots while also protecting your carpets and hardwood floors any mess. It is extremely easy to clean and offers a lifetime guarantee for excellent quality performance — it's also nearly 50% off right now, bringing the price to less than $20.
Keep your outerwear in one place
Entryway Coat Rack, Bench, & Storage Shelf: $159.99 (was $199.99)
This 3-in-1 coat rack is the perfect addition to any entryway or mud room. It provides plenty of storage with a bench, shelf, and nine hooks. The industrial design elements, rustic accents, and side hooks give it a unique style that you won't see on most coat racks. This vintage industrial hall tree is just the thing you need to put an end to disorganized coats and jackets hanging around your entryway.
A bench that serves as a shoe organizer
Cushioned Shoe Bench with Adjustable Shelves: $59.67 (was $75.99)
Are you a shoe lover who is drowning in a sea of footwear? This shoe bench with adjustable compartments is an ideal solution. Instead of having piles of shoes cluttering your entryway or hallway, this handy shoe bench will help keep everything neat and tidy.
The six compartments combined with three adjustable shelves provide a space-saving storage solution that will definitely help you stay organized. Plus, it comes complete with a comfortable, cushioned seating area so you can take off your shoes in comfort.
A place to keep all your umbrellas
Metal Mesh Umbrella Rack Stand: $22.00 (was $24.99)
This umbrella holder is an incredibly well-made metal mesh holder perfect for storing and drying a variety of items. Its unique design allows for the umbrellas to be stored completely open for quick and efficient drying. Additionally, this rack stand has a useful bottom area that is great for retaining water and preventing spills and leakage.